¨Do more. Add value. Earn more blessings¨ Kenyan youth applaud Betty Kyallo for listening to their pleas
K24 Journalist, Betty Kyallo has achieved milestones, as a single mom, entrepreneur and media personality as the Kenyan youth come out to applaud the beauty for her achievements.
Betty Kyallo has been enveloped in couple of nasty scenarios, whether her love life or business.
However, that has not stopped her from becoming who she is today.
¨Flair by Betty¨ beauty parlor has taken in a number of employees, dealing with hair, beauty and even barber, most of whom are youths.
Exclusively, Ivanna´s mum revealed that she has witnessed tremendous growth, one that she remains thankful for, expressing:
We have seen so much growth and I am very appreciative of my team for their commitment and expertise because that´s what has made us grow.
Pictures
In a bid to promote her business, the mother of 1 randomly shares snaps of the inside of her beauty parlor on a normal day and captions:
What we describe as our little piece of heaven; our pedicure station ☺
A date with your girls here is worth experiencing 🤗🤗🤗 pic.twitter.com/OizmWbT5hO

— Flair By Betty (@FlairByBetty) May 14, 2019
Our spacious manicure stations are worth spending time considering the outcome is always magnificent 💯 pic.twitter.com/RbAD7tRHhe

— Flair By Betty (@FlairByBetty) May 14, 2019
Busy days at @FlairByBetty https://t.co/aZWAOftLt5

— Betty Kyallo (@BettyMKyallo) May 15, 2019
And fans and followers promptly respond:
You've created employment to many I see. Mob love.

— Tottie (@Tiottek) May 15, 2019
Year ,girls looking good & busy that's good Betty, love u.

— Josephine Mwende (@Josephi91872025) May 16, 2019
Do more, Add value, Earn more blessings.

— Benard Yego (@yegobenard) May 15, 2019
The young CEO has seen youths get worthwhile employment and leaves a mark in the society of today where youth employment is a fracas.
Background
¨Flair by Betty¨ is a 1-year old luxury salon founded by the TV siren back in 2018 soon after she exited now Susan Kaitany´s ¨Posh Palace¨ hair studio and spa.
The salon is located in Kilimani´s FCB Mihrab building that saw her cough thousands and eat into her savings.
Funny thing is how closely apart the 2 salons are located but the two hopefully let it all rest.
Betty´s piece of advice to those about to give up is:
If you have a heart beat there´s still time to achieve your greatest dreams.

Never give up. Keep going, hustle hard, keep positive people around you… and most importantly pray.
'We miss you,' Carol Radull remembers late dad in emotional message
Media personality and Arsenal FC die-hard fan Carol Radull has paid tribute to her late father, Alex Patrick Radull, who passed away six years ago.
Carol's father succumbed to cancer years after her two brothers also died of the illness.
Also read;
Remembering her father, Carol shared a photo she took with him a few years back.
She captioned it;
Six years have just flown by like that. We love you and we all miss you Dad. But we know you are in a better place resting in peace. ❤
17.07.38 – 19.05.13 #CancerSoldier #CancerWarrior.
Losing her loved ones to cancer, inspired the radio queen to help cancer patients and survivors. She's a cancer warrior, who is on the forefront to raise awareness about cancer and fight the epidemic. She works closely with Eddah's Hope Cancer Foundation.
Check out messages from Kenyans
suzannaowiyo: It is well 🙏
misskatiwa: It is well my sister 🙏🏽🙏🏽🙏🏽🙏🏽
bothieno: May His soul continue to rest in peace.
musalia: My deep ,sincere and heartfelt condolences. Be strong and all will be well.
henry_ngash: I know he is in a perfect place and proud of you. Be strong always.
giwaki: May his soul continue to rest in eternal peace.
Also read:
shaz_leah: May your dad's soul continue resting in perfect peace… Take heart ♥
dariopuzo: My prayers for strength in the family.
djnaze: May he continue resting in peace.
susanomondi: May he continue resting in the arms of the Lord.
Senator Malala threatens to sue CS Matiang'i for ordering his arrest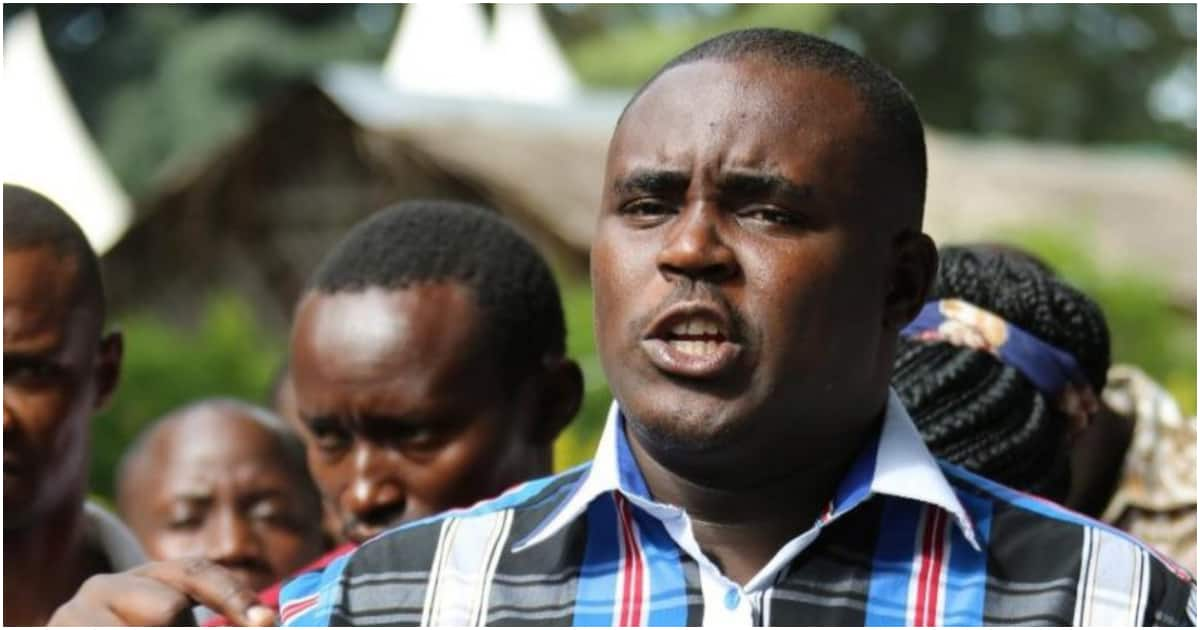 – Malala accused the Interior CS and the Inspector General of political witch hunt following his arrest on Friday, May 17
– He was released from police custody on Sunday evening alongside former Sports CS Rashid Echesa
– The two politicians were arrested in connection with the brutal killings in Matungu, Kakamega county
Kakamega senator Cleophas Malala has been released from police custody following a directive from the Director of Public Prosecutions (DPP) Noordin Haji on Sunday, May 19, and the free politician is now spoiling for a fight.
He has threatened to drag to court Interior Cabinet Secretary Fred Matiang'i and the Inspector General of Police Hillary Mutyambai over his rather dramatic arrest on May 17.
READ ALSO: Matungu killings: Malala, Echesa released from police custody, directed to appear in court
READ ALSO: Nyamira: Serikali ya Kaunti yagundua wafanyakazi hewa 1000 katika sajili yake
Addressing the press on Sunday evening shortly after his release from police custody where he was held for about two days, Malala accused Matiang'i and Mutyambai of political witch hunt in the name of arresting suspects in the Matungu mass murders.
"I have been released unconditionally, and I want to sue the IG and CS Matiang'i because I have been reliably told that they are the ones who advised the regional office to arrest us, and it was purely political.
They had to balance the two political factions…they (regional police bosses) had been told to arrest two people from Tanga Tanga and arrest two people from the handshake side. It is a political gimmick…" the senator protested.
READ ALSO: Several feared dead after goons fire shots at Kakamega senator's convoy in Mumias
The outspoken Malala also took offence with the kind of questions he was asked by the police whom he alleged unsuccessfully tried to link him to the Matungu murders when he was in custody.
"The questions were shallow and shoddy and I do not think they even meet the prerequesite of a serious allegation before the court of law," he claimed.
Malala was released from custody alongside former Sport CS Rashid Echesa.
READ ALSO: Man killed mysteriously inside Mercedes Benz along Thika Road was a police informer
In a statement sent to newsrooms on Sunday evening, the DPP said he held a discussion with IG Mutyambai and concluded that investigation into the killings in Matungu was at advance stage but incomplete.
"The evidence gathered so far does not meet the requisite threshold. Consequently, I have directed the DCI through the IG to have the Matungu brutal killings investigated thoroughly and the resultant files be submitted to my office for perusal and direction.
In the meantime, I further directed that the suspects be forthwith released on P52 pending the said investigations and report back to police on Monday, May 20, at 10am without fail," the statement read.
READ ALSO: Suspect linked to Murang'a prison warder's death confesses he was responsible, blames it on bhang
Malala and Echesa were ambushed and arrested by police on May 17 and taken in for questioning over the deadly attacks in Matungu.
Also arrested was Mayoni MCA Libinus Oduor whose ward was the centre of the chilling and bloody murders.
Matungu had experienced a wave of mysterious night assaults in the recent months but the situation appeared to had escalated in the beginning of May 2019.
Police records showed at least 13 people were killed while over 30 residents sustained various body injuries.
Top government officials led by Matiang'i visited the volatile village on May 16 and ordered deployment of dreaded GSU officers.
The Interior CS warned perpetrators to voluntarily surrender because they would eventually be smoked out.
Do you have a life-changing story you would like us to publish? Please reach us through news@tuko.co.ke or WhatsApp: 0732482690 and Telegram: Tuko news.
Furious KNUT Secretary General Sossion Lectures Education Cabinet Secretary – On Tuko TV
Source: Tuko
Maseno University student claim she's behind Kambua's pregnancy 
A university student from Maseno university has revealed that she has been praying day and night for gospel singer Kambu to have a baby.
Kambua, after seven years of marriage, is finally pregnant and Kenyans couldn't hold their tears when she took to social media to post the announcement last week.
According to Sarah Atieno Julu, she has been praying hard for Kambua. According to a tweet in May 14, 2018, and she declared she was going to set a Novena prayer to St Jude and pray for Kambua to carry a baby of her own.
"Am going to set a Novena prayer to St Jude, praying for Kambua, be sure you're going to carry your own baby," she tweeted. 
Am going to set a Novena prayer to St Jude ,,,Praying for Kambua,,,be sure you're going to carry your own baby#GodLives

— Sarah Julu (@JuluSarah) May 14, 2018
Blessings
Julu added that she used to see how Kambua was frustrated online for not having a baby and vowed to pray for her.
"I used to see her face cyber bully. I'm a woman and seeing a woman face such due to lack of a child, it pained me a lot. I felt it. I wish I knew her in person. The best I could do silently was to pray for her. That was the best way I could stand with her being her greatest fan.🙏" she said. 
I write entertainment stories as well review and critic local music. Apart from my busy schedule you can catch me on social pages by clicking on them below