Amazon boss: Africa is the next frontier for cloud computing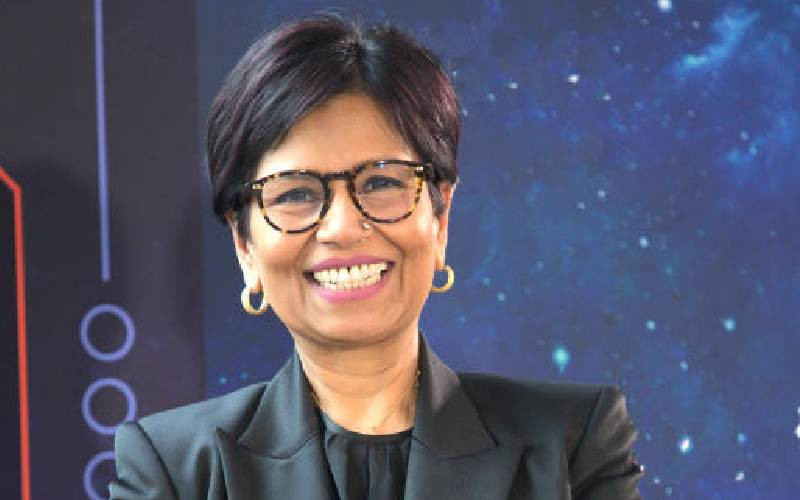 Tanuja Randery is the managing director and vice president of Amazon Web Services (AWS) for Europe, the Middle East, and Africa (EMEA).
She has more than 25 years of strategic, commercial and operational experience.
Ms Randery is primarily responsible for setting the strategy and guiding the company's growth across this region and leads multi-country, cross-functional teams who work closely with customers, from startups to the world's largest enterprises.
She talks about the company's growing relationship with the African continent.
What's the current relationship between AWS and Africa?
Our relationship in Africa is quite deep. We started with a development centre in Cape Town in 2004. In 2015, we opened an office in Johannesburg and a year later, introduced the Amazon Global Networks in the continent.
This was followed by Amazon CloudFront with edge locations in Johannesburg, Cape Town and Nairobi. We are continuing our investment in sub-Saharan Africa with an office in Nigeria. We now have 11 regions in Europe, the Middle East and Africa, representing huge investments that create jobs locally. We now have 7,000 employees in Sub-Saharan Africa.
You are passionate about driving the sustainable agenda in AWS systems. What is the progress so far?
In 2021, we installed a solar plant in South Africa as part of the 379 wind and solar plants projects we have commissioned so far. You know about the water scarcity in cities like Cape Town and are working with conservation bodies such as Nature Conservancy to drive our cause to be water positive by 2030.
We are giving more water to the community than we use in our premises and are aiming for 100 per cent renewables by 2025. Our customers are always talking about sustainability and by using our cloud systems, they can reduce their workload emissions by 96 per cent, especially by using Graviton 3 processors that are not only cost-efficient but 60 per cent better on energy consumption. We are achieving things one cannot do in a typical data centre.
Stay informed. Subscribe to our newsletter
You are using AI and machine learning to offer health solutions in Africa. How does this work?
We are working with University Hospital Bonn in Germany to accelerate the speed of clinical trials aimed at establishing new treatments for River Blindness, a neglected tropical disease which affects over 20 million people globally.
AWS has provided the platform and technologies like Amazon SageMaker that allowed Paris-based Capgemini technicians to utilise deep learning models. By providing this support, AWS facilitated real-time training of thousands of Capgemini employees in state-of-the-art machine learning methods.
Through the use of data, AI and machine learning, we have come up with a way through which doctors can detect this disease earlier and save millions from blindness.
What is the main challenge hampering the uptake of cloud technology in the region?
All business executives in the region agree that while technology is abundant, there is a lack of digital skills to drive such technology. To illustrate the digital skills gap, Europe needs 20 million ICT specialists in the next few years or they will not be able to unlock $2.8 trillion (Sh358.4 trillion) in economic value.
We are talking about software developers, AI and machine learning specialists. And these are not just people with technical skills but those who will understand how technology will influence your business.
How far are you in filling the skills gap?
We want to train 29 million people in the world for free by 2025. Since 2020, we have delivered on this commitment by helping over six million people across 200 countries and territories gain invaluable cloud skills.
Across our EMEA region, we have trained more than 1.8 million people with cloud skills since 2017. The World Economic Forum reported that globally, there are 97 million jobs expected to be created by 2025 through digitisation and cloud computing considering that only 10-15 per cent of businesses have moved to the cloud. But again, there are too few trained in those jobs.
How is AWS partnering with African institutions in this training programme?
In Africa, we are working with Standard Bank in training 100 million entrepreneurs by 2025. These are joint public-private partnerships since governments cannot handle this load alone.
That is why we have developed cloud training programmes and a curriculum and working with business schools, colleges and universities. What needs to be done is to have all universities incorporate digital learning into the curriculum.
We want to train our partners and customers because once you move your business to the cloud, it will be a different model. Companies see changes after training people on digital skills. Reskilling those in the workforce is as important as training young people.
Are there AWS-driven training opportunities available to young people in Kenya?
As mentioned, Africa is among high growth areas but a lack of adequate skills continues to hold back the region. Of course, each country may be in a different mode of technology adoption since it has to do with the maturity cycle of companies.
The AWS re/Start programme was launched in Kenya less than two years ago to address the need to skill young people. Last year, we had graduates from the most recent cohort, and we announced additional partnerships with local training partners including Zalego Academy, Computer Learning Centre and Moringa school, as well as the collaboration with Ajira Digital Platform to provide free foundational cloud content.
AWS in collaboration with the Ministry of Education hosted over 150 educational technology experts and leading professionals at the inaugural AWS Kenya Education Conference 2022 towards the end of last year in Nairobi.
We are saying that even if you are a sports coach, masseur, or hairdresser, you can get 12 weeks of technical classroom training for free. We have seen 98 per cent of trainees get jobs thereafter. In Kenya, we even have refugees on the programme who are now employed. We also have programmes for young girls aged between 12 and 15 years called AWS GetIT where they learn coding and enter application development competitions. We must do all we can to close this skill gap.
Comments
comments