Armed Mastermind Busted in a Nairobi Robbery Month After Release From Jail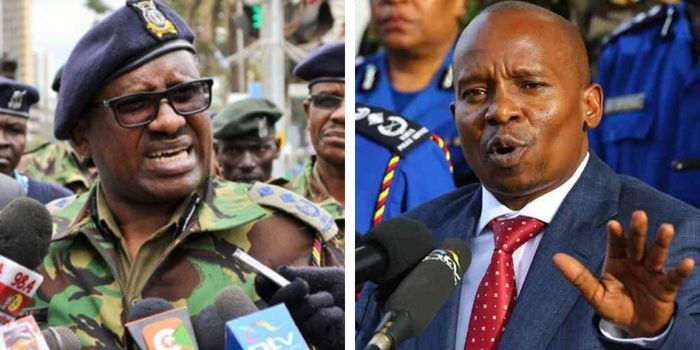 While acting on an intelligence report on Sunday, November 27, Huruma Police Station, Officer Commanding Station (OCS), Robert Mugo, assembled her team and launched a manhunt for suspected criminals. 
The cops arrested three while seven others escaped the dragnet. Upon searching the suspects, they were each armed with extremely sharpened knives hidden under their trousers.
However, police were puzzled by one suspect who was released from prison a month ago. 
Detectives alleged that the ex-convict may have been a mastermind behind robberies committed within the Huruma and Mathare areas.
Inspector General Japhet Koome taking oath at the Supreme Court on Friday, November 11, 2022
Twitter
Zakheem Rajan
Reports alleged that the main suspect stabbed a staff at Huruma Nursing with a knife while robbing him in the company of ten others. However, no official complainant was filed with the police. 
In a second raid launched by the OCS at the St.Martin area two other suspected criminals who had escaped were apprehended at a garbage point.
The two hail from Eastleigh and Mathare North but identified Huruma as their hunting ground. Police processed the five suspects pending arraignment before Makadara Law Courts.
Interior Cabinet Secretary, Kithure Kindiki, had directed the police to reduce mugging cases within the city.  
Kindiki put on notice criminal gangs terrorising Nairobi City residents, further warning that the government would narrow down upon them. 
"Those boys who have dared the government, we have also heard you and therefore we are coming effective immediately," he affirmed.
In a move to cement his directive, Kindiki on Monday, November 28, made an impromptu visit to parts of the Nairobi CBD listed as hotspots for muggings, stabbings and other crimes.
The CS highlighted that police had restored public safety following the arrests made in several crackdowns. 
Interior Cabinet Secretary Kithure Kindiki interacts with members of the public during an impromptu visit to Nairobi's Central Business District on Monday, November 28, 2022.
Ministry of Interior
criminal armed arrest suspect armed stabbed
Comments
comments