Christine Ngaruiya: US-born Kenyan doctor teaching at Yale School of Medicine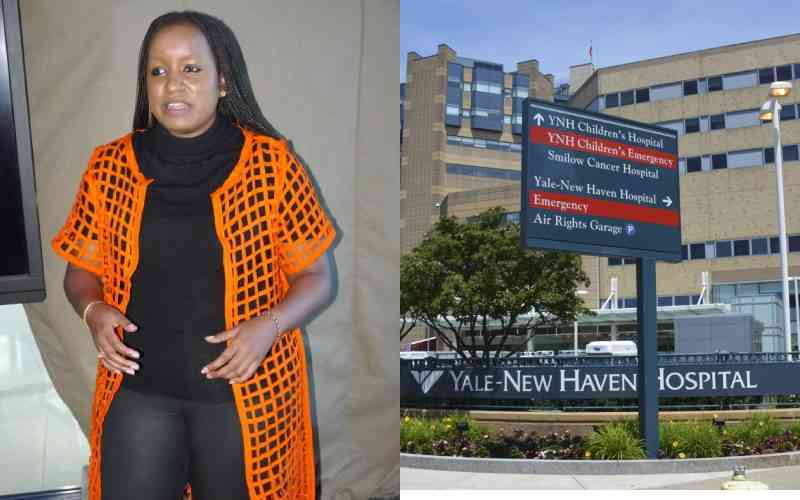 Dr. Christine Ngaruiya is an Assistant Professor in the Section of Global Health and International Emergency Medicine in the Department of Emergency Medicine (DEM) at Yale University. 
Her research interests currently revolve around Non-Communicable Diseases (NCDs), barriers to care, and community-based interventions with a particular focus on Africa.
Growing up, Christine Ngaruiya excelled academically in a variety of subjects, but even early on she had clear plans on what she wanted to do – to become a doctor.
In the early 80s, her father, a Kenyan, was already making strides in IT. Consequently, he became one of two African programmers at the time who were hired at the Mutual of Omaha in Nebraska, a large national insurance company in the US.
Christine and her elder sister were born in the US and when they turned 6 and 8 respectively, their parents felt it was time to come back to Kenya to familiarize with the culture.
They schooled at St. Christophers' School, Nairobi, before proceeding to Rusinga School where they completed their high school education.
The plan was to go back to the US for further studies and Christine flew back to Nebraska in 2002, following in her sister's footsteps who had returned just the year before.
"I kind of knew I always wanted to do medicine but I also wanted to be a Zoologist. I have always had an interest in animals and wanted to study them but my mum asked my cousin to speak to me about it and the idea was pretty much killed before I could go any further," she says (laughing knowingly).
Having scored straight A's in Sciences and Math, she enrolled at the University of Nebraska-Lincoln between 2002 and 2006, where she pursued a Bachelor of Science in Pre-Medicine, which is a mandatory programme in the US before you get into Medical School.
She majored in Sociology with a minor in Psychology. It is at this point that she discovered the Sociology of Health, which focuses on how social factors such as class, race, gender and religion influence human health.
Reading about how African-Americans and Hispanics, and other racial/ ethnic minorities in the US, were more likely to succumb to illnesses like hypertension, cancer and diabetes, as compared to their white counterparts, Christine decided to focus on equity in global health outcomes, and went on to co-author a paper on the subject together with her professor.
She then studied Medicine for four more years, something she says requires passion due to the rigorous coursework.
"After finishing medical school I did a residency in Emergency Medicine for three years, so I am trained to work in casualty. Some people call us jack of all trades but you have to know a little bit of everything because anybody can be wheeled into your room," she said.
She considers this as her first job as she would get paid but admits it was far from easy. She was, however, grateful to have worked under the tutelage of a sought-after mentor for her, Dr Judith Tintinalli, emeritus professor – one of the founders of Emergency Medicine and founding chair of the Department of Emergency Medicine at the University of North Carolina, Chapel Hill.
Getting into Yale
Upon graduation she decided to pursue a fellowship, a programme designed for graduates of a residency to focus on a subspecialty area of clinical practice, education or research. Christine applied for a Global Health fellowship at Yale and was accepted.
Asked how difficult it is for one to get into Yale, she says 'nothing is impossible."
"It is probably not as hard as you think…they often look for uniqueness. They want the next big thinker. I always say go for it with some guidance and mentorship.
"Have someone look at your application…preferably a professional. You have to present yourself the best way possible. Do not fake it but sell yourself in the best way possible. It is Kenyan culture to appear humble but to get into some of these institutions you want to shine," she said.
She did the fellowship for two years and stayed on at the prestigious institution to date.
The programme required her to see patients from time to time and advance her studies, which she did, at the London School of Hygiene and Tropical Medicine, attaining a Master of Science in Tropical Medicine and International Health in 2015.
She joined the Yale faculty as a clinical instructor in 2015 and became an assistant professor in 2016.
Dr Ngaruiya has continued to do research in Africa with keen focus on non-transmissible diseases. To that end, she currently spends around three to four months out of the year conducting research in Kenya when she is not providing clinical care for patients in the US or teaching at Yale.
She has already bagged three teaching awards during her time there.
Some of her past honors include; The Emergency Medicine Resident's Association (EMRA) Augustine D'Orta Award, Harambe Entrepreneur Alliance Associate and Harambe Pfizer Fellow Award, the 2016 Outstanding International Alumnus by the Nebraska Alumni Association and the Yale Leonard Tow Humanism in Medicine award.
"I would say I enjoy teaching and I am really passionate about it. It is really inspiring to see a student or trainee finally get a concept, to see something click. Have that "aha" moment.
"I have learnt to be a patient and empathetic teacher through my own struggles and I appreciate the fact that people learn differently," she says.
Her teaching activities primarily occur in the clinical wards with a variety of trainees including medical students and residents rotating through the Emergency Department. She is also a routine lecturer in courses at Yale's School of Public Health and Yale undergraduate programs.
"Every year I lecture three to four courses and I get invitations across the US and internationally. I have been honoured to speak at several conferences in Kenya, Uganda and Egypt though I also do a lot of work in educational capacity building in Africa."
Asked whether she intends to take up teaching in Kenyan universities, Dr Ngaruiya said it is a possibility although she emphasized that a lot needs to be done as far as integrating doctors from diaspora is concerned.
To address this, she started an organization called Kenyan Doctors-USA, a non-profit organization for doctors who are intentional and passionate about partnering or returning to Kenya for various reasons but she has faced several challenges already.
Each of their stories is tainted with its own challenges in establishing partnerships. Personally, I have seen mistrust among locals or suspicion around, "Why are you coming back? What exactly are you looking for?
"In the next ten years I want to lead the thinking around how we can make the road back to Africa a bit more accessible for the person returning from diaspora," she says.
Adding that the skillset of Africans in diaspora is one of the most under-utilised resources.
As far as gender equity is concerned, Dr Ngaruiya admits that Kenya is ahead of so many countries but a lot still needs to be done.
Having organized a successful conference at Yale discussing issues around gender-equity, called "Through the Eyes of She", she believes there is still room for improvement around inclusion, remuneration and promotion for both women in different cadres of society.
She is currently working on a number of projects in Kenya including a Tobacco Cessation programme with the emergency department at Kenyatta National Hospital and a National Assessment of Capacity for non-communicable disease care in emergency departments in Kenya.
Dr Ngaruiya is also working with the National Cancer Institute of Kenya (NCIKenya) in the area of climate change and cancer, a project that will be rolled out in the coming weeks.
Following a grant from the Consortium of Universities for Global Health (CUGH), a membership-based nonprofit organization that supports academic institutions and partners to improve the wellbeing of people and the planet, Dr Ngaruiya together with the Medical Students' Association of Kenya (MSAKE) are also set to launch the first-ever National Medical Student Journal.
This project is aimed at ensuring the data and information collected by medical students during their graduate and post-graduate studies is put to good use.
Her current work revolves around epidemiology and implementation science targeting non-communicable diseases in Africa as well as research capacity-building.
Despite her tight schedule, Dr Ngaruiya sets aside time to unwind and loves to work out or spend a day at the spa.
"Rest is important. You might be so immersed in your projects and before you know it you'll have suffered burn out.
"There are days I have a stop time and decide, "No, I am not taking calls or responding to emails after a particular time. This ensures I get time for myself to meditate, pray and plan."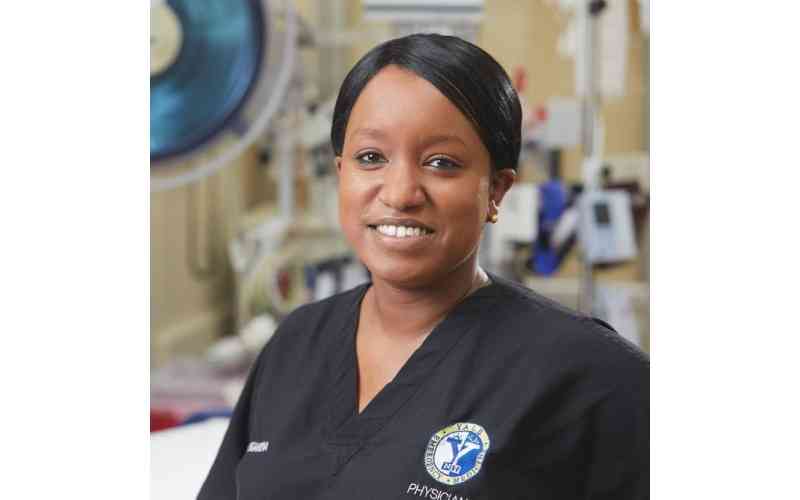 Related Topics
Comments
comments