Cristiano Ronaldo bio, stats, wife, children, height ▷ Kenya News
Cristiano Ronaldo whose real name is Cristiano Ronaldo dos Santos Aveiro also goes by the nick names, CR7, Cris, Ron, Ronnie, and The Sultan Of The Stepover. There is probably no soccer lover in the world that does not know who this super talented player is. Cristiano is one of the most celebrated footballers especially revered for his role as a striker. He is best known for playing for the Real Madrid club as well as being one of the richest football players in the world. He however moved to Juventas, the Portugees national team where he plays as a forward.
Anyone can become a star if they really want it and focus on turning their talent and dreams into reality. Such is the stroy of Cristiano Ronaldo whose inspiring story will challenge any aspiring footballer to keep working on themselves. The champion has achieved so much in his career that only a few footballers can ever dream of.
Cristiano Ronaldo stats
Real Name: Cristiano Ronaldo dos Santos Aveiro
Age: 34 years
Year of birth: February 05, 1985
Place of birth: Funchal, Madeira, Portugal
Sun sign: Aquarius
Nationality: Portuguese
Profession: Professional footballer
Height: Cristiano Ronaldo height is 6 ft 1¼ in or 186 cm
Weight: 83 kg or 183 lbs
Ethnicity: Multiracial. He has a Portugeese with Cape Verdean ancestry.
Hair colour: Black
Eye colour: Hazel
Endorsements: He has endorsed various brands like Extra Joss (2005), Nike (2005), Suzuki (2005), Fifa Street (2006), Coca Cola (2006), Fuji Xerox (2006), Watch brand Jacob & Co (2013), Castrol, KFC Arabia (2013), Emporio Armani.
Cristiano Ronaldo biography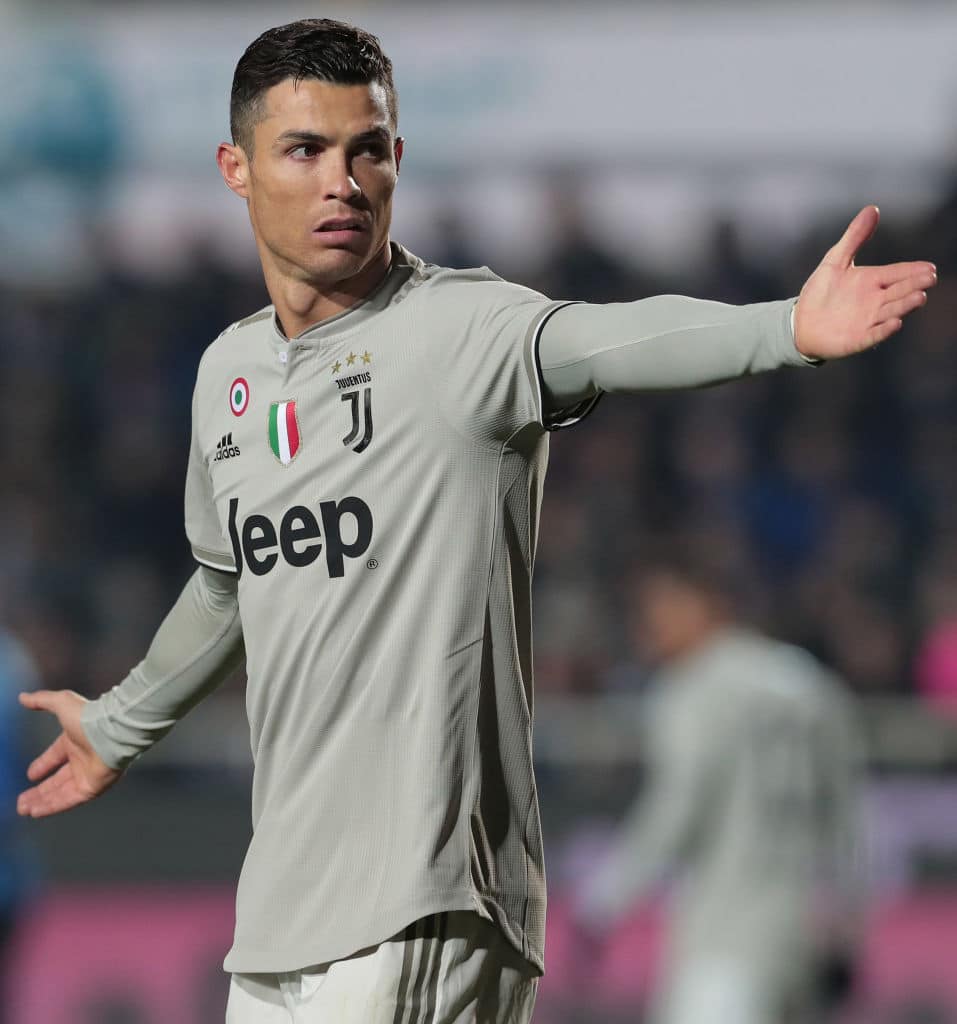 Ronaldo has had quite an interesting childhood and still continues to lead a rather interesting life today.
Early life and education
CR7 was never interested in education, at least not so much. This was seen by how he once threw a chair at a teacher and got suspended for it. Whereas he was popular with students at school, the same cannot be said for teachers. After suspension, his mother decided that it was time for him to focus on his love for football full time. This marked the beginning of his journey in the world of soccer, at least professionally.
READ ALSO: Liverpool: Mohamed Salah casts doubts on Anfield future amid Real Madrid interest
Family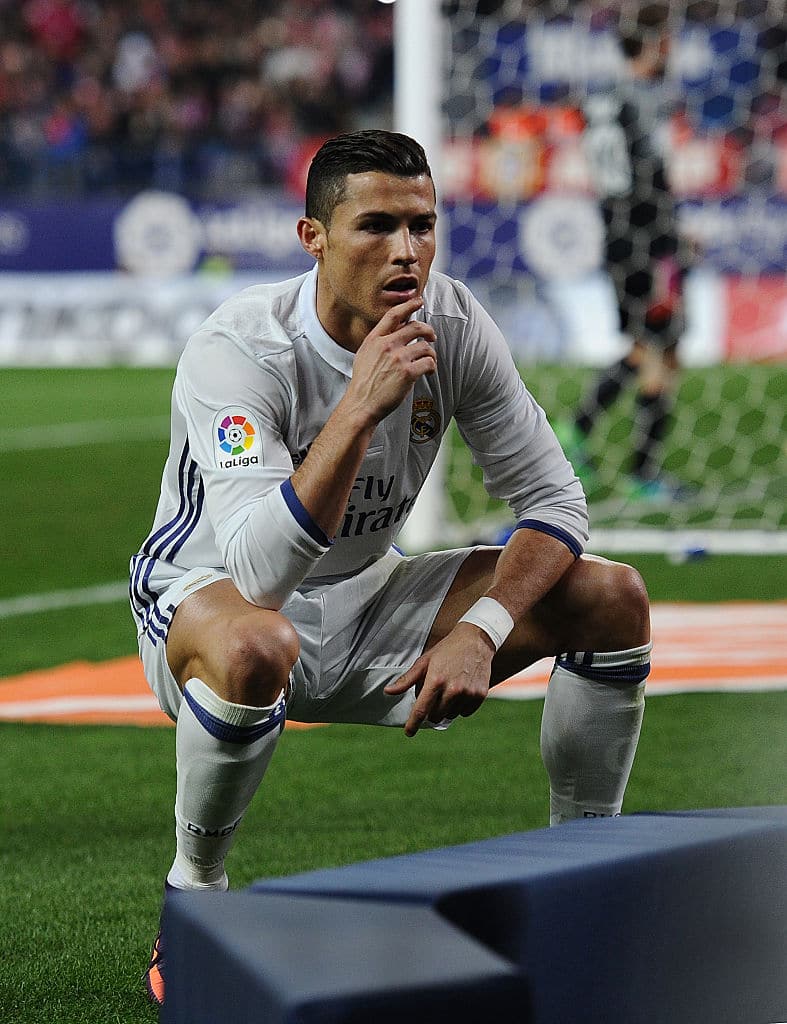 Cristiano is the 5th born in his family. Cristiano's father was known as Jose Dinis Aveiro and was a municipal gardener but died in 2005 due to alcoholism. His mother is known as Maria Dolores dos Santos Aveiro, a cook. His brother's name is Hugo Aveiro, whereas his sisters are called Elma Aveiro and Liliana Catia Aveiro. He also has a great grand mother who has Cape Verdean roots.
Career journey
Cristiano Ronaldo started his career a long time ago when he went on to serve on probation for Sporting CP, who had hired him at a fee of £1,500. He then moved closer to Lisbon from the Madeira Islands, as he purposed to join Sporting Youth Academy. He began his sports career at the Sporting Club de Portugal. 7th October 2002 saw him start out his first game in the Portuguese Primeira Liga, when at Moreirense. He went on to score two goals which guaranteed them a 3–0 win.
He met the then Manchester United director Alex Ferguson in 2003, when Sporting beat United by 3–1 in a game played at Estádio José Alvalade. In 2003, Ronaldo joined Manchester United as one of Sporting CP. He went on to join real Madrid in July 2009. However, since number 9 was reserved by Raúl González, he had to wait util Raul left the club in in 2010 by wearing number 7.
The 2007-08 period saw Cristiano Ronaldo become the only footballer beyond 25 years old to win the "Young Player of the Year" as well as the "FIFA World Player of the Year" awards during the same season. In the 2007-season, Ronaldo went on to score 42 goals and won the European Golden Boot Award. This is one award that only highest scorers of all league matches for each European national league get awarded.
Ronaldo relationships and kids
Who is Cristiano Ronaldo wife? This is a question that many people seek to get a comprehensive answer to. However, he is known to be a ladies man. He has been known and rumoured to have dated some famous people. A few of his dates have included Irina Shayk whom he dated from 2010 to 2015 and appears to be the lady that he dated the longest. Other people he is said to have been involved with include actress Rita Pereira whom he dated in 2012, Andressa Uchal a model whom he dated in 2013, and Lucia Villalon who is a TV reporter that he dated in 2015. These are just a few of the ladies he is rumoured to have been with.
Apart from dating a good number of ladies, Cristiano Ronaldo children also make a major part of his life. He has a son named Cristiano Ronaldo Jr. that was born in June 17th 2010 via surrogacy. He is also said to have other kids including twins; a girl named Eva Maria Dos Santos and a boy named Mateo Ronaldo who were born in June 8, 2017. They are his second and third children. He also has a 4th child, who is a daughter named, Alana Martina dos Santos Aveiro that was born in November 12, 2017.
Cristiano Ronaldo remains one of the players that stand out in the world of soccer. His is a record that would be hard to beat even as he continues to shine. Nevertheless, aspiring footballers can always look up to him for inspiration.
Subscribe to watch new videos
READ ALSO:
Source: Tuko.co.ke
Comments
comments