Details of mysterious Toyota Prado attacked by cops during Azimio protests in Nairobi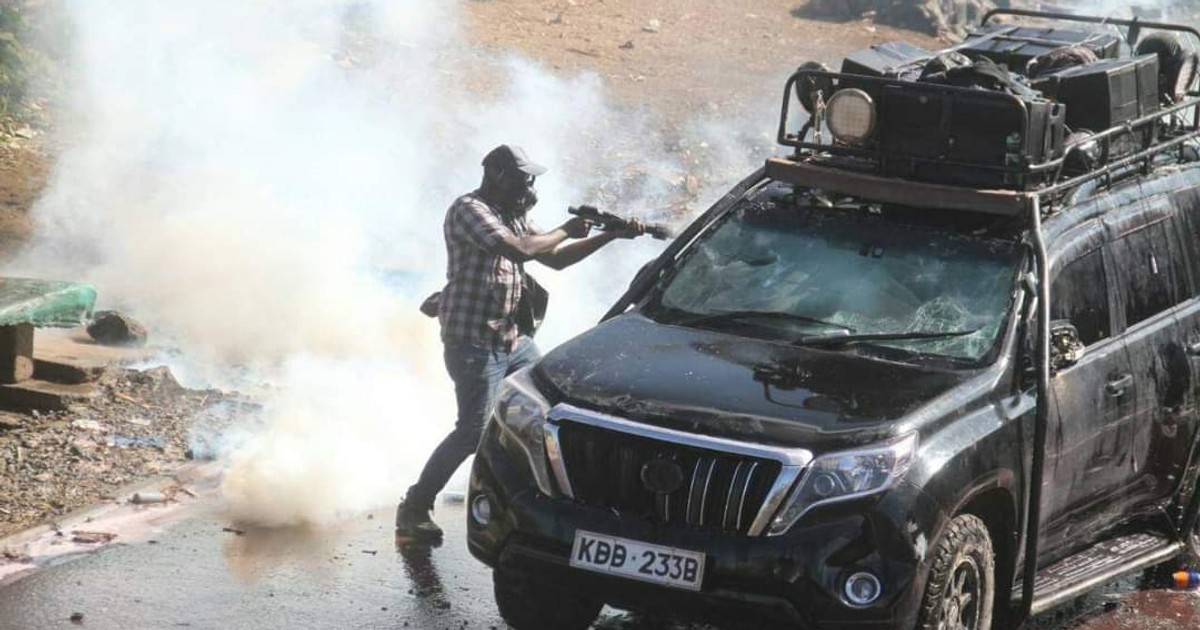 Speaking from the hospital where he was undergoing treatment, Isinta said police officers lobbed multiple teargas canisters inside the vehicle, one which burnt his chest and another which hit him on the head.
"I have burns on my chest. As I was throwing the canister out of the vehicle, felt another one hit my face," he said showing his swollen face.
The impact ruptured the skin on the journalist's jawbone just below the face and immediately began bleeding after which he was rushed to a nearby hospital.
Standard journalist Timon Abuna was also wounded in the head during the attack.
According to the Media Council of Kenya, at least 25 journalists have been targeted by both police officers and protesters since the demonstrations began on March 20.
The most affected are camerapersons and photographers who have been targeted by the perpetrators of acts of hooliganism and criminality whose interest is to destroy any evidence of their acts captured on camera.
Police officer capture firing teargas at close range into vehicle

During the Thursday protests in Nairobi's pipeline estate, an ununiformed police officer was recorded smashing the windows of a Toyota Prado and lobbing teargas canisters inside the vehicle at close range.
The incident has elicited mixed reactions from Kenyans, even as the ownership remains unknown.
African Uncensored, alongside other media sources, reported that the vehicle was a media team.
"Kenya Police attacked an opposition convoy as they exited Kware Embakasi South, Nairobi. Africa Uncensored managed to capture this exclusive footage of a plain cloth police officer lobbing teargas into this media vehicle. Two journalists were injured by teargas canisters," the post said.
The vehicle, whose number plates seemed to have been altered using black tape, was the topic of debate on social media, with some also questioning why a media vehicle would have speakers on the roof. Others argued that if the vehicle was ferrying journalists, it should have had a sticker bearing the words, PRESS.
Nyali MP Mohammed Ali, a former investigative journalist who was not at the scene, took to Twitter to blame his former colleagues for the unfortunate incident.
"Look at this number plate closely its KDD 233P but taped KBB 233B. It's not a media car it is loaded with speakers, mistake the journalist did was to be embedded with politicians. Dangerous trend for journalists. They must choose to report facts or be Azimio gun for hire, which they are," he said attracting backlash.
Photos of the said car during past demos showed the vehicle ferrying camera operators on the roof.
It is not clear whether they were attached to media houses or Raila's media team.
Comments
comments