Doctors Threaten to Strike 74 Days Into Ruto's Govt; Here's Why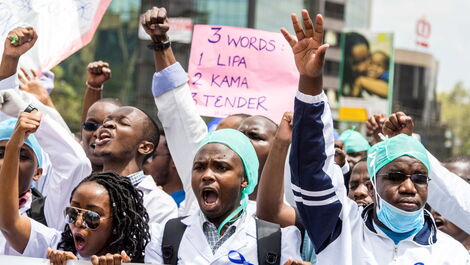 The Kenya Medical Practitioners, Pharmacists and Dentists Union (KMPDU) threatened to go on strike over the government's failure to fulfil the 2017-2021  Collective Bargaining Agreement (CBA).
In a press statement released on November 26, 2022, the union leaders expressed dissatisfaction with the implementation of critical issues that were raised during the signing of the accord.
It also expressed immense displeasure at the appointment of Susan Nakhumicha as the Health Cabinet Secretary (CS), arguing that she was not a trained medic.
Bhimji claimed that the union recommended five medical doctors for the Principal Secretary positions, but President William Ruto, who has ben in office for 74 days, did not oblige to their request. 
Health workers during a strike in Kenya.
Twitter
The healthcare professionals stated that they would engage all relevant government stakeholders for a month to negotiate a new 2021-2025 CBA.
"We are putting the country on notice that those engagements will include all available options to the union, including industrial action," KMPDU secretary general, Dr.Davji Bhimji Atellah, declared.
The union wanted the national government to expand its financial budget allocation to Health, intimating that increased funds would address integral issues that cause a rift between county governments and healthcare professionals.
Non- replacement of medics who had retired or resigned in facilities was also highlighted as a key pointer to the derailing health sector.
The union was puzzled at how the figures of graduate doctors getting absorbed by the government were dismal, despite an increase in medical training facilities in the country.
"Kenya seems to have assumed a policy of train and dump," Bhimji added.
The caucus did not desist from poking holes at the management structure of the National Hospital Insurance Fund (NHIF), stating that it needs to be changed for it to achieve stability that will deliver efficient services to Kenyans.
KMPDU constitutes over 7,000 members in the country. It last went on a strike in 2020 over the government's laxity in responding to the grievances they raised during the Covid-19 pandemic.
The doctors had demanded allowance and hazmat suits to protect them from contracting the disease.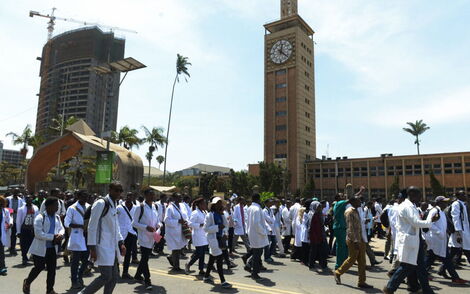 An undated photo of Kenyan doctors on the street.
File
Comments
comments