Former PS Karigithu gets backing for maritime agency's top seat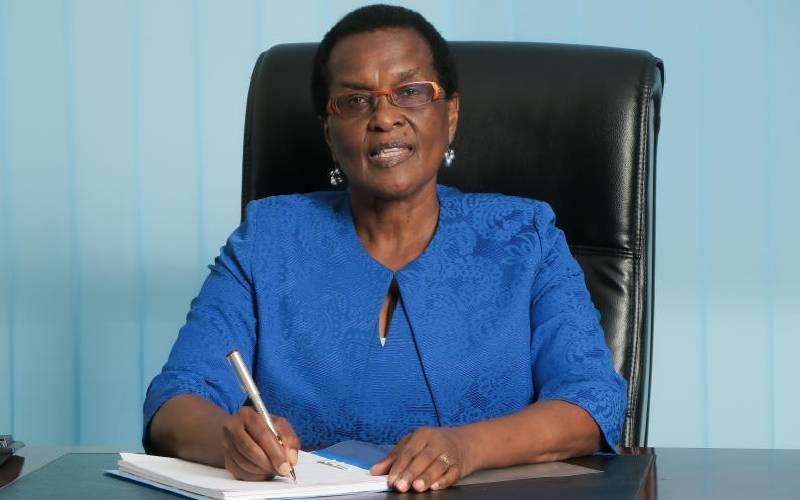 Former Principal Secretary for Shipping and Maritime Nancy Karigithu has received endorsement in her quest for the top seat at the International Maritime Organisation (IMO).
Leading the pack of endorsements is the Centre for Ocean Policy and Economics, the Seafarers Union of Kenya (SUK), and the Association for Women in the Maritime Sector in Eastern and Southern Africa (Womesa).
The Centre for Ocean Policy and Economics announced in a recent update on its Facebook page that it was fully in support of Karigithu's candidature for the IMO secretary general's post. The centre is hosted by the America-based North East Maritime Institute, College of Maritime Science, created to tackle some of the oceans' pressing problems.
"We are proud to announce our support for Ambassador Nancy Karigithu for the post of secretary general of IMO and the first from Africa, the Republic of Kenya – a remarkable and necessary milestone," the centre said.
Karigithu is now a special envoy for the blue economy and maritime affairs. If elected, she would be the first female secretary general since IMO was established in March 1948.
Applicants for the post must submit their papers by end of March with elections taking place in July.
Kitack Lim is the eighth elected secretary general and would have completed two four-year terms by his retirement. The Kenyan government made its first endorsement of Karigithu's candidacy after former President Uhuru Kenyatta backed her bid. President William Ruto followed it up when he assumed the leadership of the nation.
African countries have already thrown their weight behind her.
The Womesa Kenya chapter through national chairperson Fiona Mbandi expressed hope that Karigithu will bring home the IMO seat. "We have worked very closely with Karigithu and seen what expertise she has. She is our patron and founder member of Womesa," Mbandi said.
"We draw much admiration from her style of servant leadership and a true negotiator who has made Kenya attain strides as a growing maritime nation." SUK Secretary General Steve Owaki said it was the hard-working Karigithu who ensured that over 6,000 Kenyan seafarers get access to work aboard cruise ships that ply global oceans.
"While working in the governments of the late President Mwai Kibaki and Uhuru Kenyatta, Karigithu ensured that Kenyan seafarers were employed in decent ocean-going vessels in different cadres," Owaki said.
Shipping giants
He added that Karigithu had demonstrated good negotiation skills when she managed to convince big names in the shipping world to employ Kenyan seafarers.
"There are Kenyans today working for Saudia shipping giants Bahr Shipping, the world's largest family-owned cruise ship company MSC Cruises, Royal Caribbean and Celebrity Cruises, Apollo Group, Seabourne, Vikings, Carnival Cruises, among others. We attribute all this to Ambassador Karigithu's good work."
Karigithu's contribution to the marine sector in Kenya and beyond for years and the respect she commands from her peers and the industry is positioning her well.
Other serious considerations include her rich experience, sterling educational background in marine law, gender and strong root in the marine sector. [Philip Mwakio]
She has won international accolades and served on several bodies nationally, continentally and globally.
Karigithu sits on the board of governors of the World Maritime University and the International Maritime Law Institute.
She has wide experience in operational and policy management of maritime transport and logistics, maritime safety and security, maritime education and training, and marine environment protection.
Karigithu recently championed the development and adoption of the Guidelines for the Prevention and Suppression of the Smuggling of Wildlife on Ships Engaged in International Maritime Traffic, which was adopted during the 46th Session of the IMO FAL Committee held in May 2022.
Comments
comments