How Kiambu Man Faked Son's Death, Pocketed Ksh 100K From Neighbours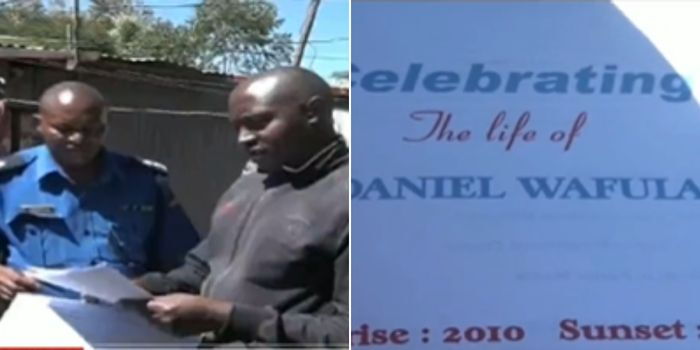 Police officers on Tuesday, January 31, apprehended a man from Kiambu who faked his son's death and pocketed over Ksh100,000 from his neighbours.
According to his aggrieved neighbours, the man devised the plot to swindle his Kiambu neighbours two days after moving into a house.
Being a new tenant, the man informed his neighbours that his son was missing. A day later, he convinced them that his son had been murdered and dumped in a quarry in Kiambu.
Moved by his story, the residents decided to start a fund drive to support the burial. Besides raising funds, the residents prepared the grave and even printed the burial programme. 
Eulogy printed for Daniel Wafula, who a Kiambu man claimed was his murdered son.
NTV
The leaflets indicated that his son was born in 2010 and died in 2023. Further, the programme identified the son as Daniel Wafula.
However, his plot was busted after he failed to produce photo evidence of his son. 
"We had made all the funeral plans for his son. We had made plans for how the grave was to be sunk and set aside funds to pick the deceased body from the mortuary, casket and money to ferry the body," one of the residents stated.
"His plan was to solicit funds from us and use the money for another purpose. I asked him where is the photo and he failed to produce it," another resident narrated.
After his neighbours established that the man had fabricated the entire death story, they informed police officers, who apprehended the suspect.
The suspect is set to be arraigned to face forgery and defrauding charges at a Kiambu court.
A few weeks before, a pastor was accused of faking his death to secure a Ksh450,000 scholarship for his daughter.
"Some wealthy people try to take advantage of Caring Hearts and Hands of Hope Foundation because they know we help needy children.
"There is a bishop from Kitengela who feigned death so that our foundation can sponsor his daughter," the founder lamented.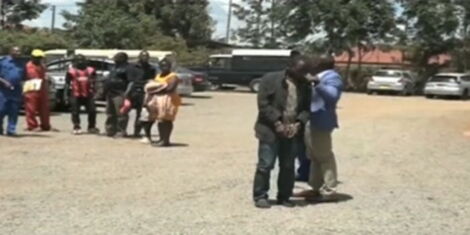 Man arrested in Kiambu after swindling residents on Tuesday, January 31, 2022.
NTV
died death murder arrest suspect
Comments
comments