Humphrey Kariuki: List of Properties and Businesses Owned by Kenyan Billionaire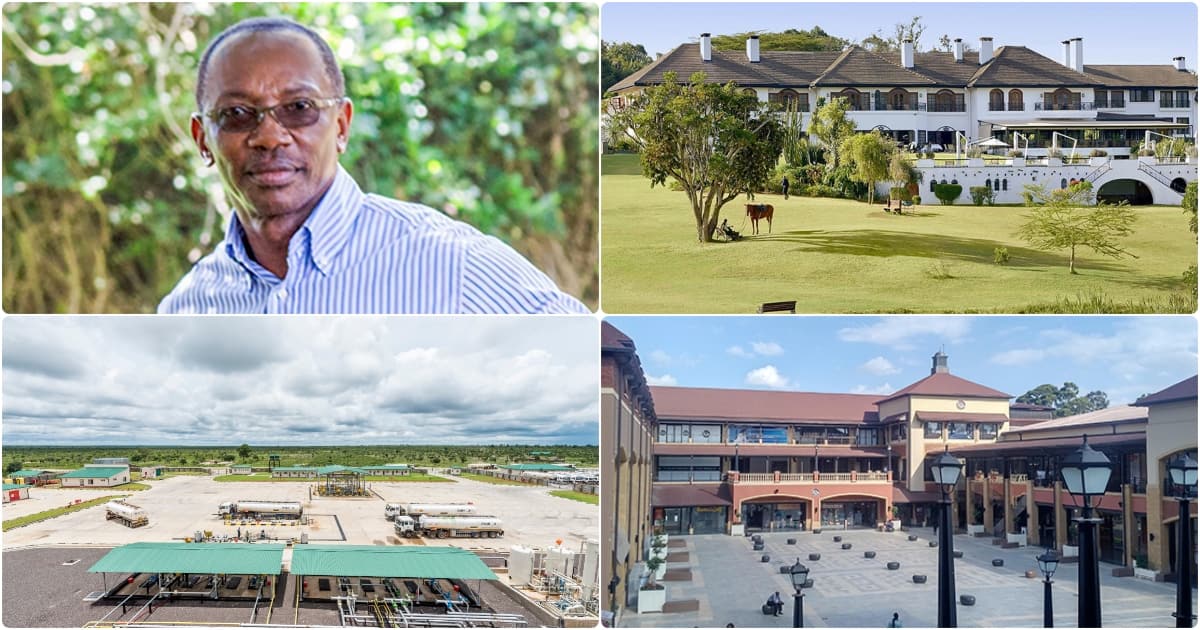 Humphrey Kariuki is the founder of Janus Continental Group which brings together several companies in the petroleum, energy, hospitality and real estate sectors
The group has employed over 700 people in more than 10 countries in East, Central and Southern Africa, United Arab Emirates (UAE) and Europe
The billionaire also owns the Fairmont Mt Kenya Safari Club which offers magnificent views of majestic Mt Kenya
Humphrey Kariuki is one of Kenya's controversial billionaires who survived a tax storm worth over KSh 40 billion against the Kenya Revenue Authority (KRA).
The 65-year-old is the founder of Janus Continental Group which brings together several companies in the petroleum, energy, hospitality and real estate sectors.
According to Kariuki's website, the Janus Continental Group has employed over 700 people in more than 10 countries in East, Central and Southern Africa, United Arab Emirates (UAE) and Europe.
Humphrey Kariuki's investments
Forbes reported that Kariuki owns several companies and properties under the Janus Continental Group umbrella.
These include The Hub, Africa Spirits, Fairmont Mount Kenya Safari Club, Mount Kenya Wildlife Conservancy and Animal Orphanage, Dalbit Petroleum and Great Lakes Africa Energy.
1. The Hub
Kariuki has invested in the lucrative real estate sector through The Hub mall located in the Karen leafy suburbs, of Nairobi.
The Hub hosts local and international retailers that support small businesses.
It was developed over two phases, the first phase being a 35,000 sqm gross area featuring a retail, offices, medical, and wellness centre which opened on February 4, 2016.
The second phase involved more parking and a hotel/conference centre. It has over 1200 parking bays, over 13,00 eatery seats and over 85 stores according to its website. The mall receives an average of 55,000 visitors weekly.
2. Dalbit Petroleum
Dalbit Petroleum was established in 2002. It supplies and distributes petroleum products and services across East, Central and Southern Africa.
It has nine fuel depots and operates in nine African countries with 148 employees as per its website.
The company celebrated its 20th anniversary on October 24, 2022.
"Looking back at our successes and failures over the past twenty years, it is crystal clear how transformational access to energy, enabled by reliable infrastructure can be.
Dalbit was founded on the principle of fuelling regional growth and development. From humble beginnings, we are fortunate to supply energy to over nine countries across East and Southern Africa, and look forward to contributing to the national development of even more countries over the next 20 years, and beyond," Kariuki said.
3. Great Lake Africa Energy
GL Africa Energy (UK) Limited is a UK-registered Company with investments in energy solutions in the Great Lakes and Southern Africa regions.
The company was established in 2013 with the aim of becoming a leading developer and operator of power projects.
The company is one of the independent power producers in Kenya.
4. Fairmont Mt Kenya Safari Club
The billionaire also owns the Fairmont Mt Kenya Safari Club which offers magnificent views of majestic Mt Kenya.
The facility has 100 luxurious hotel rooms and villas, set in over 100 acres of landscaped garden.
President William Ruto, an ally of Kariuki, took his Cabinet and senior government officials to the club on January 5 for a retreat.
5. Mount Kenya Wildlife Conservancy and Animal Orphanage
The billionaire owns the Mount Kenya Wildlife Conservancy and Animal Orphanage in Nanyuki.
The conservancy seeks to prevent the extinction of endangered wildlife species by breeding the animals with a view to returning them to the wild.
6. Africa Spirits
Kariuki's liquor business was reopened in December 2022 after three years of closure over tax evasion allegations.
The Kenya Revenue Authority (KRA) and Directorate of Criminal Investigation (DCI) handed over Africa Spirits Limited back to Kariuki after investigative consultations.
"We have overseen the handing over of Africa Spirits Limited to its owners by the Directorate of Criminal Investigation. The authority will ensure the firm is back to its feet and operating," KRA said.
The authority said the Thika-based alcohol distiller was reopened to help it boost tax collection after Kariuki was let off the hook in a multi-billion tax case.
Humphrey Kariuki appointed to National Investment Council
In December 2022, President William Ruto named Kariuki as one of the members of the National Investment Council.
The council is expected to advise the government on increasing investment in Kenya and growing the economy.
Other members of the council are KCB managing director Paul Russo, Twiga Foods chief executive officer (CEO) Peter Njonjo and Twiga Foods CEO Peter Njonjo.
Cabinet secretaries in charge of Trade, Finance, Agriculture, Lands, Tourism and Environment are also council members.
Source: TUKO.co.ke
Comments
comments