Is Lupita Nyong'o a lesbian? (photos) ▷ Kenya News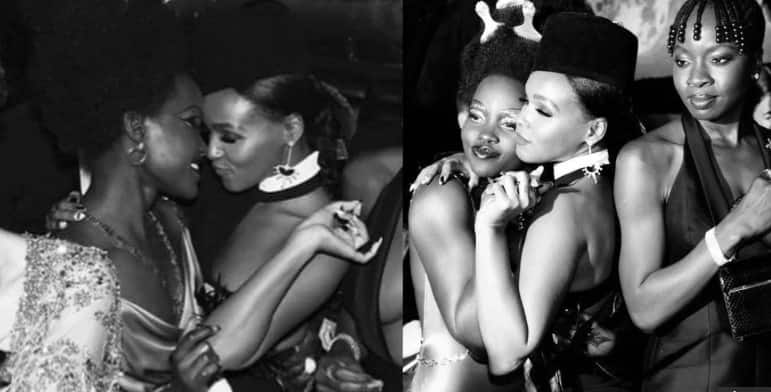 Lupita Nyong'o is killing it in the film industry since she starred in the "12 Years a Slave" film in 2013. This has been greatly contributed by her outstanding acting prowess, killer body, and flawless black beauty. Nonetheless, there is so more to Lupita than what's meets the eye.
If you know nothing about Lupita Nyong'o, one stop at her Instagram page will seriously give you some squad ambitions. You will see her getting friendly with almost everyone starting from Melissa McCarthy, Danai Gurira, Gwyneth Paltrow, Janelle Monáe just to name a few. So, is Lupita a lesbian? Who is she dating? Is it a man or a woman? Below is everything you need to know about this Wakanda queen.
Lupita Nyong'o and Janelle Monae
Last week at the Met Gala, the Black Panther star and Musician Janelle Monae were seen together looking chummy. They were in a touchy feely display and acted affectionate towards each other as seen in a live video. This did not appear like the typical girlish romance or dance we see on every party but rather something advanced.
In the video, her left hand is seen on Janelle's back. Their noses are touching, and the smirking of their faces is not one that you would give to anyone other than a special person. Lupita then looks at her while smiling as if Janelle whispered something sweet in her ears. It was however not clear if they shared a kiss as someone dancing in front of the camera blocked the moment.
Photos going round of her and Janelle cosying up have led to all her fans wondering if she is a lesbian. Some concluded that they were boning, dating, in love or just trying to make Tessa Thompson jealous. This is after she and Janelle unfollowed each other on all the social media pages. Others said that they were just friends who liked standing close to each other such that their bodies pressed together.
I don't get invested in celebrity relationships, but if Janelle Monae and Lupita Nyong'o are dating, I might die, Siera Siwa tweeted
My theory is that Tesa Thompson and Janelle Monae broke up and are both trying to make the other jealous with Lupita Nyong'o, Wrote Bianca.
If you are having a bad day or a bad life just remember that you live in a world where Lupita Nyong'o and Janelle Monae are dating and with the power vested in them our depression is cured," Ale tweeted.
I have never cared about a developing celeb relationship. I want this one to happen so bad. At any level, I don't care. Trump ruined my mental health. I need Janelle and Lupita to feel a semblance of hope, Lynn A expressed herself.
All I see is Miss Nyongo and Janelle Monae living their best life in the back ASDFGGK," wrote Lei.
Miss Janelle Monae and Miss Nyong'o are together, and I have not heard any noise around it? My lesbian and gays and bis and pans and team, make some noise for the legends y' all…!!, a Twitter user urged.
I just found out that Lupita Nyong'o and Janelle Monae are dating, they are most beautiful humans alive. My heart WOW, wrote Allie.
Lupita Nyong'o and Janelle Monae??? Together??? That is too much power for my mortal brain to comprehend, said Marin.
Also, stop gossiping about Tessa Thompson, Lupita Nyong'o, and Janelle Monae. If they wanted to be public, they would have come forward, speculating and spreading tabloid rumours hurts the people you claim to care so much about, Neon Sapphic advised.
None of the two has come out to deny or respond to these allegations despite many US citizens believing that Lupita dating Janelle rumours are true. Janelle Monae is openly queer and doesn't identify herself as a woman or a man.
READ ALSO: Lupita Nyong'o sparks lesbian rumours after getting cosy with another woman on dance floor
Lupita Nyong'o and Danai Gurira
The most enviable relationship that the Blank Panther star has ever had is with actress Danai Gurira. The two have known each other for over a decade and met in the 2007 Obe Awards. Gurira won an award for The Continuum play at the event. The duo afterwards sparked their friendship.
On January, at an after-party photo booth, Lupita shared a short clip on her Twitter account. In the video, Danai Gurira is seen waiting for the elevator doors to open. As they open, we see the actress making out (as it appears) with Jordan. Gurira then opens the door and pushes him. She passionately kisses Lupita Nyong'o. The video was captioned "When the cat is away."
One fan couldn't hide her joy and commented, "My bisexual heart can't take this."
Another added and said, "Thank you Lupita for my lesbian rights!!!!!"
READ ALSO: 20 hot Lupita Nyong'o photos you must see right now!
Lupita attending LGBT awards
In the past years, the Kenyan actress attended the Gay and Lesbianism Alliance Against Defamation Media Awards in Los Angeles. Other celebrities like Naomi Campbell and Jennifer Lopez were also in attendance.
Her appearance on such an occasion that supports gay and lesbianism rights made a big statement.
Support for "Rafiki", a lesbian film
Last year, Ezekiel Mutua banned the film Rafiki because it promoted homosexuality. However, later the court lifted this ban something which made Lupita happy. She went ahead to encourage Kenyans to watch the film.
Great news: The Kenyan High Court lifted the ban on the film Rafiki, and it plays for only 7 days making it eligible for Academy Awards Submissions! Run and see it! Follow Rafikifilm for details! Great day for the creative industry in Kenya! Congratulations Wanuri!" She wrote.
This court ruling delighted filmmakers while it angered KFCB (Kenya Film Classification Board) as it promotes homosexuality, which according to colonial-era laws is a criminal offence.
READ ALSO: Lupita Nyong'o meets her lookalike South Sudanese model Adut Aketch
Lupita Nyong'o boyfriend
Lupita has over the years been linked to various celebrities and film co-stars. She has however never confirmed or denied dating any of them.
So who is Lupita's boyfriend?
The Kenyan actress has been alleged to have been dating Michael B. Jordan. Their chemistry during the Black Panther press sparked all these rumours. The duo seemed to be enjoying each other's company and occasionally smiled at each other. A post on Lupita's Instagram page which was captioned "Happy Birthday from someone who loves you!" fueled the rumours. Later it emerged that Jordan had a girlfriend whom he loved so much.
In 2013, Lupita appeared at the Academy Awards with a Somalia poet and Rapper, K'Naan. They got cosy many times, and fans started rumouring that they were dating. Later, US weekly revealed that she was dating Mobolaji Dawodo, son to a top Nigerian designer. However, it was not clear whether the two were dating.
Lupita Nyong'o has been linked to different women and men over time. However, she has never come out to confirm or deny all the allegations from her fans. For this reason, we cannot come to a conclusion about Lupita being a lesbian or a bisexual.
Subscribe to watch new videos
READ ALSO:
Source: Tuko.co.ke
Comments
comments