KBC Journalist Who Warmed Hearts Playing With Elephant Helps Family Reunite With Missing Child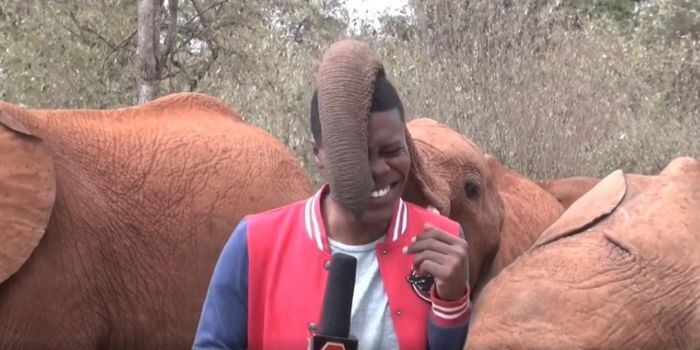 Kenya Broadcasting Corporation (KBC) journalist, Alvin Kaunda, has become a household name following a unique scenario during his line of duty that made him recognized globally.
Kaunda, who shared a heartwarming moment with an elephant during a piece-to-camera (PTC), received praise after he reunited a missing kid with his parents, days after covering the same story on TV.
Sharing the successful journey of the 10 -year old boy, Harmony, on Saturday, January 28, Kaunda explained how he was able to spot the kid among street children.
On confirming the kid's identity from the photo left behind by his father, Kaunda carried the kid back to KBC studios where the two were reunited.
Simon Ihaco and his son Harmony after they were reunited at KBC on Saturday, January 28, 2023
Facebook
Alvin Kaunda
"I did a report on a missing boy when his father came to KBC one week ago. Today as I was doing my duties in the field. I recognized the exact child from the photos his father sent me at that time.
He was wandering in the streets of Parklands area, Nairobi, Kenya. What a heartwarming moment it was to finally help the family reunite with their only child who has been missing for a month without a trace.
Who would have ever known that the person who reported on TV about the missing child would be the same person finding him," Kaunda excitedly shared the experience.
The boy who went missing on December 20, 2022, was playing with other children at their home when he failed to trace his way back home.
Kaunda tracked the steps of the toddler from the day he went missing to the moment he found him only for him to find out that he had been living in Deep Sea slums at Parklands.
The good Samaritan, Caroline Nasimiyu, who has been hosting Harmony narrated how he came home with his son and begged his mother to host him as he had been sleeping on the street.
"I took him in as my son waiting for someone to claim him," she explained.
It was a dream come true for Harmony's father who had been praying to get another chance to see his son.
Kaunda has been in the news for rather unusual reasons, getting the attention of Kenyans and warming the hearts of many at times.
He went viral after he was almost robbed during live coverage at the Azimio la Umoja rally in Kamukunji.
In 2022, he enjoyed a fully paid three-day trip to Maasai Mara National Reserve after he was rewarded the exclusive deal by the Expeditions Maasai Safaris founder and Chief Executive Officer Pancras Karema.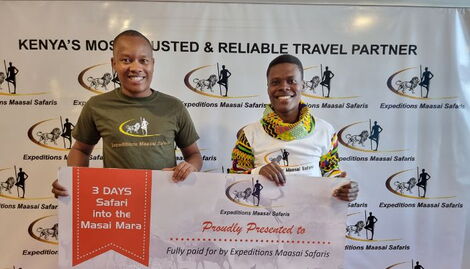 Expedition Maasai Safaris CEO Pancras Karema (left) presents a reward to KBC journalist Alvin Kaunda on Saturday, November 19, 2022.
file
Comments
comments