Kendi finds her life calling preserving beauty of blooms up to 2 years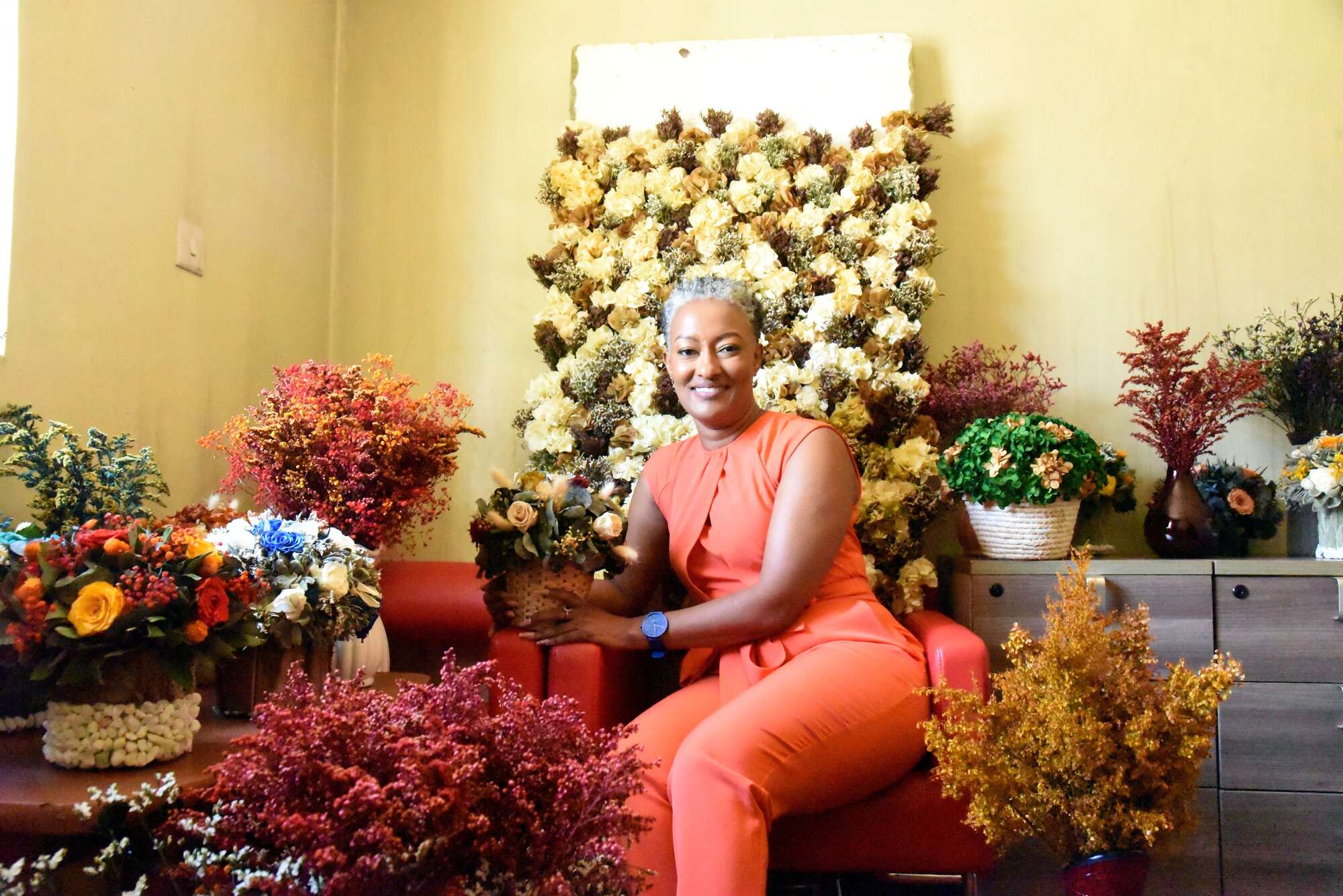 Kendi finds her life calling preserving beauty of blooms up to 2 years
Tuesday January 31 2023

Preserved flowers, rather than fresh ones, are gradually becoming an interior design option. And Kendi Kamanja, a florist, is pushing the boundaries on what constitutes a beautiful bouquet of dried flowers.
We meet at her factory in Kikuyu, teeming with workers in the process of drying the flowers, some unloading fresh-cut roses that have just arrived from Eldoret, and others preparing a flower wall for a photoshoot. The wall is filled with different colour patterns of the preserved hydrangea flowers.
"This is my calling. Nothing makes me happier than working with flowers. Being able to play around with different ideas and seeing what comes out of them, is my life's purpose," she tells the BDLife at her company Kendily Petals which preserves natural flowers.
Read: Houseplants to keep your bathroom fresh day-long
Nine years ago, Ms Kamanja left her career to follow her first love, flowers. But it took years to actualise the business.
"I grew up in a very flowery home in Meru. My dad loved flowers a lot hence my passion for flowers was cultivated at a very young age," she says.
After a period of extensive research, contracting a chemical engineer, and getting her facts together, she decided to start the dried flowers business in September 2022.
Why did it take so long?
"This is not information that was readily available," she says.
From her Sh1 million savings, she bought a water bath and a drying machine and hit the ground running. Had she waited to have all the Sh15 million required to set up a more automatic business operation, she says her dream would have taken an eternity to actualise.
So how does she preserve the fresh-cut flowers?
"Flowers are preserved using five different chemicals," she says.
Normally, it takes about five days to complete the preservation stage.
The first process of preservation is the dehydration stage, where the chemicals suck all the moisture and colour from the flower. This takes a day or two.
The next stop is the stabilising stage "where we replace the moisture we have removed from the flower." The flowers are put in a water bath for about four hours to fasten the process.
"The third stage is conditioning in which we lock in the moisture in the flowers so that they do not lose the shape or the feel," says Ms Kamanja.
This is also the point at which Kendily Petals adds back the colour by infusing in dye and perfume to make them maintain their natural scent and look as good as natural.
"Whatever colour you want, you can get," she says.
Lastly is the drying stage where the flowers are left overnight in the drying machine at a temperature of around 60 degrees. "There must be a fan to keep the air in circulation and sand to retain heat," she adds.
When we arrive, we find her weekly delivery of rose flowers has arrived. "We have contracted a farmer from Eldoret," she says.
Sh60,000 bouquet
It is difficult to preserve just any type of flower. Ms Kamanja says it should be clean orfila flowers because they are good for preserving the buds and petals.
Which flowers does Kendily Petals preserve?
"We preserve different types of flowers including hydrangea, gypsos, lilies, roses, carnations, soft leaves, Limonia, Silver Dollar Eucalyptus, Bunny Tail and solidago," she says, adding that she would like to preserve peonies flowers but they are not easily available in Kenya.
With a price range of between Sh7,500 and Sh60,000 a bouquet, depending on the type of flower arrangement and size, she had decided to produce on demand.
She says people tend to shy away from preserved flowers because of the price. However, dried flowers have benefits. "People love the fact that they don't have to keep buying fresh flowers all the time," she says.
For now, she only processes 100 flowers at a time. "We are still very manual. A good machine is about Sh9 million that will allow us to recycle the chemicals thus reducing the processing costs," she tells BDLife.
Roses are the most expensive to preserve but the best to preserve.
For the other flowers, Ms Kamanja says one does not have to go through the entire process nor require machines.
Read: How to care for fresh cut flowers
"For the hydrangeas, you can use the machines only when you want to get a bleached flower," she says.
The chemicals used in the machines are also expensive. Preserving one rose flower costs Sh150, pushing up the cost, especially if a customer wants a big bouquet.
"But roses are the best flowers to preserve. They have been there for a long time and people appreciate them. They look stunning and the fact that you can preserve them in any colour makes them more adorable," she says.
Dried flowers as a substitute for fresh blooms allow homeowners and designers to bring nature inside.
The demand for preserved flowers is fueled by people who love flowers but do not want to constantly change or take care of fresh flowers.
Preserved flowers have a lifespan of two years hence saving one the trouble of constantly buying natural flowers for decorating the house or office.
"If you do not like plastic flowers then preserved flowers are your best option," she says, adding the trick is to keep them away from direct sunlight and avoid humidity and occasionally dust them.
Her greatest challenge is the flowers need to be at the open-cut stage for them to preserve them.
"This means that we have to wait for a week before we can get the flowers. It results in us delaying our delivery for over a week as the preparation process in the factory also takes longer," she says.
The fluctuating costs of the chemicals also give the florist sleepless nights.
"When they are not readily available the few people who have the chemicals increase prices," she says.
Does she see dried flowers fully embraced? "I see so much potential," she says, adding that her target market includes hotels, offices, and people holding parties and celebrations.
Comments
comments