Kenya eyes cheap fertiliser from Tanzania as input shortage bites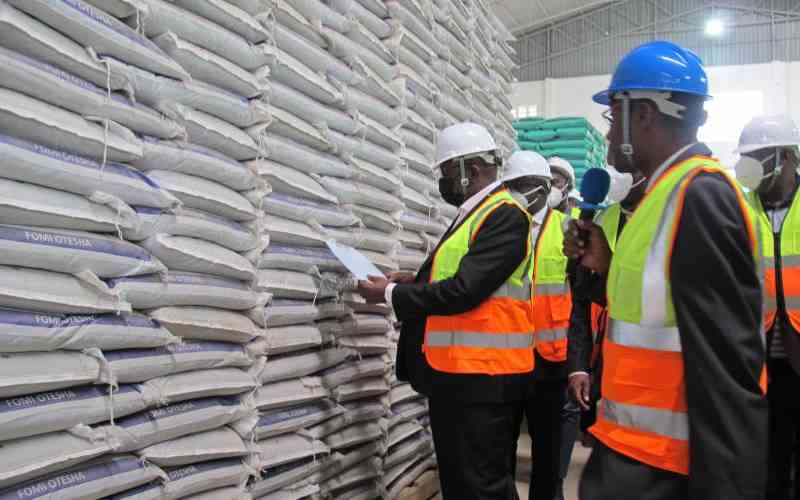 Kenya could start importing fertiliser from Tanzania next year to help alleviate the shortage. 
The move is geared towards saving the country from the high cost of importing fertiliser from overseas.
Speaking in Dodoma on Friday, Agriculture CS Mithika Linturi said the shortage of fertiliser and the cost of importing the product could be solved by the newly established factory in Tanzania, which produces fertiliser.
The CS spoke during a tour to Intracom Fertiliser, a production plant in Dodoma established by a Burundian investor through Public Private Partnership to provide Tanzanian farmers with affordable and high-quality fertiliser.
Cheaper option
"We have seen the entire process from the collection of cow dung to the final point and its efficacy in food production is evident. We are fortunate because the fertiliser produced here is half organic and half chemical, and it is cheaper," Linturi said.
Agriculture has been identified and prioritised by President William Ruto's administration as one of the pillars of the economic recovery plan, alongside healthcare and the development of Micro, Small and Medium Enterprises.
Because of its potential and immediate impact on agricultural productivity in the medium and long term, the supply of cheap fertiliser was identified for immediate intervention.
"We are currently facing unprecedentedly high food prices occasioned by both internal and external factors. We are focused on increasing agricultural productivity that will lead to increased supply and eventually lower food prices," said the CS.
Erratic rainfalls and high input costs, particularly fertiliser, have reduced maize and other food crop production, worsening the country's food situation.
Subsidy programme
The national treasury released Sh3.55 billion last year for the procurement and distribution of subsidised fertiliser to farmers through the 'The Fertiliser Subsidy Programme,' which distributed 1.4 million 50kg bags to farmers across the country.
Linturi said the decision to consider importing fertiliser from Dodoma was also prompted by the ongoing conflict between Ukraine and Russia, from which Kenya imports fertiliser.
"The shortage of fertiliser and food insecurity is not a Kenyan problem only but it is a global challenge that cannot be ignored. Our annual fertiliser demand ranges between 800 and one million tonnes, at a cost of more than Sh80.5 billion," Linturi said.
A delegation from his ministry and senior advisors from the President's Office led by Senior Advisor and Head of Economic Transformation Secretariat Augustine Cheruiyot accompanied the CS.
The government is currently supplying subsidised fertiliser to farmers at a cost of Sh3,500 per bag, as Linturi remains optimistic that importing from Tanzania will be cheaper and faster.
Cost of production
"It is a deliberate position of the president to lower the cost of production and subsidies cannot be sustainable. The opportunity presented here means our farmers can get good fertiliser at lower costs than they are buying at the current market prices," said the CS.
Linturi said a similar fertiliser factory in Kenya would provide market opportunities for pastoralists and livestock keepers because manure is a key component in the manufacturing of fertiliser, in addition to job creation.
"Our plan is that by the end of the long rains season in the next few months, we will have had enough and cheaper fertiliser. If we can manage to reduce the prices, we will remove the subsidy set aside for fertiliser," said Linturi.
According to Tanzania's Assistant Agriculture Minister Anthony Mavunde, the agronomic and yield performance of the three types of fertilisers produced in Dodoma can increase maize production by 39 per cent and rice production by 31 per cent per year.
Linturi, on the other hand, tasked the Kenya Agricultural Research and Livestock Organisation (KARLO) with assessing the yield performance of Tanzanian fertilisers ahead of the planned importation.
The potential increase in beans and sorghum yields was estimated to be 26 per cent and 19 per cent, respectively.
Increased yields
In Kenya, maize production is approximately 40 million bags per year, and fertiliser use accounts for 30 per cent of productivity, implying that fertiliser use could increase yields by approximately 4.2 million bags.
"Once the factory is fully operational and manages to satisfy the demand for fertiliser in Tanzania, we will buy the fertiliser and soon we will address the perennial shortage of fertiliser in our country. It will also be an opportunity to grow the economy of the East Africa Community," the CS said.
"The delays of buying from other countries across the globe will be solved because we will just send trucks to Dodoma and in a few days, fertiliser will be available. I am confident the costs will go down by a big margin," he added.
Kenya spends more than Sh80.5 billion per year on fertiliser imports, according to the CS. However, Linturi believes effective public-private partnerships will be the ultimate solution to sector challenges, including agriculture.
Comments
comments