Kenya's Bid to Replace Fuel & Gas With New Energy Takes Shape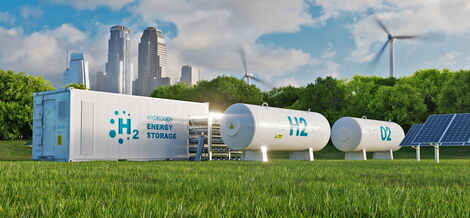 Kenya is at an advanced stage of adopting green hydrogen production to replace fossil fuels and gas.
The Electricity Association of Kenya (ESAK) expressed readiness to support the growth in energy demand through initiatives such as e-mobility and green hydrogen derivatives including fertilizer and e-methanol.
"Made up of members from different energy disciplines, the working group will also focus on supporting the development of a wider East African market for power that is in line with the African Single Electricity Market (AfSEM)," Electricity Association of Kenya stated on Friday December 2.
According to the upcoming hydrogen development program, the government is considering the entire green hydrogen value chain in terms of planning, transmission, generation and distribution of power for individual use and economic activity.   
Concept of Green Hydrogen energy production.
United Nations
Through the Ministry of Energy, the government is planning to generate green hydrogen using extra capacity in its grids at night when electricity demand is low.
To help the country generate this new energy form, relevant stakeholders are at an advanced stage of identifying industrial pathways.
Planned generation is touted to solve electricity shortage and address the high cost of acquiring cooking gas in the country.
Green hydrogen, a clean energy source, is set to offer solutions to air pollution caused by fossil fuels, including crude oil and other gases emitted into the air.
In July, former Energy Cabinet Secretary Monica Juma also noted Kenya's preparedness to pilot green hydrogen production.
"To support the adoption of hydrogen as a source of power, a national green hydrogen working group comprising stakeholders from the public and private sectors has been set up to define a roadmap on the future of green hydrogen in Kenya, and to enact the requisite policies and regulations to support its adoption," Juma stated.
Advantages of Green Hydrogen
This new energy is produced from water or natural gas such as coal.
As a gas, hydrogen can be transported in compressed form in tanks or injected into pipelines along with natural gas and then combusted or recaptured downstream.
Green hydrogen is 100 per cent sustainable. It does not emit carbon gases during combustion or production.
It is also easy to store, which is set to help the country, especially during nationwide electricity outages.
Green hydrogen can be transformed into electricity or synthetic gas and used for commercial, industrial or mobility purposes. 
The gas can also power ships, aeroplanes and even modern cars.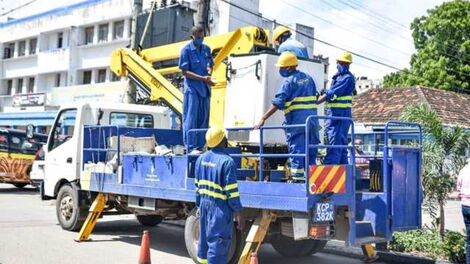 Kenya Power staff at work.
File
Comments
comments