Lack of ships, cargo agency digs Sh3b hole in State coffers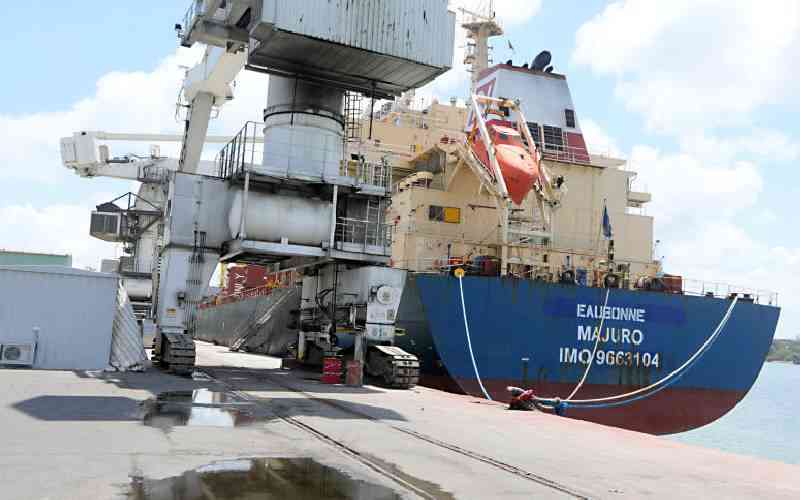 A grounded Kenya National Shipping Line (KNSL) and a moribund Government Clearing Agency (GCA) are costing the Kenyan taxpayer Sh3 billion annually, revenue lost when the government is forced to hire private shipping lines and cargo agents when importing its goods.
KNSL has operated without a ship for decades, and is usually forced to hire space on private ships when importing goods on behalf of the government.
GCA, on the other hand, has been shunned by State entities for many years after it became inefficient in clearing cargo; ministries, departments and agencies prefer private clearing and forwarding firms.
Now, the government is mooting plans to revamp these two entities which will save it up to Sh3 billion when undertaking importing and exporting goods.
Just like retired President Uhuru Kenyatta's administration, Kenya Kwanza has embarked on fresh efforts to amend Section 16 of the Merchant Shipping Act of 2009 that prohibits a shipping line from operating a port terminal in its plan to breathe life into KNSL.
Leader of majority in the National Assembly Kimani Ichung'wah has already sponsored a Bill seeking to remove Section 16 of the Merchant Shipping Act to allow a shipping line to operate a port terminal.
The Bill to be debated when parliament resumes on February 14 this year will enable KNSL to operate at the port.
If KNSL and GCA are fully revamped, the government will save Sh3 billion annually on services offered to the state by private cargo logistics firms, according to State data.
Shipping and Maritime Affairs Principal Secretary Shadrack Mwadime said reviving GCA will enable government to save on demurrage charges and penalties paid to private companies.
It is expected that GCA could make up to Sh500 million in revenue annually when fully operational. Handling of government cargo by KNSL and GCA is also expected to enhance confidentiality in such operations.
KNSL has been hiring slots on private ships to facilitate transport of cargo but this has created a dent on State revenues.
On the flip-side, countries like Ethiopia which boast of a vibrant national shipping line with a fleet of over a dozen vessels make a killing by hiring their fleet to private entities.
Reports indicate that President William Ruto has already met Kenya Ports Authority (KPA) and other senior government officials to discuss maritime matters including the revival of KNSL.
In 2018, the Uhuru administration inked a memorandum of understanding (MoU) with senior vice president of Mediterranean Shipping Company (MSC) Captain Giovanni Cuomo to establish a framework for the revival of KNSL.
In the MoU signed on August 16 2018, and seen by the Shipping and Logistics, the government commits to ensure KNSL becomes a competitive operation by directing and ensuring that KPA negotiates arrangements to enable KNSL operate from the port.
Government also committed to reserve all State cargo for transport by KNSL. On its part, MSC committed to use its worldwide shipping network and its capacity in ports and ship operations to expand the scope of KNSL ports of call.
MSC commited itself to offer KNSL operational and technical support through the entire worldwide MSC network and to facilitate the port in Mombasa to become a transshipment hub for the region.
MSC, which is the second largest shipping line in the world after Maersk Shipping Line, offered employment to Kenyans as cadet officers, seafarers and service staff on board cargo and cruise vessels.
MSC committed itself to develop training facilities such as Bandari College and Utalii College with MSC training programmes.
It also committed to establish a crew manning office in Kenya to cater for recruitment, travel management and welfare of those in employment.
The parties agreed to expand the KNSL activities to include ship owning (including tankers and container vessels), port management, logistics services, in each case as deemed commercially viable. The parties committed to establish a joint committee to operationalise the MOU.
The government, through KPA and other partners, established KNSL in 1989 to carry out shipping business and other related shipping activities.
In 1997, Heywood Shipping Company Limited, a fully owned subsidiary company of MSC, joined the partnership by acquiring a 33 per cent interest in  KNSL.
"The government and MSC, as the principal investors in KNSL, are desirous of reviving and strengthening the partnership in order to ensure the company meets its objectives as contained in the memorandum and articles of association," parties in the MoU say.
Comments
comments