Machakos University Closed Indefinitely – Viral Tea Ke
The decision followed a special meeting convened on Wednesday morning…
Machakos University has announced the indefinite closure of its main campus with immediate effect.
In a memo signed by its Vice-Chancellor, Professor Lucy Irungu dated Wednesday, December 7, the university announced that it was closing down over student unrest over rising cases of insecurity around the tertiary institution. 
Irungu noted that the decision followed a special meeting convened on Wednesday morning, where the board resolved to close down the varsity for security reasons.
Renewed protests at Machakos University on Wednesday, December 7, 2022, after the student who had been shot by police succumbed to his injuries. /TV47 DIGITAL
"Due to the evolving insecurity situation around the University and the ongoing students' demonstrations, a Special Meeting convened on 7th December 2022 resolved that in the interest of the Security of Staff and Students, the University be closed with immediate effect," the memo read in part.
"This is, therefore, to inform all students to vacate the university premises with immediate effect. Further communication will be made in due course."
This comes after a police officer was arrested on suspicion of shooting and seriously injuring one of the students at the university. The student who was shot during a previous demonstration died while receiving treatment at the Machakos Level 5 Hospital.
Transport activities were paralysed on the Machakos-Wote Road with students lighting bonfires and barricading using huge stones.
In a report by the Directorate of Criminal Investigations (DCI) on Tuesday, December 6, Police Corporal Michael Mulwa, is suspected to have shot one Brilliant Anusu. Together with his colleagues, Anusu staged a demonstration due to the escalating level of insecurity in the area.
"The student who is currently fighting for his life at the Machakos level 5 hospital, is suspected to have been part of a group of students that had engaged police officers in running battles for the better part of the day. 
"A total of 9 firearms including 5 pistols, 3 G-3riffles and one AK-47 assault rifles have also been seized from different police officers and they will be subjected to forensic ballistic analysis at the DCI National Forensic Laboratory, to scientifically ascertain which firearms were misused when quelling the riotous students," the DCI stated in part.
The Independent Policing Oversight Authority (IPOA) launched investigations into the incident, stating that they dispatched a rapid response team to the scene of the crime with specific instructions that they obtain all information that may assist in the investigation.
"We appeal to the students and residents to maintain calm and allow the due process of the law to take its course. IPOA remains committed to being independent, impartial and fair," IPOA stated in part.
Another police officer was arrested on robbery with violence charges after he attacked a student of the same university and robbed him of his mobile phone and other valuables.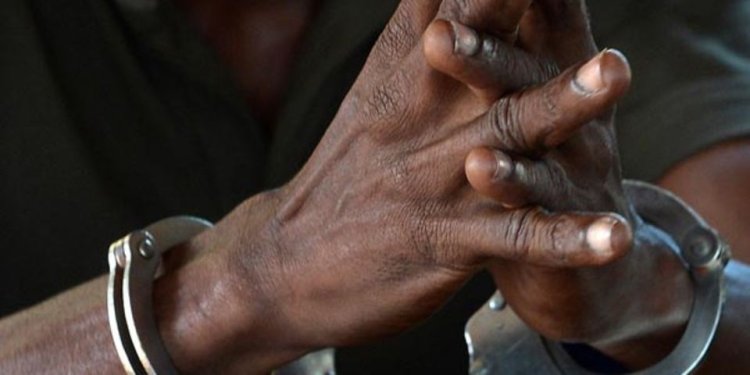 A man in handcuffs. /DAILY NATION
Comments
comments