More Woes for Kenyans as Ruto's Plan to Increase NSSF Deductions Gets Support – Kenya Gist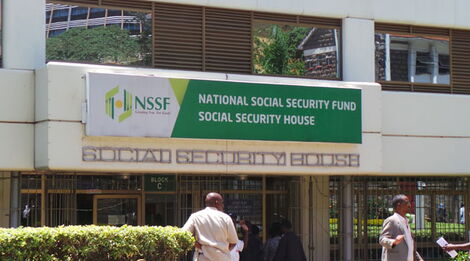 Kenyans will have to part with more money to guarantee their social security upon their retirement following a ruling by the Court of Appeal.
In a ruling issued on Friday, February 3, the appellant court set aside a ruling by the Environmental and Labour Court that had rendered the National Social Security Funds (NSSF) Act 2013 unconstitutional.
President William Ruto has been vocal about his intention to increase workers' monthly deductions and the rulling provides him with the support he needed to implement the plan. 
The labour court had denied NSSF's push to implement the act to amend the structure of the contribution from the standard fee to have Kenyans contribute a total of 12 per cent of what they earn.
NSSF building in Nairobi's Upper Hill.
Twitter
"Having found that the trial court had no jurisdiction to entertain the matter, we find and hold that on this ground, this appeal succeeds.
"We, therefore, set aside the entire judgement dated September 19, 2022, and all the consequential orders. Each party shall bear its own costs for the appeal," the three-judge bench ruled.
Section 20 of the Act calls for mandatory contributions by Kenyans to the fund, with employed Kenyans paying six per cent of their earnings, which would be matched by their employers.
For instance, an employee with a pensionable income of  Ksh20,000 would contribute Ksh1,200 and the same be remitted to the Pension Fund by the employer.
"An employer shall pay to the Pension Fund in respect of each employee in his or her employment (a)the employer's contribution at six per centum of the employee's monthly pensionable earnings; and
"(b)the employee's contribution at six per centum of the employee's pensionable earnings deducted from the employee's earnings," the law reads.
However, the Kenya Tea Growers Association, Agricultural Employers Association, Kenya County Government Workers Association and six others moved to court challenging its implementation.
In a ruling by the environmental court, it ruled that Section 20 granted NSSF a monopoly in the pension industry secure as opposed to the laws on fair competition.
In September 2022, the president called for the revision of the country's pension contribution rates terming the Ksh200 monthly remittances as inconsequential.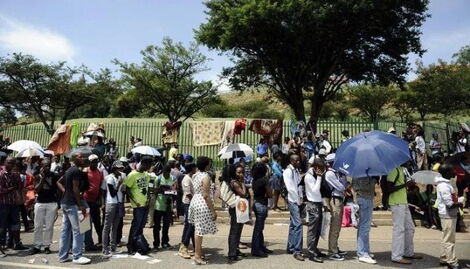 Kenyans queue at a past job interview.
File
Comments
comments