Ms Jane Marriot Takes Over From Nic Hailey As The New British High Commisioner To Kenya
The property market in Kenya is currently in disarray. The multi billion industry that previously had a promising future is turning to be a nightmare to investors many of whom now are counting their losses. The pattern of collapse has been steady and there seem not to be any end soon.
From Embakasi Ranching, Ekeza, Diamond properties, Gakuyo, Urithi and most recently Suraya and the list goes on….the big questions remain for how long will these multi billion shilling property companies defraud Kenyan and who will put an end to it.
Mostly, the red flags are from a few shortchanged customers whose cries are quickly shut by quick PR responses by these firms until the situation is full blown and their billions swallowed so one of the mistakes is ignoring such red flags. But investing is more of risk taking so it's understandable when such signs are defied.
In February this year, the firm was dragged down a series of fraud claims which they fiercely refused. A viral message did the rounds on social media accusing Banda Homes Limited of shortchanging their buyers.
The developer was accused of failing to deliver homes to buyers despite having received deposits amounting to Sh1.5 billion since last year. The reports claimed the money raised was used partly to pay for the land where several other estates will be built on Kenyatta Road and in Kikuyu near Sigona and to finish up old projects.
Banda Homes was accused of adopting a rebranding strategy to camouflage themselves and that owners used proxies to dupe unsuspecting investors. The firm, the reports claimed, has re-branded at least two times since 2011, during which it has acquired new names to avoid being followed by clients after allegedly failing to deliver on projects.
" It started out as Dinara developers around 2011, then Lettas developers around 2013, then Banda homes in 2018. The directors mastered the art of rebranding each time after soiling their reputation of not delivering on their projects through mismanagement of funds." Read part of the report.
Andrew Kamau Muhiu was mentioned in the report as the legit owner of Banda and instead used his employees as directors. It alleged that Kamau a 35 year old with vast wealth rich, is the mastermind of the rebranding strategy of Banda.
"The fraud,
Mr Kamau has court cases to his neck from his previous unfinished projects from mismanagement in Dinara and Lettas developers. Some projects are in Thindigua and a handful in Thika. His solution was to raise funds externally to plug the deficit as the cases were not going away and have been on for years." It read.
The developer was accused of failing to deliver homes to buyers despite having received deposits amounting to Sh1.5 billion since last year. It accused him of misappropriating customers deposits.
"In January 2018 he launched two housing estates in Kimunyu, Kenyatta Rd. Through vigorous marketing sold out about 100units securing a deposit of 150M (houses cost 4M, deposit of 1.5M bal in 10months). Part of this money went to clear deficits of his previous failed projects. He further launched more estates between January and April 2018 with most being along Kenyatta Rd. Off Thika Rd and some in Kikuyu near Sigona totalling about 900 units and collecting deposits of about Sh.1.5Billion. This amount was used to partly pay for the land of the estates and about Sh.200M diverted to finish up the old projects. Going forward he had a deficit of about Sh.300M diverted to old projects. Also a lion share of these deposits was used to purchase the pieces of land."
This was not the first time Banda Homes has found itself on the receiving end. Late last year, Kathleen Kihanya, a member of the Kenyatta family, kicked up a storm over ownership of the prime land on which the developer hoped to put up a Sh1 billion estate for sale.Kihanya, President Uhuru Kenyatta's cousin, claimed Banda Homes had misled potential buyers on the land, a claim the investors disputed.
"This land belongs to my family and we are now in the process of subdivision and issuing separate titles. Banda purports to have an agreement to buy part of this land, which is not possible because there is no title. They have erected a sale sign on the land and they are collecting deposits from people. My family had no idea," she had told a local newspaper.
On the Kenyatta's family saga, the report said;
"Mr Kamau convinced one of the heirs of the Kenyatta family to sell him a 20 acre piece for 7million per acre. He had 145 housing units designed on this piece of land and sold them out in a month getting about Sh.218M in deposits, he used this to pay part of the land cost and to cover back the Sh.300M diverted from Banda homes.
When Former First lady Mama Ngina heard about the price their family land was sold at she rejected the sale and returned the deposit to Banda homes (should have been 15M per acre). That's when this story was aired in the media in September last year.
Most buyers came for their refunds but we're told to wait, as there was no money anyway. This is when the rain started beating them.
Banda homes went on to launch two more estates with about 300units, seeking to solve their issues with customer deposits."
But in a rejoinder, Banda Homes director Paul Nderitu said that they bought the land from Kihanya's cousin after the court ruled that the land be subdivided between Kihanya's mother and her sister Beth Ngonyo, the cousin's mother.
Report further goes to print out what it says is the business model of Banda while issuing warnings to potential investors.
"In all these estates customers were expected to continue with monthly instalments of about 300,000 each, to support ongoing construction. But on noticing very slow progress despite the consistent payments, most started holding on further payments until they see satisfactory progress on their housing units.
Them that have bought into the estates are trapped as there is a clause in the contract that says you forfeit 40% of your initial deposit if you choose to pull out of the contract.
Problem is more and more Kenyans are still buying into this estates not knowing what awaits them. They are roped in by cheap prices and a vigorous marketing machine 'The Property Show' included.
When Kenyans finally realize the truth and Banda homes cannot get any more deposits, the chicken will come home to roost. Before us will be a developer who has duped us to invest in over 1500 units, mismanaged over Sh.3Billion of Kenyans money and counting not delivered on any of them (to put this in perspective, some of these estates have only done bush clearing despite having been sold out).
Like pyramid schemes the lifeline of Banda homes has been deposits from new buyers, being the reason the company has launched estates totalling 1500units in just a year, who can beat this record.
Until then give knowledge to them that are too lazy to do due diligence."
In a rejoinder, Fabian Nzivo, the company's CEO, said reports that they had diverted the money collected from clients to other projects was a propaganda being propagated by their business rivals.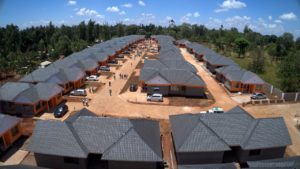 While the dream of owning a home is in everyone, the pain of losing your lifetime savings to rogue developers is unbearable and destroys many people mentally and financially.
The need of due diligence while investing your hard earned cash I can't overemphasize. Viability of the project is important, most of the firms have drowned with people's billions because of adapting financing models that can't stand the storm.
Coming at a time where firms like Suraya that started off well just like Banda only to turn around and leave investors wreathing in pain counting their losses, the curse of getting scammed by real estate developers must come to an end.
DCI must not take back seat and instead jump in to protect Kenyans from fraudsters. Billions continues to sink as scammers laugh all the way to the bank, it's immoral to take advantage of people's desperation to enrich yourself.
Our work here is to inform, yours is to make the decision. Ultimately, do vigorous due diligence before investing a cent in whichever investment you're interested.
---
Kenya Insights allows guest blogging, if you want to be published on Kenya's most authoritative and accurate blog, have an expose, news, story angles, human interest stories, drop us an email on [email protected] or via Telegram
---
Comments
comments