ODM Governor Clears the Air After Rowdy Youths Beat up MCAs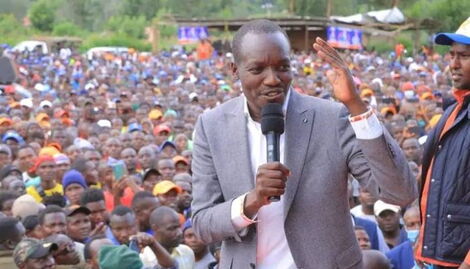 Kisii County Governor Simba Arati on Wednesday sought to set records straight over an incident in which two Members of County Assembly (MCAs) were badly beaten by unknown people.
Arati who distanced himself from the attack, however, accused his opponents of inciting residents against his administration.
"I am happy that these members were all here, therefore this business of saying that Simba locked people in the stadium…did I close them down and beat even the MCAs? I was meeting the idle staff and there was nothing like that…" he said.
"I was not chasing anyone home…these are idle staff who have been in those offices doing nothing," he added.
Kisii governor Simba Arati during a political event in Kisii in June 13, 2022
File
Police in Kisii County have since launched a manhunt for the suspects who seemed well equipped to carry out the attack.
The MCAs were assaulted during a scuffle at Gusii Stadium between two County staff and unknown individuals.  
The ugly incident took place during Governor Simba Arati's meeting with a section of the county staff.
 
Kisii Central Police report shows that one JobOyugi, a county staff, was on his way out of the stadium after attending the Governor's meeting when the assailants pounced on him with kicks and blows.
Arati claimed that the violence was pre-planned by those who are against his close association with President William Ruto in an effort to cause a rift in the county.
"It is about people who are now scared that I am engaging thenational government, particularly the president.
We have 48 governments, andwe must work with all of them, especially the national government and the headis the president," Arati explained.
However, Arati has vowed to continue working with the president in order to bring developments to his people.
 
"The people who are making noise are those whowant to wage war between the president and me…I want to tell them it isfar-fetched and cannot work. I will work with the president and he will workwith me, we had promised each other… am going to stand firm for service deliveryto our people," Arati confirmed.
At the same time, UDA-affiliated MCAs led by the Minority Leader called on the police to conduct a thorough investigation into the matterbefore things get out of hand.
"We have come here with a few MCAs so that we stand togetherwith Edna and show that we are united as leaders from the region," noted MinorityLeader Dennis Ombachi.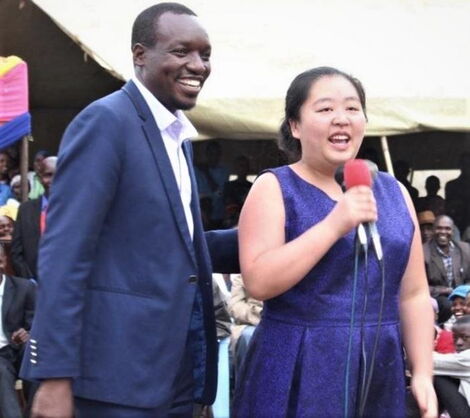 Kisii Governor Simba Arati and his Wife at a past event.
File
violence suspect
Comments
comments