Of World Cup and why Kenyans thrive in analysis than playing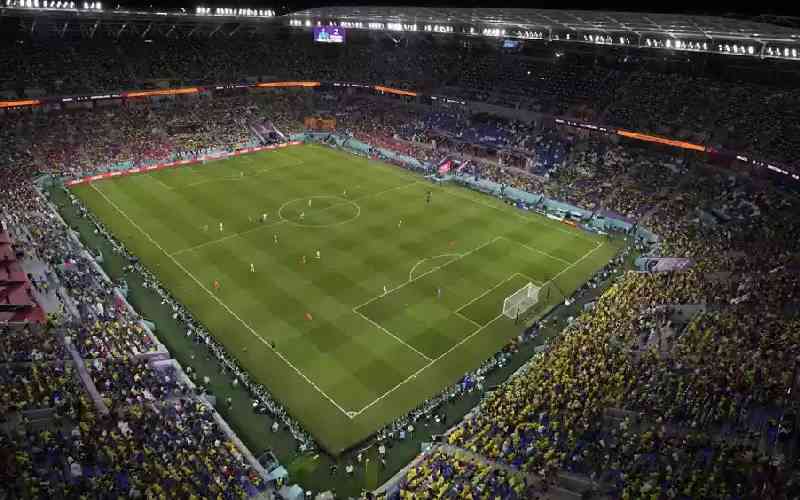 In the midst of battling the aftershocks of the Covid-19 pandemic, a prolonged and bitter political season, economic upheaval, socio-political and technological disruption and extreme weather changes, the last two weeks, the country (and the world) has been convulsed by the Fifa World Cup Qatar 2022. 
The month-long fiesta will see 32 teams – four of them from Africa – slog it out in eight stadia across one of the world's tiniest and wealthiest nations. 
Nothing unites the world than this daily feast of sporting events. A half of the world's eight billion souls will be transported into these cauldrons of football bonanza to witness the wizardry of kicking around a mass of leather and air and aiming at the opponent's net.
The beauty of football is not in the magical moves of wonder players like Bruno Fernandez or Messi or Harry Kane. It is in its ability to transcend race, gender, religion, language and creed. It transfers our imagination to what is possible with the human spirit. In the pitch we witness passion and pain; disappointment and triumph; exhaustion and energy; team work and individual drive, in exemplary display. At the end of it, the players will have played against teams that speak a language they don't comprehend.
Nothing captured the boiling of emotions (political) than the game between Group B teams USA and Iran or the hilarious thumping of Argentina by the Saudi Arabia team or the Spanish demolition by the suave Japanese; or the bringing down to Earth of the mighty Brazilians by the Indomitable Lions of Cameroon. Surely, there is something cathartic about underdogs wrestling giants. 
But doesn't it surprise (and annoy) us that Kenya hasn't featured in all of the 23 tournaments so far? 
Why is football mostly watched than played in Kenya? That Kenya – one of the foremost African countries – has never sent a team to a Fifa World Cup tournament ought to serve as a great indictment on sporting authorities. Nigeria, South Africa, Egypt the regional anchor countries have all been at the World Cup. Not Kenya. 
Most of our athletes are members of athletics' elite clubs; a stark contrast to football where most Kenyans thrive in analysis.
In fact, it is a lot harder for an average Kenyan to name the first team of the national side Harambee Stars compared to say, Bayern Munich of Germany or Arsenal, an English Premier League team.
Surely, are there no 22 or 18 or 11 Kenyans capable of kicking the ball around at this level? Victor Wanyama, McDonald Mariga and Dennis Oliech are some of the Kenyans who have broken the glass ceiling but they remain just too few.
And even when our teams have gone out to regional outings under the Confederation of African Football, they have been under par performers. 
Our national coaches usually knit together a team from a mosaic of players from across world leagues. That doesn't guarantee optimal performance because rather than have a well-oiled machine, the team outputs an abysmal performance.
What to do so that four years on, Kenya will be among the teams that arrive in Canada, USA and Mexico to play in the 24th tournament in 2026?
First, local football is rotten; it is riddled with mismanagement and corruption. Only a root and branch change will help fix things.
To grow and make football a worthwhile engagement, we will have to do things differently. Talent must be tapped from the grassroots through sports academics in the regions. On its own, that grows the fan-base and attracts funding from the private sector and other non-state actors. The most outstanding thing about serial World Cup participants is that most of them have well run local league which feeds the national team with an abundance of talent. Often, the managers of the national teams are spoilt for choice picking the line-up for a 22-man team.
Additionally, government should make it easy and worthwhile for the private sector to invest in sports. The punitive laws on betting and alcohol advertisement for local media (imposed by the Jubilee administration) has done more harm to sports than to media; a classic case of treating the consequences of a failed regulation environment by punishing genuine business.
Mr Kipkemboi is Partnerships and Special Projects Editor, Standard Group
Comments
comments