Top KCPE Student Enjoys First Flight as He Joins Alliance High School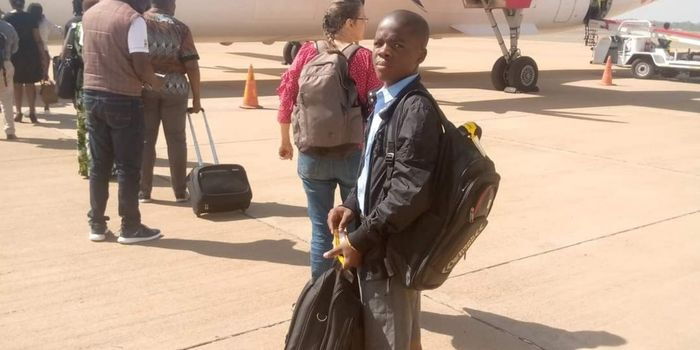 Top 2022 Kenya Certificate of Primary Education (KCPE) student Robinson Fwaro Makokha was privileged to enjoy his first flight as he joined his new school.
Fwaro, who attained 431 marks in the KCPE 2022 enjoyed his maiden flight on Monday, February 6, as he headed to Alliance High School for form one admission.
The flight was in courtesy of the Bumula Constituency Member of Parliament Jack Wanami Wamboka.
In photos seen by Kenyans.co.ke, Fwaro was seen arriving at the airport carrying his school luggage while still in his former primary school uniform.
Robinson Fwaro Makokha boarding plane as he heads to Alliance High School for form one admission on Monday, February,6, 2023
Twitter
DAP-K Party
Speaking at St Georges Girls' High School in Nairobi on Monday, February 6, Education Cabinet Secretary (CS) Ezekiel Machogo directed all secondary schools to allow form one students to report in uniforms they used in primary schools in the event that their parents are not able to buy new ones.
In acknowledging the MP's gesture, the Democratic Action Party – Kenya (DAP-K) praised Wamboka for being on the front line in supporting the education sector in his area.
"Wamboka, one of our Big 5 MPs has prioritized investments in education to uplift his Bumula people," the party stated.
Fwaro and Lewis Otieno Omondi were the leading candidates after attaining Grade A in all the five subjects examined by the Kenya National Examinations Council (KNEC). They were both placed at Alliance High School.
The 14-year-old was a student at the Christ the King Primary School in Bungoma.
Speaking to the press, Fwaro acknowledged the great effort made by his fellow students, noting that they should embrace their results with joy and pride. 
"The secret is to work hard, honour teachers, parents and most importantly respect God. This is just the beginning of great things, and no student should be dejected," Fwaro advised. 
He received a full scholarship for his secondary education from the Education Technologies firm Kodris Africa.
The institution stated that it would pay his school fees for the entirety of his education, and provide a laptop, coding licenses, and other tools.
"We saw on the news that Fwaro would like to become a software engineer. The skill that takes him there is coding, and we want to set him on a firm footing towards achieving his dreams. Coding is one of the most sought-after skills in the world today, and Fwaro is setting the pace," Kodris CEO Mugumo Munene announced.
Form One students reporting for admission at Milimani High School, Nairobi County on January 9, 2019.
File
Comments
comments