UNFORTUNATE: Brazil reports 54,771 coronavirus cases in a day, total cases cross 1M mark
Brazil has now reported more than 1 million confirmed cases of coronavirus and 48,954 deaths, marking a grim milestone for the South American country.
The health ministry on Friday reported 54,771 new cases, a record daily spike that brought the nationwide total to 1,032,913.
The Covid-19 pandemic is quickly spreading with no sign of slowing down, as major cities lift social distancing measures and begin reopening restaurants, shops and other nonessential businesses.
Many experts believe the number of cases could surpass the United States and that Brazil may soon become the country worst hit by the virus.
Despite this, President Jair Bolsonaro continues to downplay the threat by questioning global medical authorities and accusing opponents of trying to discredit his leadership.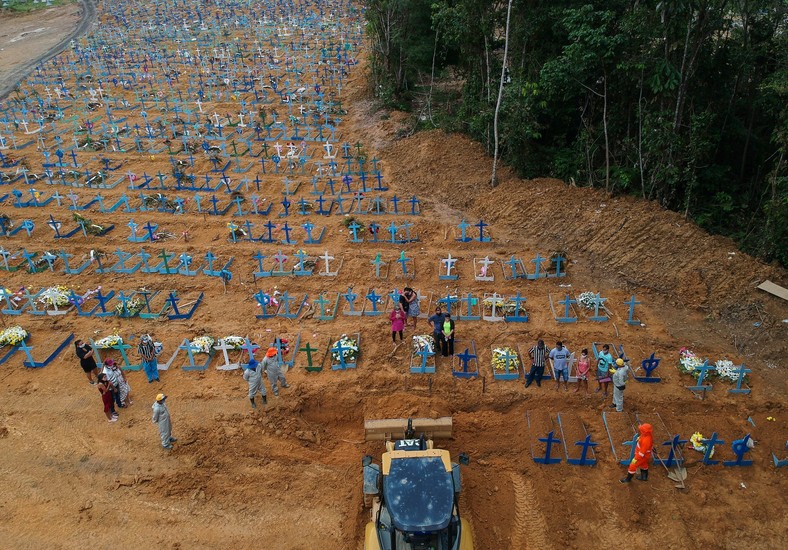 Bolsonaro's false sense of immunity
At first, Brazil seemed impervious to the virus as it spread through countries such as China, Italy and the United States. Bolsonaro only grudgingly agreed to repatriate Brazilian citizens from the then-epicentre, Hubei province, reportedly worrying that they would put the rest of the country at risk.
The first case was confirmed on February 26, when it was believed to be an isolated case of a man who flew back from Italy to Sao Paulo with the virus. A month later, coronavirus cases in Brazil had already risen to close to 3,000 and the death toll was at 77.
It was around this time when Bolsonaro first compared the virus to a "little flu" and falsely implied that Brazilians were immune to the virus.
"Brazilians don't catch anything … they already have the antibodies to keep it from spreading," the President said.
He said again that Brazilians are likely to be immune to the coronavirus during a March 26 press conference outside the Alvorada presidential residence in Brasilia.
"Brazilians should be studied, we don't catch anything. You see people jumping in sewage, diving in it and nothing happens to them," Bolsonaro said.
During the same press conference, Bolsonaro said he believed many Brazilians had already been infected but that those people already had "the antibodies that would help [coronavirus] not spread."
Bolsonaro vs. Social Distancing
Cases began to quickly spread across the country and it became clear that Brazil would soon become a new hot spot for the virus.
By April 8, Brazil had confirmed more than 15,000 cases and 800 deaths. Despite warnings from health experts, images of Bolsonaro hugging supporters at a local bakery in Brasilia and posing without a mask emerged the following day.
Bolsonaro believed the social distancing and quarantine measures imposed by officials in major cities, such as Rio de Janeiro and Sao Paulo, would cause more harm than the virus itself and lead Brazil to a crippling recession.
"The issue of unemployment, the issue of the economy no longer working. We can't let the side-effect of the fight against the virus be more harmful than the disease itself," Bolsonaro said.
Bolsonaro frequently butted heads with mayors and governors of some of the hardest hit places by Covid-19 and ultimately fired Health Minister Luiz Henrique Mandetta on April 16 after he expressed his support for shutting down businesses and schools.
The following weekend, Bolsonaro attended an anti-lockdown rally in Brasilia without a mask where he coughed several times and shook hands with supporters. Opposition leaders considered the protests "anti-democratic," after signs were seen calling for dissolving the Congress and Supreme Court and for the return of the dictatorship.
Related
Comments
comments