Uproar Over Body Lying Outside JKIA After Hit and Run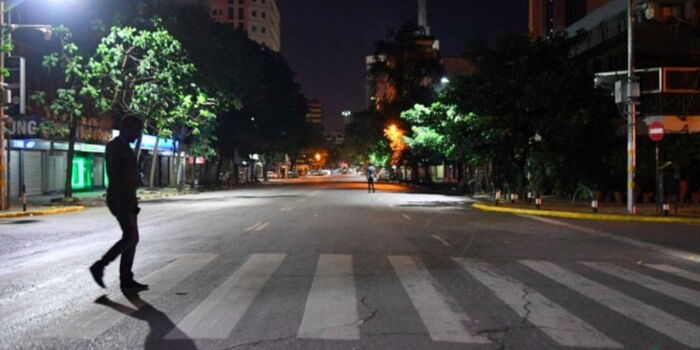 Kenyans were angered after a dead body was found lying on Mombasa Road at the exit of the Jomo Kenyatta International Airport (JKIA) in Nairobi.
In the post shared by Sikika Road Safety on Tuesday 24, the National Police Service (NPS) was urged to act promptly.
It was alleged that the victim was knocked down by a truck that sped off with motorists complaining of a traffic build-up on the busy road following the incident. 
"If you do not act now, we are going to have crazy traffic and it is school re-opening," Sikika Road Safety advised.
Pedestrians assisted by traffic police at a zebra crossing in Nairobi, on Monday, October 21, 2019
Simon Kiragu
Kenyans.co.ke
Others called upon the government to erect footbridges on the busy road to avoid such incidents since it lacked enough designated crossing areas for pedestrians.
One of them shared a similar ordeal in which they were forced to drive through potholes on their way from the airport to save a pedestrian crossing the road.
"That sounds like a black spot, where the airport exit joins Mombasa road to Nairobi Central Business District (CBD)," another user of the road argued.
However while some Kenyans blamed the incident on careless driving, others argued that some pedestrians are ignorant and fail to use the footbridges put in place.
"How sure are you that it was a case of careless driving, yet we do not have any pedestrian crossing at that exit?" another questioned.
According to data from the National Transport Safety Authority (NTSA) released in December 2022, failing to stop to afford passage to pedestrians at a zebra crossing was one of the leading causes of road accidents.
Another cause, according to the Authority, was pedestrians crossing on roads not marked or at non-designated and unsafe areas increasing their risk of getting knocked down or run over by vehicles.
"Fatality rates are higher in highly urbanised counties. This is largely attributed to the improvement of infrastructure and increase in population which has increased interaction between vulnerable road users such as pedestrians, motorcyclists, and vehicles on the road," NTSA detailed in their report.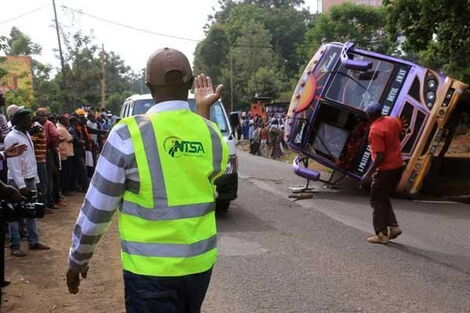 An NTSA official marshalls traffic at a past accident scene
NTSA
dead accident crash
Comments
comments