Ex-soldier making Sh. 356,000 monthly from sukuma wiki farming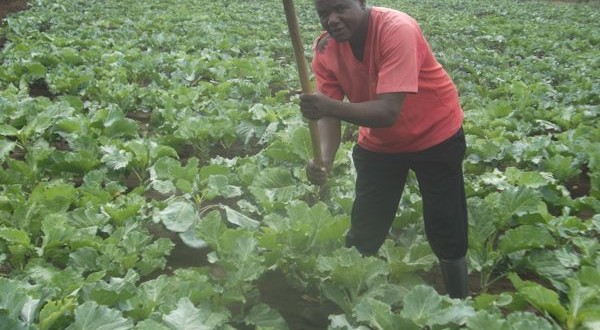 Sukuma Wiki Farming: When he left the military after six years of service due to injury on the left eye, many expected Shem Modi to easily look for a job at a security firm or start a private company.  After all, he was a well-trained shooter and fire fighter from the Lanet Armed Forces Training College.
Instead, he picked a jembe, wore some gumboots and headed to his two-acre farm. His peers jeered at him for wasting his military training 'toiling' on the farms and some of his family members riled at him for picking up a lowly job.
Must read: The Most Profitable Businesses To Start in Kenya
However, the former service man ignored the noise around him and dedicated his time and energy to farming. With the Sh200,000 he had saved, Modi planted tomatoes and waited.  When harvest time came, he was Sh700,000 richer.
"This silenced everyone who was nagging me for not using my military skills better," says Modi.    As a man who earned a basic salary of Sh20,000 plus other allowances, he was excited at the prospects of farming and diversified to kale farming in his two-acre kale farm in Lak Liech village, Karachuonyo in Homa Bay.
He says he fetches Sh89,000 from a weekly harvest of sukuma wiki. Averagely, the farmer says he earns less than Sh1.4m from kale production every season translating to a monthly income of Sh356,000. Modi says he got into farming in 2012 after his six-year military career ended.
He says he got an injury while in service that prompted the surgery. "I was injured in my left eye and had a surgery. However, the recovery was not as I anticipated and I had to leave," Modi says.
He says his interest in farming developed after training by Kimira-Oluch Irrigation project by the Ministry of Regional Development and African Development Bank. "I am proof that farming is not for the lowly and cursed or a deadbeat undertaking," he says.
He targets high demand in November, December, January, March and April depending on how long drought prolongs. Apart from kales, he has also invested Sh150,000 in tomatoes growing on a one and a half acre farm and hopes to rake in Sh1m from the harvest by mid-this month when there is scarcity in supply.
Comments
comments