NSE charms HomeBoyz Entertainment onto Ibuka program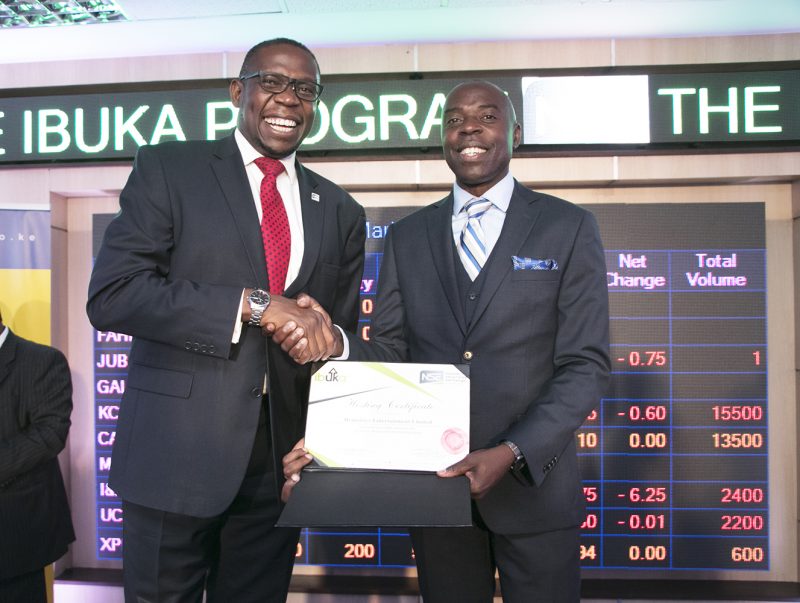 HomeBoyz Entertainment has joined the Ibuka program run by the Nairobi Securities Exchange (NSE), becoming the first entertainment firm on the accelerator initiative.
The firm that was founded in 1992 by three brothers — Mike, John and Alph Rabar — is now the tenth company to join the Ibuka program that seeks to grow firms to a level of potentially listing on the bourse.
HomeBoyz co-founder and chief executive Mike Rabar said, "We are delighted to join the Ibuka
program. We are confident that this platform will enable us to inculcate the necessary structures that will catapult our next phase of growth."
Like previous companies on the NSE incubation program, HomeBoyz Entertainment was subjected to a rigorous evaluation and vetting process by the Accelerator Board, the bourse said in a statement.
NSE's CEO Geoffrey Odundo said the admission of HomeBoyz would play a role in profiling the entertainment firm to a wide spectrum of local and international investors in the market.
With 10 firms, the NSE Ibuka program is still off its initial projection. During an investor briefing earlier on in the year, the bourse had stated that it expects 20 companies to enroll in the initiative within the first quarter of 2019.
By joining Ibuka, HomeBoyz adds to the diversity of firms already in the incubator program that derives its name from the Swahili word for "emerging".
The program seeks to end a prolonged listing drought at the bourse by taking small and medium sized companies through a 10 month incubation.
The process includes the enhancing of the financial, technical, operational, commercial and strategic aspects of these businesses so as to help SMEs realise their valuation, boosting their chances of raising capital through debt and equity markets..
tea exportersAPTI Commodities
travel and tours consultancyGlobetrotters Agency
steel manufacturersBluenile Rolling Mills
financial consultantsMoad Capital
propertiersMyspace Properties
asset leasing firmVehicle and Equipment Leasing Limited (VAELL)
logistics companyPolygon Logistics
Nile Capital Insurance Brokers
LPO funding firmNyali Capital
Comments
comments