Court magistrate issues an arrest warrant for Wema Sepetu after breaching her bail terms
Tuesday, 11th of June 2019, a court in Dar issues an arrest warrant for Diamond´s ex, Wema Sepetu after defying court orders.
Kisutu Resident Magistrate, Maira Kasonde takes the step after the former beauty queen failed to appear in court, as agreed.
The popular Bongo movie actress allegedly went against bond terms by skipping court appearance.
Wema Sepetu is facing charges after being found in possession of 1.80 grams of Marijuana, illegally.
Earlier on, State Attorney, Silyia Mitanto argued that Wema failed to appear in court on Tuesday as well as her surety, on a day set for her cross-examination.
In her defense, lawyer Ruben Simwanza argues that his client [Wema] reported in court before falling ill.
Therefore prompting an immediate hospital checkup.
Unfortunately, Magistrate Maira Kasonde did not buy this therefore giving the orders.
Kama amekuja mahakamani halafu akaondoka bila kutoa taarifa, mahakama itajuaje kama alikuja?

Alishindwa nini kutoa taarifa mahakamani.

[If she came to court and left without informing the court, how will the court know that indeed she was in the premises?]
Wema Sepetu´s case has been adjourned until the 4th of July 2019.
Flashback
This case dates back in 2017 when the Tanzanian beauty was first arraigned in court due to possession of the illegal drug.
A case that is yet to be solved.
This is after the police searched her house at the time, in Kunduchi-Ununio where the narcotics were discovered.
Wema was then arraigned in court alongside her 2 house helps, Angelina Msigwa and Mr Selemani Abbas, before denying charges.
They were however later released after meeting the court demands of each having 2 sureties who were supposed to sign a Ksh 5 Million bond.
DP Ruto ready to contest for Jubilee party's ticket for 2022
Deputy President William Ruto has welcomed competition for the Jubilee Party's presidential nomination ticket for the 2022 candidate.  
Ruto says he will respect the Party's choice for a flag bearer going into the 2022 Presidential poll.
The Deputy President spoke as an opinion poll conducted by the Insight Strategists Solutions Africa showed he is the most preferred candidate for President.
Speaking in Elgeyo Marakwet, Ruto said he was ready to follow any political direction paved by the Jubilee Party.
Get breaking news on your Mobile as-it-happens. SMS 'NEWS' to 22163

There has been growing concern within the DP's camp that Raila Odinga may be harboring ulterior motives, a scheme they say is meant to elbow Ruto out from the 2022 political matrix.
The sentiments coming as a research conducted by Insight Strategists Solutions revealed Ruto is the most preferred presidential candidate followed by Opposition chief Raila Odinga.
The Opinion poll conducted between 29th April and 3rd May and which sampled 1,702 in Nairobi, Nyanza, Coast, Rift Valley and North Eastern among other regions puts Ruto at 30.81%, Raila Odinga at 27.5% followed by Mike Sonko at 12.8% with Amani National Congress leader Musalia Mudavadi polling a distant fourth with 9.3%
Tell Us What You Think
William Ruto would beat Raila Odinga if elections are held today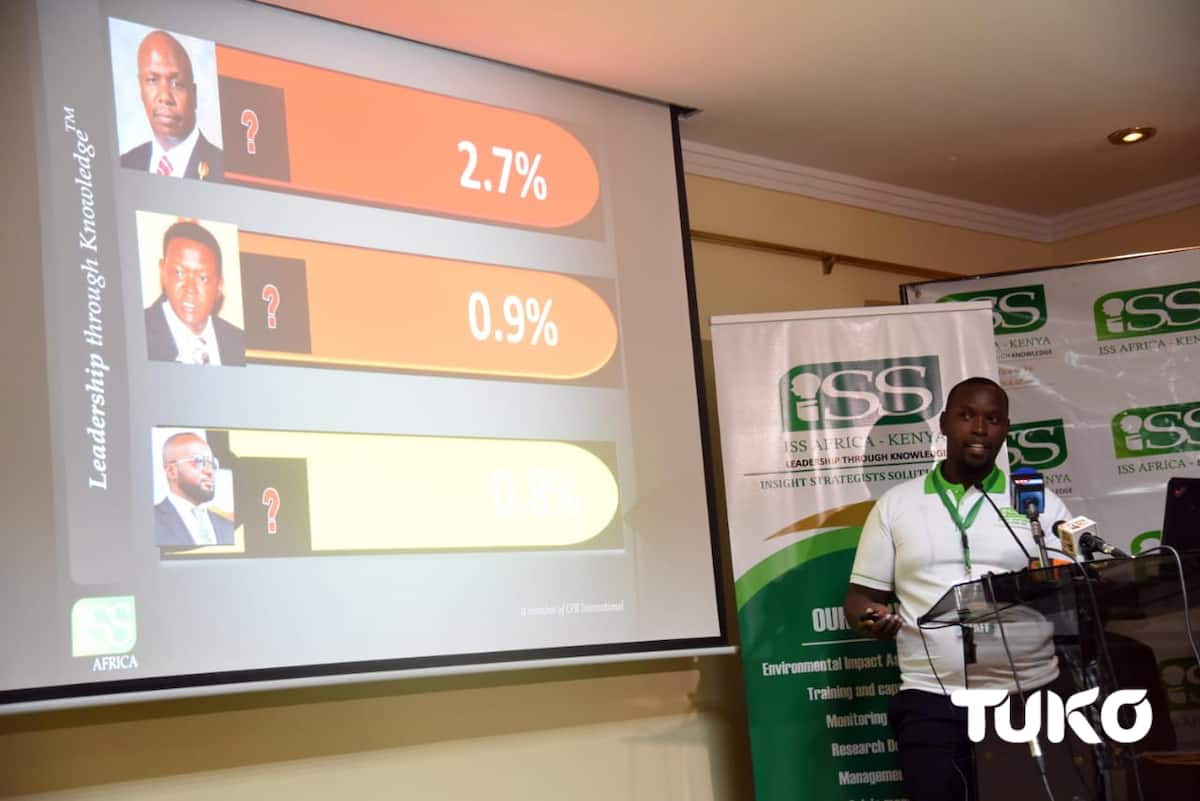 – The DP scored 30.81% in the survey, followed closely by Raila who scored 27.5%
– Coming third was Nairobi governor Mike Sonko who scored 12.8% in the poll
– Mudavadi, Kalonzo and Senator Gideon Moi came fourth, fifth and sixth respectively
– Survey was conducted by Insight Strategists Solutions between April 29 and May 3, 2019
A new opinion poll has shown Deputy President William Ruto would be the most preferred presidential candidate if elections were held today, leading with 30.81%.
Opposition leader Raila Odinga would follow closely with 27.5% with Nairobi governor Mike Mbuvi Sonko coming at third place with 12.8% in the poll.
READ ALSO: Raila Odinga's son backs Orengo's plan to impeach William Ruto
READ ALSO: Wakenya wataka Peter Kenneth akamatwe kufuatia tuhuma za ufisadi
Releasing the findings of opinion poll on Sunday, June 16, Insights Strategist Solution (ISS) lead researcher Peter Macharia said Amani National Congress (ANC) party leader Musalia Mudavadi scored 9.3%, Wiper leader Kalonzo Musyoka 8.5%, Baringo senator Gideon Moi 2.7%.
According to the poll, governors Alfred Mutua (Machakos) and Hassan Joho (Mombasa) received 0.9% and 0.8% respectively.
"Sonko is the most preferred candidate by 18-29 age group as rated by 38% of the respondents, Ruto the most preferred candidate by 30-44 age group with 37.5% of the respondents.
Raila and Ruto are still holding their blocks tight with 66% and 65% in Nyanza and Rift Valley respectively," Macharia said.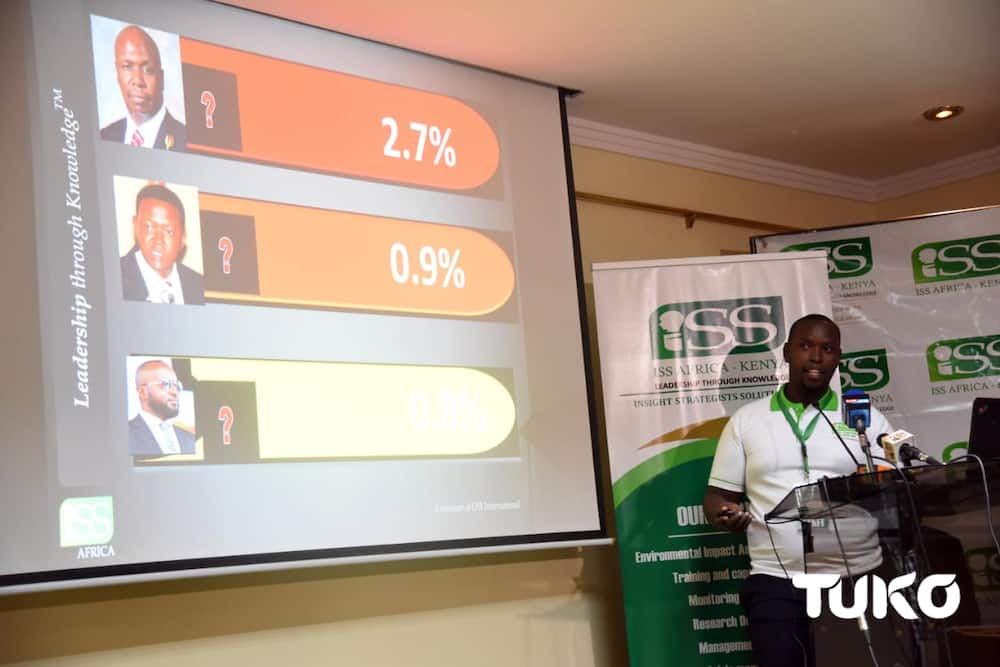 READ ALSO: You will soon know who we are-Raila responds to William Ruto
The lead researcher, however, clarified the situation could change since 14% of those polled said they were still undecided.
The poll was conducted by the Insight Strategists Solutions between April 29 and May 3, 2019, with a sample size of 1,702 respondents across 38 counties.
And in as far as running mates are concerned, Macharia said if elections were held today, then Interior Cabinet Secretary Fred Matiang'i would be the most preferred running mate as rated by 22.4% of the respondents followed by Makueni governor Kibutha Kibwana with 18.3%.
Former Kiambu governor William Kabogo came third with 15.5%, Murang'a governor Mwangi wa Iria fourth with 9.6%, Kirinyaga governor Ann Waiguru 7.8% and Kakamega counterpart Wycliffe Oparanya 7.3%.
READ ALSO: William Ruto sees ODM's hand in opinion poll ranking him as most corrupt leader
On the fight against corruption, Directorate of Criminal Investigations (DCI) was ranked highest with 42.6% followed by Director of Public Prosecution (DPP) with 40.4%.
The Ethics and Anti-Corruption Commission(EACC) came a distant third with 7.7%.
When asked whether or not another referendum would be necessary, 79% responded in the affirmative, 17% said no while 5% said they are not sure.
The highest call for a referendum was recorded in Rift Valley with 87%, followed by Central with 86% while Western, Nyanza and Eastern recorded 82% each.
READ ALSO: DP Ruto states the condition under which Uhuru and Raila might hold talks
Macharia said the sampling frame was developed using Probability Proportional to Size (PPS) with the registered voter distribution as the weighting factor.
The sample was further split into key demographic groups including by region, age and gender.
The key administrative boundary was the district of residence, which was further split into both urban and rural.
Sampling technique adopted was purposive, random and systematic. This was done so as to ensure that every registered voter in Kenya was given an equal opportunity to participate.
Do you have a life-changing story you would like us to publish? Please reach us through news@tuko.co.ke or WhatsApp: 0732482690 and Telegram: Tuko news.
Story by Dan Ole Muhuni, Tuko Correspondent, Nairobi county.
Man who chopped and sold women's breasts wants forgiveness – On Tuko TV
Subscribe to watch new videos
Source: Tuko.co.ke
Life lessons learnt in the heart of the Masai Mara
The lion and the zebra may both live cheek by jowl in the vast savannahs of the Maasai Mara, no two animals are so unlike when it comes to fatherhood. But both the carnivore and the herbivore have important lessons they can teach me on the subject.
On any given day, Father Lion is aloof to his cubs, keeping his distance high up in the rocky knolls as Mother Lioness plays with her young ones most day, rolling in the grass, cleaning each others coats and, when hunger pangs bite, going for the kill as one.
But the lioness and her cubs know that when they have zeroed in on a prey that is too big or too strong for them, they can always count on the lion – the pride of the pride so to speak – to deliver the killer blow. Unfortunately for the lioness and her little ones, once lunch has been served, they have to step back a respectable distance and wait until the king of the jungle has had his fill. That is why what Father Lion eats is called "the lion's share". But to his credit, and unlike many a man in the animal kingdom, he is present at most meal times.
Once in a while, the lioness and her cubs will bring down an eland, or a wildebeest, and gobble it down without the knowledge of the lion. That is what we witnessed when we visited the Olare Motorogi Conservancy, one of the 17 conservancies in the Maasai Mara.
"How come the lion is not here to share in the meal?" we asked, marvelling at the satiated lioness lying in the grass as her cubs tore away juicy pieces off the body of a wildebeest.
"He did not get the memo," said our guide Philip Mushaba, who works for the Olare Mara Kempinski camp, a five-star establishment that offers its guests a touch of European luxury mixed with an authentic African experience of the wilds.
Indeed, the lion was away surveying his territory. As the dominant male in his pride, one of his key responsibilities is to secure his family and keep away the competition. The day he is not strong enough to fight them off is the day he loses his all and is cast away to die in ignominy. And because he has to fight many other males to secure his territory, this reduces his life expectancy to 12 years compared to 16 for the lioness.
Unlike the lioness, for whom bonding with the young ones is the biggest responsibility, the lion spends most of his time alone.
"He does not like to be bothered by the cubs. He takes offence when they step on his claws," Philip told us as we watched a pride of cubs welcoming their two mothers who were returning from a stroll. They hugged and purred and ran out to meet the two females in a happy re-union. The lionesses led them to the river to quench their thirst.
Whereas the lion is the alpha and macho man of the wilds, the zebra is the sentimental and caring male. The moment his female companion or companions become pregnant, he makes it his duty to stand by her. He will be there, doing sentry duty, when the calf is born and stands by his family until the calf is old enough to fend for itself.
The zebra is no different from the humble warthog, the most forgetful creature in the African wilds. This weakness, embedded in the warthog's DNA, can make it so easy for the parents to lose their young ones especially in the long grass. To get around their own forgetfulness, and that of their little ones, the father and mother always raise their tails. That way, their young ones can always follow them, especially when they are running away from predators.
According to Philip, the animals use their tails as a GPS, which helps their offspring find their way around the world. For humans, a moral compass is more important, for without it, their children will be lost and arrive in adulthood bewildered, lacking a moral orientation, and experience difficulties finding something they can stand for. And, as we say, those who cannot stand for anything will fall for anything.
The most sobering lesson for fathers will probably be taught by the male buffalo. When he becomes too old to compete with young studs in the herd, he will be banished from his family. He will be lucky to find others like him who have suffered a similar fate, and together, spend their sunset days staring into the distance with nothing to do to give their lives meaning.
This is a conversation that came up at a dinner table last week when one man, an architect, narrated how he struggled to take care of his mother when she was ailing. After she passed on, his children came to him and said: "Dad, we admire your patience and commitment to your mother but we do not have it in us. Please make arrangements for your old age."
Which left me thinking. That people do not just do safaris in the wild for the heck of it. When we are shorn of all pretensions, we are at base, animals. We live in our world in which how far you can see (into the future, into your life and into your environment) is as important as what you know. If a man is a lion, his next meal will be guaranteed by his sight. And if he is a zebra, his very survival depends on it.
Last, but not least, fathers can learn from the wildebeest for whom the power of community is the biggest life insurance. When they spot danger, the herbivores will make noises that are enough to irritate the enemy, and guarantee their safety as a group. However, the moment one steps away from the norm and the herd, he is exposed to every imaginable danger. Nothing can save him when the enemy strikes and he has to stare death in the eye, surrounded by hyenas.