Jumia sued over 'fraud' in its IPO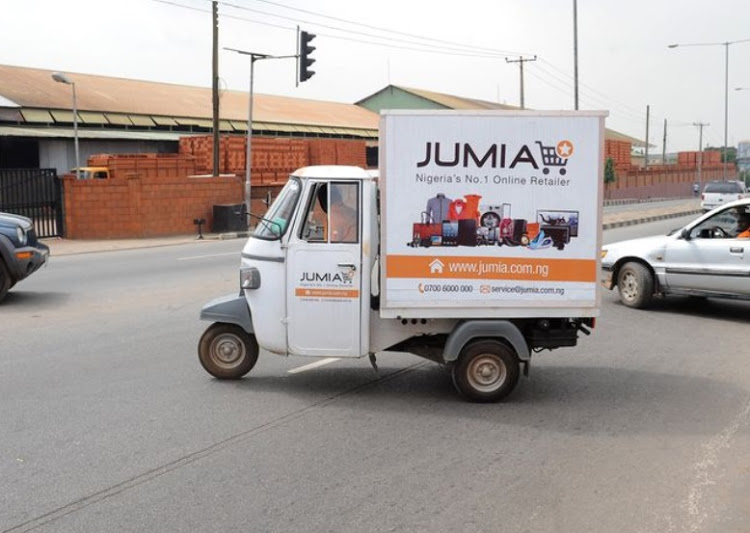 Jumia appears to be generating more flak than value from its listing on the NYSE through a successful IPO, which earned it the name the "Amazon of Africa" in Western media. Just a month after listing, and days after an investment research firm blew the whistle on 'fraud' at the e-commerce company, a class action lawsuit has been filed on behalf of purchasers of the Jumia American Depository Shares (ADSs) who acquired the stock between April 12, 2019 and May 9, 2019.
Through Robbins Geller Rudman & Dowd LLP, the investors on May 14th filed the lawsuit in United States District Court Southern District of New York. The lawsuit is based on the damning Citron Research which alleged that Jumia had failed to state in its Form F-1 filing that 41% of its orders were not honoured – they were returned, not delivered or cancelled.
The lawsuit says that the statements made by the company were 'materially false and misleading' when they were made since they 'failed to disclose the following adverse facts:
That Jumia had materially overstated its active customers and active merchants;
That Jumia representations about its orders, order cancellations, undelivered orders and returned orders lacked a sufficient factual basis and materially overstated the Company's sales;
That Jumia failed to sufficiently disclose related party transactions; and
That Jumia's financial statements were presented in violation of applicable accounting standards.
"In 18 years of publishing, Citron has never seen such an obvious fraud as Jumia," Citron analysts said in heir report. "As the media in the US is naively anointing Jumia as the 'Amazon of Africa', the media in its home country of Nigeria has plethora of articles discussing the widespread fraud in this Nigerian company. Not even that elusive Nigerian prince can cover this one up."
[ READ: Mobile loans apps become predators on desperate Kenyans ]
Jumia has stood by its prospectus. Sacha Poignonnec, Jumia CEO, was quoted by The Wall Street Journal saying the company is "transparent" and declined to respond directly to the claims made in the Citron report. "We don't necessarily want to feed those types of organizations or people," he said.
According to Jumia's Registration Statement, the company's operations are conducted in six regions in Africa, which consist of 14 countries that, together, accounted for 72% of Africa's 2018 Gross Domestic Product. The Registration Statement states Jumia intends to benefit from the expected growth of e-commerce in Africa through the investments and local expertise the company developed since its founding in 2012.
The company touted strong year-on-year growth in gross merchandise volume (GMV) growth (58%) to €240 million ($270 million). GMV is non-standard accounting metric Jumia uses to show "the total value of orders including shipping fees, value added tax, and before deductions of any discounts or vouchers, irrespective of cancellations or returns."
[ SEE ALSO: Huge losses beckon for Kenyans who invested billions in cryptocurrencies ]
It said its active users grew to 4.3 million at the end of the quarter from 3 million a year ago while total revenue grew by 12.3% to €31.8 million ($35.7 million). Gross margins on GMV rose slightly to 6.5% from 5.6% a year earlier.
"The Registration Statement issued in connection with the IPO was materially false and misleading and failed to disclose material facts necessary in order to make the statements made, in light of the circumstances under which they were made, not misleading," the attorneys state in the lawsuit. "These materially false and misleading statements and omissions remained alive and uncorrected during the Class Period."
The suits argues that the material misstatements and omissions created in the market "an unrealistically positive assessment of Jumia.
Citron Report further notes that just prior to the IPO, Jumia issued a confidential investor presentation in October 2018 during a capital raising effort. According to the Citron Report, "many material discrepancies in reported key financial metrics" exist between the Registration Statement and the confidential investor presentation.
The Class Period begins on April 12, 2019, the first day Jumia shares traded on the NYSE. Before that, on April 10, 2019, Jumia issued the Registration Statement that contained information about the company's orders, order cancellations, undelivered orders, returned orders, active consumers, active merchants and related party transactions.
Unrealistically positive engine
The The lawsuit says the management materially misled the investing public, thereby inflating the price of Jumia shares, by publicly issuing false and misleading statements and omitting to disclose material facts.
"At all relevant times, the material misrepresentations and omissions particularized in this Complaint directly or proximately caused, or were a substantial contributing cause of, the damages sustained by Plaintiff and other members of the Class," it says.
The suits argues that the material misstatements and omissions created in the market "an unrealistically positive assessment of Jumia, its business, financial reporting, services, and financial prospects" thus causing the company's shares to be overvalued and artificially inflated.
[ NEXT: Insider trader who made hundreds of millions fined Ksh208 million ]
Farming Kienyeji chickens saves 25-year-old from joblessness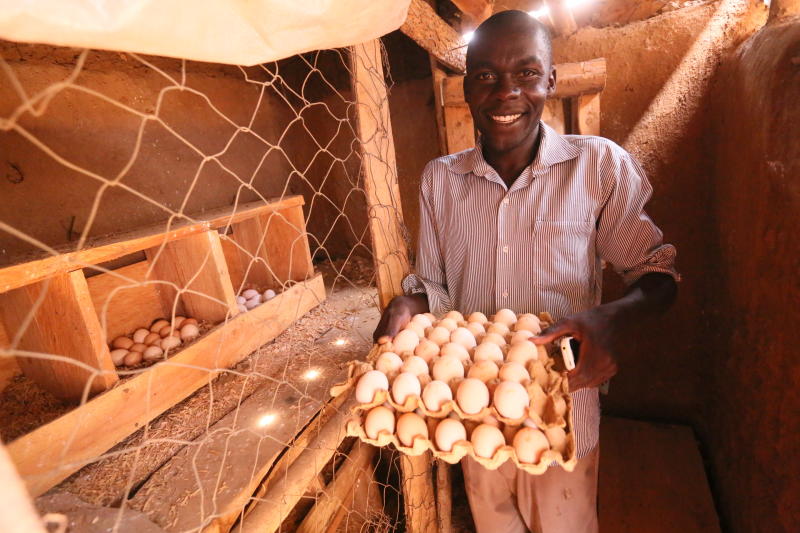 Farming Kienyeji Chickens: In June 2017, Hesbon Andika was employed as a teacher at Esokone Secondary School and was being paid by the County Government of Kakamega Sh10,000 a month.
For 10 months, he saved Sh80,000. In that period, he underwent a two-day mentorship programme on better poultry farming practices at his friend's farm before trying his luck in the venture.
He used the money to buy birds from his friend who mentored him into the venture and 94 iron sheets for erecting a poultry house.
"In April last year, I bought 27 improved Kienyeji chicken that were three months old at a cost of Sh550 each totaling Sh14,850." But two months later only 15 were left after his parents slaughtered most for visitors with some dying. That was when he decided to change strategy.
How dairy, poultry and pig farming give farmer millions
"I bought 500 day-old improved Kienyeji chicks from Kampala, Uganda at Sh100 each. When the chicks were seven days old, I administered the Newcastle vaccine and after a week Gumboro vaccine. After 14 days, I re-administered the Newcastle vaccine and at three weeks, I vaccinated them against bronchitis," said Mr Andika.
All this time, he was feeding the birds with chick mash until they were 8 weeks old when he changed to growers for another 12 months until the hens hatched their first eggs, when he started feeding them on layers mash.
"By November last year, I was collecting between 400 and 450 already fertilised eggs and selling each egg at Sh20. By the end of last year, I had saved at least Sh250,000 from eggs only," said Andika.
By January this year, he had restocked 1,500 birds with around 400 of them being indigenous breeds. He stocked indigenous breeds after his customers demanded for them. "Demand for Kienyeji meat is high and I get orders from all over Western region and leading hotels. I am now hatching my own chicks and selling them when they are a day old and one month old at Sh100 and Sh250 respectively," said Mr Andika.
"During the Christmas festivities, we made good money from poultry business. During Easter holidays, we sold birds to a tune of Sh180,000."
At 6.30am, Andika feeds his birds on Kienyeji mash. At 9.00am, he gives them ugali, at 11.00am they eat Amaranth or Sukuma wiki. At 2.00pm they eat whole grains like maize and at 5.00pm, he gives the birds pumpkin leaves and seeds or ripe paw paw.
Sometimes, he allows the birds to move around the fenced compound to get more nutrients since he is practising a semi-intensive system of farming.
Pumpkin seeds and ripe paw paw are rich in vitamins and moreso, paw paw is a remedy for coccidiosis (loss of appetite) among the birds.
Andika says he sees no need to waste time in the teaching profession anymore. His focus is on farming Kienyeji chickens.
"I don't want to go back into employment again or to class. Imagine, in four months, I have made a profit of Sh600,000 but as a teacher, I will have made much less."
This feature was first published by The Standard.
Alarm over bill barring raw coffee export
A bill seeking to bar export of raw coffee has caused jitters, with some international buyers avoiding to sign further contracts with local suppliers for fear they might not get the produce.
An official at the Nairobi Coffee Exchange says some of the overseas buyers were shying away from new agreements for clean coffee because of uncertainties over the fate of the Crops Amendment Bill by Gatundu South MP Moses Kuria.
The Bill proposes that all coffee grown in Kenya undergo processing, production and packaging locally.
"Buyers are refusing to sign orders for clean (American green) coffee as they do not know what will happen in the future, with fears that they are likely to lose out on their orders," said an official at NCE who sought anonymity so as to speak freely.
The proposed amendment to the Crops Act says the product may only be distributed, marketed or exported in its fully processed form.
If it sails through, it will lock out international buyers and large global coffee shops like Starbucks that buy a lot of semi-processed beans.
Kenya has some of the best coffees in the world bought by traders and coffee shops for blending to get certain flavours.
Stakeholders have argued that the country loses out on originality as its brand cannot be identified in the world market given that it is used to blend others.
The legislator seeks to amend the law so that all packages processed for export be clearly and conspicuously labelled "Made in Kenya."
The country sells over 95 percent of its coffee to the world market as local demand has remained low over the years despite campaigns to raise consumption.
Over 80 percent of the coffee produced locally is sold through the auction, with just 10 shipped out directly to the world market.
A coffee task force formed by President Uhuru Kenyatta in 2016 has proposed that the direct coffee sales be increased to enable farmers earn more from their crop.
Kirinyaga County is set to open the first ever coffee shop in New York and commence selling Kenyan coffee directly to America.
Break the 'woman's role' shackle for true empowerment
Break the 'woman's role' shackle for true empowerment
Sunday, May 19, 2019 21:00

By SERAPHINE RULIGIRWA-KAMARA
Most men's ideal romantic situation is to enjoy a variety of consecutive relationships. Why can't women today accept to share their men? Our fathers and grandfathers managed their many partnerships successfully.
No, our fathers, grandfathers, and great-grandfathers were not successful at it. They owned all the property there was to hold, and in most cultures, that included women and children. They could have a polygamous lifestyle because women had no means with which to challenge them. They beat those who tried into total submission and subservience. That was not successful management of multiple partners. It was tyranny. Without much choice, the womenfolk fell in line. It wasn't acceptance of the situation.
The children raised in these homes watched and learned in different ways. Most of the boys wanted to be just like their fathers when they grew up – to enjoy total control; from the comfort of an array of bosoms to choose from without opposition to choice cuts of meat at the family dinner table and every privilege in-between. Most girls watched in scared, pained, and tortured silence for their mothers' suffering and made themselves sacred promises – that; they would lead better lives than their mothers.
The reason why most women challenge polygamy is that unlike our mothers and grandmothers, we are more financially independent, we significantly contribute to or wholly fund our families. The tide has, to some extent, changed course. There are unfortunately too few of these women to provide the rest with everyday inspiration to better their circumstances. Sadly, even women who are of equal or higher means give partners money, take public transport while their husbands shuttle their young lovers around in the cars that these women work to pay. These women still endure untold disrespect from their partners, submit beatings if and when they challenge them, not to mention the possibility of disease. It is the new age version of polygamy.
It continues unabated because most of us women are yet to make the mental transition from the era of the women who raised us to the financially, socially independent persons that our world today has enabled and empowered us to become.
Young, intelligent, beautiful women with bright futures are dying in the hands of men because in no small extent; most women are yet to arrive at the opportunity that their current realities present. As women, we stand today on the shoulders of the few brave ones who sacrificed their lives and endured all manner of ridicule to pave the way to the more enabling personal and professional experiences that we can have today.
Phoebe Asiyo, Wangari Maathai, Grace Ogot, Sally Kosgei, Wambui Otieno, to name a few, cleared the path for us. It was so that we could go beyond going to school and get jobs to earn a living. It was so that we would go further to shift the paradigms that we have of ourselves and pass that forward to all the women that we raise.
To move our thinking of ourselves from that of the weak, second-class human beings whose role is largely in the kitchen with children tied to their backs to the more informed, exposed, empowered and educated (even if only to primary school level) people.
People capable of thinking of themselves as independent individuals, capable of charting their lives and future rather than appendages of others that we are socialised to revere as superior to ourselves.