Changes made to sevens team ahead of HSBC Sevens World Series
Three changes have been made to the national rugby sevens team ahead of the final two legs of this season's HSBC Sevens World Series to be held in London and Paris this month and early next month.
Head Coach Paul Murunga, who named his squad Thursday morning, has included Cyprian Kuto, Brian Wandera and Charles Omondi in the squad with the three having missed a number of legs this season due to injuries.
Captain Jacob Ojee, who missed out on the Asian tour due to academic commitments, also makes a return for London and Paris matches.
Coach Murunga has however retained the rest of his regulars including Andrew Amonde, Bush Mwale, Dan Sikuta, Eden Agero and Nelson Oyoo. Shujaa have been pooled in group 'B' and will kick off their London campaign on the 25th of this month against Fiji, then taking on Samoa and France.
Get breaking news on your Mobile as-it-happens. SMS 'NEWS' to 22163

After the completion of the London leg on the 26th of this month, Shujaa will head to France for the Paris leg set for 1st and 2nd of June.
Kenya is currently 13th on the series table with 26 points.
Tell Us What You Think
Kenyans on Twitter Reveal the Furthest they Have Traveled to Get Laid and It's Bonkers
As one Kenyan on Twitter aptly put it, youth is a blessing and a curse combined. This was in response to a stimulating conversation on Twitter about how far guys have traveled just to get "some".
Perhaps you thought your trip across cities was long; say Nairobi to Mombasa, which as it turns out is quite common. You're in a for a shock because some guys actually catch flights just for some "horizontal refreshments".
We are not sure if it's the effects of the cold weather, but hundreds of Kenyans were quite open about their sexcapades, including popular personalities Patricia Kihoro and Ciru Muriuki.
The Homeboyz radio presenter had to travel to Lamu by bus since there were no flights. She said she just "haaaaaad to go".
The tweep who sparked the conversation – @MediaMK – disclosed that he traveled from Upperhill to Karen.
There's also a guy who traveled for over 400 km from Nairobi to Busia but the girl he was going to thump thighs with switched off her phone. Ouch!
Another guy arrived in the crime-infested Kayole estate at 10 pm and got what he didn't deserve. He was robbed. At this juncture, let me say that it's never that serious guys. Sometimes, it's just better to polish your own jewels.
Check out some of the stories below.
Yenyewe growth is growth. Nilikuwa nakuja all the way to Karen for strokes 😂😂😂😂😂 foolishness

— Social Experiment (@MediaMK) May 17, 2019
Hehe I went to Kahawa Sukari for some subpar strokes. My 20s were something. 🤣🤣

— Arya MF Stark (@CiruMuriuki) May 18, 2019
🤣🤣🤣🤣

— Arya MF Stark (@CiruMuriuki) May 18, 2019
Na chips huliwa na tomato sauce.

— Gustavo Hames Rodriguez (@MMuendo) May 18, 2019
About 7 years ago I went to Lamu by bus. 🤦🏾‍♀️ No flights available so that was the only option but I just haaaaad to go.

— Patricia Kihoro (@Misskihoro) May 17, 2019
Overnight to Mombasa from Nai, then left Msa in the am, got to Mukowe Jetty at 5pm, boat took ten mins but had to wait for it to jaa and I didn't want to take the show then coz it took longer. Worth it though. 😏 Lakini I tafutad a flight back. 25 ngwanyes one way to Nai. 🙆🏾‍♀️

— Patricia Kihoro (@Misskihoro) May 17, 2019
Yaani y'all went far 😂😂. Mimi ata sijui niseme.. I once did about 4 trips from tao to ngong rd.. Ngong rd to tao.. At 10 pm because the stroker who lived in ngong rd was not home yet na i had no place to chill so all i did was make those trips to and fro just to pass time.

— Shee Thicc 😍 (@Ms_Mageria) May 17, 2019
back in 2014 wen doin my masters in the uk took a flight to kenya just for strokes.dint even visit my folks while https://t.co/8yiu661tpI big siz was shook.actually im also shocked when i think bout it…

— tabim.machira (@wachirafred12) May 17, 2019
I'm guessing you haven't done Nbi-Msa 😂

Heh. I even had an SA one planned but life saved me 😂

— mwanaume.com (@MarigaThoithi) May 17, 2019
Ala!what is life ?

— Mwelu (@Gmwelu) May 17, 2019
I remember doing a Kakamega – Kayole trip. Kufika Soweto at 10:00pm nkasanywa phone, wallet na viatu 😂😂😂 ilibidi nibangaize na watchman flani hapo overnight tukichapa story za bullfighting. Ilifika morning tukaosha magari nayeye nkapata transy ya kurudi Kakamega 😂😂

— Emanuel Yeswal (@_yeswal) May 18, 2019
Mombasa to Kajiado …Ati was a surprise. Mapenzi ya ujana.

— The Fixer (@EdwinMaxwel) May 17, 2019
Na ona mithi ndionire…😂😂😂😂

— The Fixer (@EdwinMaxwel) May 17, 2019
Us mashinani people have to do some rural-urban migration

— benstake (@benstake) May 17, 2019
The shame …Growth is a great thing 😂😂😂 pic.twitter.com/628izghEkI

— Edwin Kuria (@eddbrainy) May 17, 2019
This thread..
Farthest I've ever gone for the 😺 is Kiambu pic.twitter.com/nh5vY2jB4z

— Dave🇬🇧🇰🇪 (@davetheeMC) May 17, 2019
I went to kangundo in 2013 for pudesh alafu i had 3k on me nigga sema simu kuzimwa na kukulwa block 2go nilienda nikakunywa spirits and got more knowledge on how kalonzo is a failure to his community

— Hanani karimi (@HananiKarimi) May 18, 2019
In Campo & working, I would do weekly Friday – Sunday, Nbo – Egerton – Nbo commutes just for strokes. And that time the road was under construction, sometimes you fika 1 am but lazima Ile kazi imekuleta itimizwe. Should have secured my 2NK Sacco shares then.

— Junior Mwanza (@Jr_2M) May 17, 2019
Try Darfur to NYC. Two choppers, three flights and a 45min cab ride to the crib. Never doing that again.

— ExNYer (@yer_ex) May 18, 2019
My fren kama hujawai pitia Salgaa ukiendea strokes hujui fear na repentance ni nini… Hio safari unajiulizanga na shit ikihappen nitasema nilikuwa naendea nini

— Alekie 🇰🇪✌ (@AlexDinDuke) May 18, 2019
Nairobi to Eldoret with Helb money 🙃

— Nimo (@WairimuBabu) May 17, 2019
Based in Munster, Germany and drove to watford(an 8 hr +a ferry journey) every Friday afternoon and the return journey on the Sunday for 2 years. 10 years on, married + beautiful daughter and she never hears the end of it.😂. Definitely worth it.

— KBtheDON (@rpnkb) May 18, 2019
Kitengela to Rongai 2010 – 2011 😔
Thika to Kilifi… 2012 😆
Kitengela to Dar… 2013😆
The foolishness of it all
Papa you are God.
🤣🤣🤣🤣

— Dexter Boy Genius (@DennisMbabu) May 17, 2019
wuueeeh….hats off…buda we ni legend buana..unafaa kuwa kwa vitabu za GHC na kina koitalel arap samoei🙌🙌

— kibenjee (@kibenjee) May 17, 2019
This thread is making me feel kidogo better 😂😂😂😂

— CarolTichie (@caroltichie) May 17, 2019
I did Nairobi – Dar, by bus 🤦🏿‍♂️🤦🏿‍♂️ SMH

— Wanjiku Ngure (@ngure_ngure) May 17, 2019
I did Kasarani-Eldoret a lot, I still think about Salgaa a lot

— MansHot (@AmtheNEGUS) May 17, 2019
I took an uber to Nyeri 😂😂😂

— Mama Leon (@graise_amune) May 17, 2019
10k 🙈🤗, it was worth it😉😆

— Mama Leon (@graise_amune) May 18, 2019
I'm even ashamed to say mine😂😂

— Mercy Amisi (@Pinky_Alpha) May 17, 2019
Took my Alliance Francaise tuition money and booked a trip to Kisumu! Missed a month of French but those strokes were totally worth it🔥

— 🍑 KenyaSutra.com 🍑 (@SiriZetu) May 17, 2019
Mt Elgon to Machakos…..Then unaambiwa ume chelewa wazazi washarudi…U-turn my friend,Same distance angry 😂😂😂😂😂😂😂😂👊👊👊✔✔✔

— CFE (@___Maliks) May 17, 2019
Nilikuwa naamka 5 am kama mtu anaenda job ndio nikapewe msolo😢😢😢😢

— Whitney dhahabo (@Whitnyjess) May 17, 2019
😂😂😂 if you have never applied visa hujui kitu

— #Gallant (@njihiakelvin) May 17, 2019
19 year old missus traveled to Lodwar by bus to see an ex she was still hung up on. No strokes took place courtesy of the girlfriend's cockblocking.😂 I was in Lodwar for 2 weeks seeing Turkana with his friends and whatnot.

— Cirù M (@LoiseMburu) May 18, 2019
Long holiday I had to convince my parents my spoilt laptop charger was special and could only be bought in town…. Nyahururu to Juja very fast 😂

— Nizay (@knize_dennis) May 17, 2019
Cairo to Kampala and it was not worth it!

— Namii (@the_black_muse) May 17, 2019
Grieving Game of Thrones fans offered sh5,000 counselling session for shows ending
Grief-stricken fans of Game of Thrones can talk through their feelings about the show's ending for just £40 an hour.
The counselling service is available for fans who need someone to talk to about the ending of Game of Thrones after the final episode airs.
Bark.com, a website usually dedicated to helping users find dog groomers, builders and plumbers, wants to link distraught viewers with a dedicated counsellor.
The counsellor will be familiar with the show and those who are upset about the finale can call to discuss storylines with someone who understands.
A listing for the service read: 'The professionals will help them digest their feelings and interpretations of the show, which could range from anger and confusion to sadness and grief.'
Dailymail
DPP orders for release of Malala, Echesa from police custody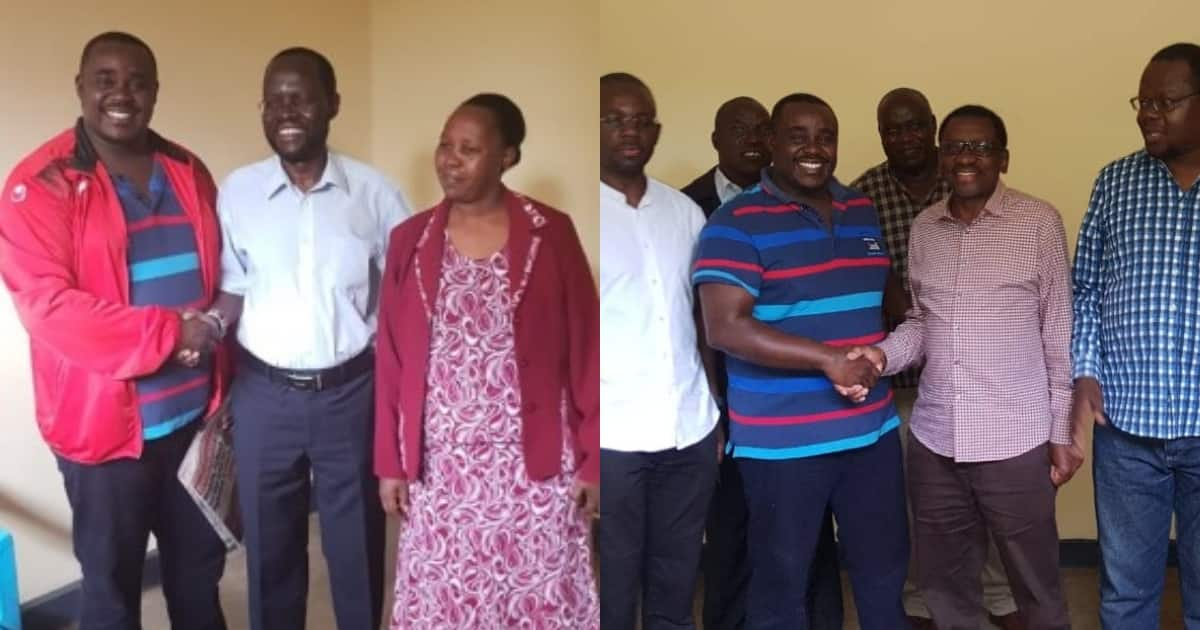 – The two politicians were arrested on May 17 in connection with brutal murders in Matungu, Kakamega county
– Several other suspects including Matungu MP Justus Murunga were also put in police custody over the murders
– Matungu has experienced a wave of mysterious night attacks which left over 10 civilians dead and many others wounded
– Politicians were suspected to be behind the rampant killings which saw the government beef up security in the area
– Malala and Echesa are expected to appear in court on Monday despite their release and even as investigations continue
Kakamega senator Cleophas Malala and former Sport Cabinet Secretary (CS) Rashid Echesa have been released from police custody.
This was after the Director of Public Prosecutions (DPP) Noordin Haji directed the two suspects who were arrested in connection with the Matungu killings be set free with immediate effect.
READ ALSO: Kakamega Senator Cleophas Malala, ex-CS Echesa arrested over Matungu killings
READ ALSO : Nyamira: Serikali ya Kaunti yagundua wafanyakazi hewa 1000 katika sajili yake
In a statement sent to newsrooms on Sunday, May 19, evening, Haji said he held a discussion with the Inspector General (IG) of Police Hillary Mutyambai and came to the conclusion that investigations was at advance stage but incomplete.
"The evidence gathered so far does not meet the requisite threshold. Consequently, I have directed the DCI through the IG to have the Matungu brutal killings investigated thoroughly and the resultant files be submitted to my office for perusal and direction.
In the meantime, I further directed that the suspects be forthwith released on P52 pending the said investigations and report back to police tomorrow ( Monday, May 20) at 10am without fail," the statement read.
READ ALSO: Suspect linked to Murang'a prison warder's death confesses he was responsible, blames it on bhang
Malala and Echesa were arrested on May 17 and taken in for questioning over the deadly attacks by unknown assailants in Matungu.
Also arrested was Mayoni MCA Libinus Oduor whose ward was the epicentre of the chilling and bloody attacks.
Matungu had experienced a wave of mysterious night assaults in the recent months but the situation appeared to had escalated in the beginning of May 2019.
READ ALSO: Several feared dead after goons fire shots at Kakamega senator's convoy in Mumias
Police records showed at least 13 people were killed while over 30 residents sustained various body injuries.
Top government officials led by Interior Cabinet Secretary Fred Matiang'i toured the volatile village on May 16 and ordered deployment of dreaded GSU officers.
Matiang'i warned perpetrators to voluntarily surrender because they would eventually be smoked out.
Do you have a life-changing story you would like us to publish? Please reach us through news@tuko.co.ke or WhatsApp: 0732482690 and Telegram: Tuko news.
Huduma Namba deadline day rush – On Tuko TV
Source: Tuko