'Game of Thrones' Finale – What the Cast Has Revealed in Interviews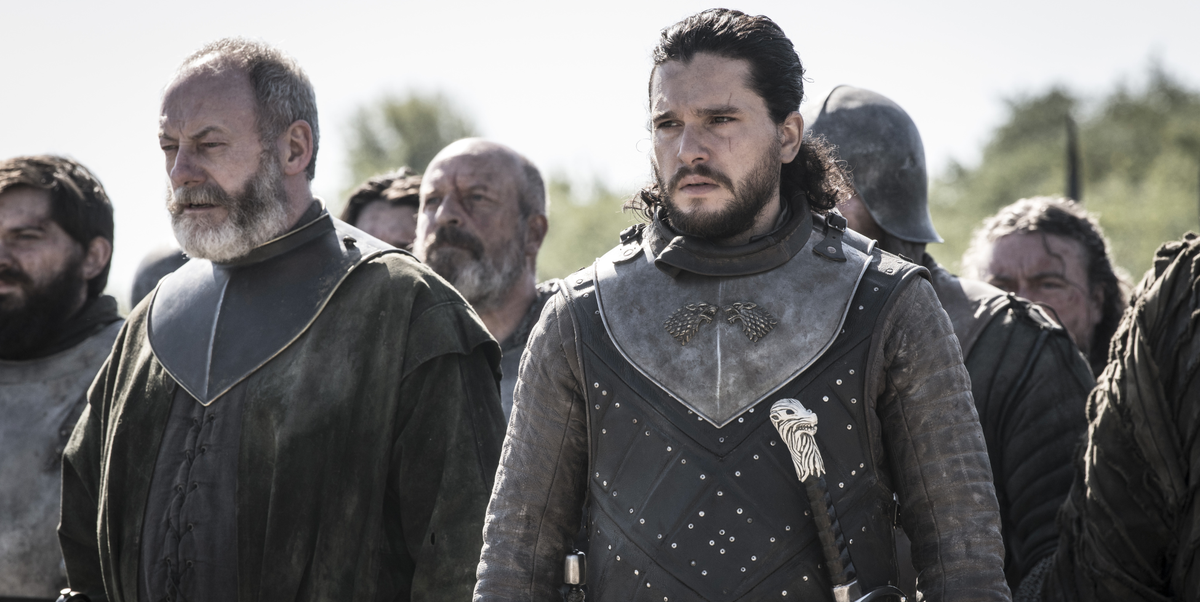 • A video resurfaced from last year's HBO Emmys party of Emilia Clarke talking about the Game of Thrones ending.
• Kit Harington, Maisie Williams, Peter Dinklage, and more have made comments that can gain a little context now.
• The finale will air next Sunday on HBO.
---
With the end of Game of Thrones squarely in sight—the series finale will air on HBO next Sunday—everyone is grasping at whatever possible about how the series will wrap everything up in an 80-minute package.
In that same line of thought, it could be worth revisiting some of the things that cast members have said about the way the show ends, given what we've seen in the season's first five episodes, and the ability to now add (at least some) context to those comments.
Below, we take a shot at revisiting some of those statements—and only of still-living characters, so we know they theoretically could've seen the script for the final episode—to try to understand where this last episode could be headed.
Emilia Clarke (Daenerys Targaryen)
A clip that circulated online following Sunday night's penultimate episode, "The Bells," saw Emilia Clarke interviewed by ET at HBO's Emmys party last September. In the clip, she's asked if she's shot her final scenes yet, and if she's happy with how things ended.
Clarke nervously looks at the camera, and says, with a bit of irony in her voice, "Best season ever..!" with Nathalie Emanuel (Missandei) and Jacob Anderson (Grey Worm) flanked to either side of her.
She also said that she shed "loads of tears" when filming her last scene, and that she walked around London for "three hours aimlessly" after reading the final script.
"It might as well have been raining and I would've just walked in it not knowing what to do," she said to Press Association.
Kit Harington (Jon Snow)
Kit Harington was interviewed in a video for Popbuzz back in February, where he was asked to describe the Thrones finale in only a single word.
Harington—Jon Snow himself—looked the interviewer right in the eye, and gave her his one word: "Disappointing."
A awkward moment of silence passed, and Harington also offered up "No, Epic. I don't know, one of those words"
Maisie Williams (Arya Stark)
Last night's episode saw Arya hitting the Old Town Road on her way out of King's Landing, leaving the ash remains—and her pal The Hound, in the dust. But where could her story go from here? How might it wrap up next week?
The actress said in an S/Magazine interview that her final season was "beautiful" and "emotional," and it sounds like she might be around to see what's standing at series' end.
"This whole season was really, really emotional," she said. "When I came to shoot my final scene, I had already watched a lot of people wrap and seen all the tears and heard all the speeches…"
Now, that doesn't necessarily mean that she's one of the last people standing—movies and TV series' of this scale don't always shoot things in chronological order. Much of the time, even, the shoots are purely based on the lighting available, among other factors.
It should also be noted that a popular fan theory believes that Arya could kill Daenerys in the finale, based on the prophecy that Melisandre foretold in Season 3, and again a few weeks ago in Season 8.
"You said we'd meet again," Arya said to Melisandre when she saw her atop a castle. "You said I'd shut many eyes forever. You were right about that, too."
"Brown eyes, green eyes—and blue eyes," Melisandre says. Many thought that Cersei's eyes could represent those green eyes (Walder Frey has brown eyes; The Night King's are blue), but with the Queen now under a big pile of rubble, Arya may need to re-focus her energy onto another blonde-haired queen with green eyes: Daenerys.
"It was just a really beautiful day, and a really great final scene for me," Williams said in the same S/Magazine interview. "It felt like the right time to say goodbye to Arya."
Peter Dinklage (Tyrion Lannister)
Back in April, Peter Dinklage told Entertainment Weekly that he managed to correctly guess the fate of his character, Tyrion.
"I had all these ideas in my head and a version of one of them is how it ends up [for Tyrion]," he told the magazine. "[Benioff and Weiss] have a brilliant version of what I had,"
While many of the other cast members seem to refer to the ending as something that twisted them, or greatly shifted their perspective in some way, Dinklage seems to really like the artistic manner in which they pull everything together.
"If I use any adjectives, it will give it away. But I love how it ended up. And how it ends up for everybody," he said. "They had a beautiful gentle touch with some and a hard touch with others."
"We're so used to the standard formula of bad guys dying and good guys living… What David and Dan have done with all this is beautiful, painful, and lovely. It takes the show somewhere that's dangerous and contemporary with what's going on in the world."
Those are a lot of nice words. But…pictures—moving pictures, with audio, at that!—tell a thousand words. Take a look at Peter Dinklage in the clip below:
Oh boy.
Jerome Flynn (Bronn)

Flynn, who plays Bronn, didn't have a ton to say about the season, or the finale in general—but guess what, he's made it (even if the writers have barely noticed).
The actor spoke to various press at Thrones' Belfast premiere, specifically getting into his character's arc:
"Bronn's a determined type. He's either going to get his castle, or he's going to die getting it," he said to Digital Spy and others. "I can't deny there's a part of me that wanted to make the end. But I was so happy… I mean, I didn't expect to make 3 seasons, let alone 8, so… yeah."
We'll see next week if he was telling the truth or not.
Gwendoline Christie (Brienne of Tarth)
"I had to put them down," Christie explained to Good Morning America about the final season scripts that she had read. "I was sort of walking around. I had to go out for a walk… It was a really extraordinary experience, and I realized they had pulled out all the stops for this one."
It's unclear if she had been talking about the specific final episode script, but given that Brienne of Tarth is still alive, it's definitely a distinct possibility.
Comments
comments