Jura Z8 Automatic Coffee Machine Review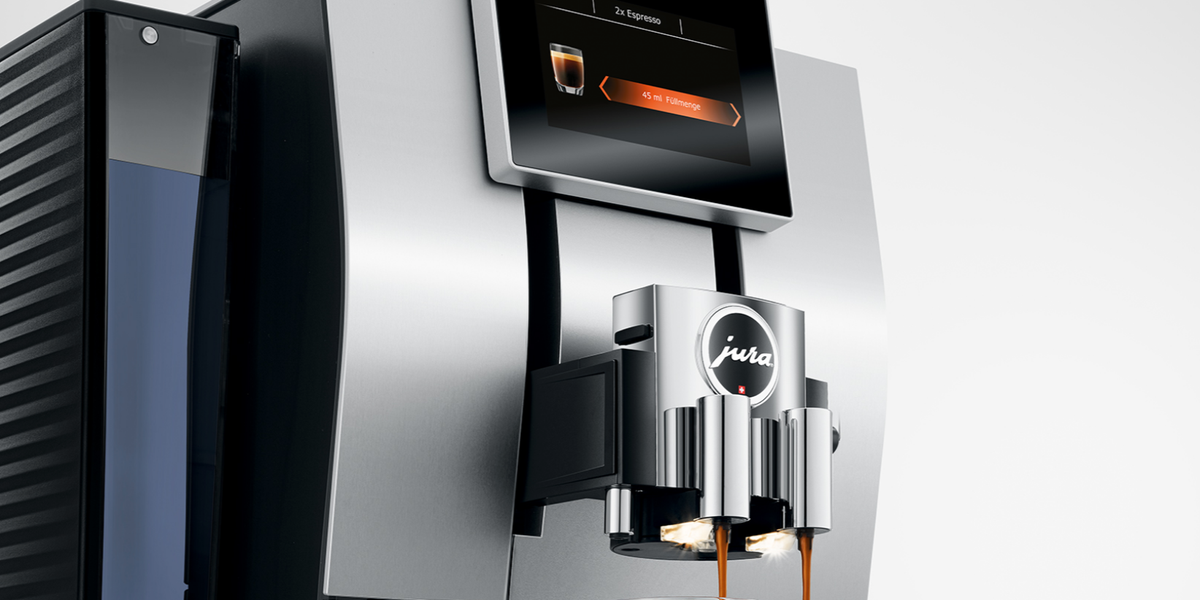 Everyone tells you that you can't put a price on happiness. I, too, used to think this way.
Then Jura, a Swedish company, sent me their $4,399 Jura Z8 Automatic Coffee Machine to test because testing insanely expensive gear related to consumables is something that has somehow entered my career.
Yes, you read that correctly: $4,399. The Jura Z8 costs as much as 6 1/3 Apple iPhone 8 Pluses, 8 ½ pairs of Adidas Yeezy Boost 350 V2 "Blue Tint" sneakers, or 8.9 percent of a 2019 Ford Mustang GT Premium Fastback (that's maaaaybe one wheel?).
If you look at it another way, that's 1,779 ½ Starbucks' Venti coffees if a Starbucks' Venti coffee costs $2.45. Just for the machine.
I'm talking about price first because price is always what anyone asks about first when they see the Jura Z8. And I don't blame them because the Jura Z8 looks so sleek and so polished that it would probably fit in seamlessly somewhere on the body of a Porsche or atop the torso of one of these newfangled holy-shit-robots-are-going-to-take-over-humanity robots.
But what you lose out of your bank account with the Jura Z8, you gain at least twofold in true happiness.
Now I understand that there's a trend in Internet reporting where reviews are framed a This Thing Is The Best Thing Ever Because We Desperately Need Your Clicks. This faked and forced and desperate happiness is not the happiness I speak of.
This happiness is waking up each morning with the gentle beep of the Jura Z8's 4.3-inch color touchscreen display greeting you with a polite "welcome to Jura" followed by "machine is heating." At this point, your heart, too, warms because you know what's to come.
After a gentle, self-cleaning rinse cycle the Jura presents you with a panel of coffee options. Perhaps you'd like an Americano to start your day? Push the "Americano" button. Maybe there's some Swedish in your blood and you prefer an espresso? Press the "espresso" button. Curious about what the heck a ristretto could be? What the hell, tap the "ristretto" button and let it ride.
With each drink, the Jura whirs to life with a happy twirl of its built-in grinder, whistling while it works the beans you've previously tumbled into its accommodating 9.9-ounce storage container.
Then Jura's Pulse Extraction Process (PEP, get it?) kicks in and two spouts spring forth with amber-hued liquid. In the dim light of dawn, you can't help but be drawn in to the magical glow of the soft blue light emanating from the 81.3-ounce capacity water tank. This isn't coffee making. This is performance art.
Over the course of three months, every Americano, espresso, ristretto, and coffee the Jura served for me arrived with a meniscus of luscious foam, which I came to learn was "crema." This word I uttered loudly and proudly around my home ("Look at that crema! Look! Crema!"), despite my wife's furrowed brow.
Crema, I learned through Jura, is derived from a proper bean extraction process, which forms via a combination of natural sugars, proteins, and oils. And crema is everything.
Every subsequent crema-less cup of diner, K-cup, or Starbucks Venti coffee will have you aching, yearning, pining for this frothy goodness. It's like traveling to Manhattan to have a real slice of pizza after eating Ellio's all your life. Or receiving a proper haircut from a talented barber after suffering through Supercuts hack jobs for years. You. Can't. Go. Back.
Does the Jura Z8 have a few minor drawbacks? Yeah, sure. Using the ground coffee option can create tedium and mess. Anytime you make a milk drink, you are strongly encouraged to run through a short automatic system flush that involves a small tub, a tube, and some solution. The Jura Z8 also burns through coffee beans fast, but that may be more of an indication of the ever-growing coffee dependency my wife and I have acquired since bringing the machine into our home.
But none of these slight annoyances is enough to take away from the fact that the Jura Z8 produces better-than-most-baristas coffees, offers an interface that even the under-caffeinated can operate, and eliminates maintenance guesswork by telling you exactly what service it requires ("empty drip tray," "empty grounds container").
Jura has tacked on a few gee-golly features, like the ability to brew via Bluetooth and an option to pour a 70-ounce jug of coffee, but these are merely sugar crystals atop a big delicious blueberry muffin of an all-in-one coffee machine.
Days without a coffee from the Jura Z8—like when I have to pick up a cold brew for the bus into New York City or when I cave and order a French press at a brunch place to alleviate the fact that I'm at brunch—I don't feel right. I don't feel at home.
Something's missing.
Something intangible.
Something you can't quite put a price on.
Comments
comments