Gospel singer Mr Seed has for the first time spoken on his relationship with former Boss Kevin Bahati, since their public fallout.
The Dunda maker explained that despite what transpired between them making him to exit EMB, he doesn't hold any bad blood or hard feelings for Bahati.
Asked on whether they talk to each other Mr Seed, disclosed that he has not talked to the EMB President since the year began.
He added that he forgave him long time ago and prays for him every time for God to continue elevating him to greater heights.

Mr Seed and Bahati (Courtesy)

"Mimi nilisaheme Bahati na Bahati ni Ndugu yangu, hata leo hii niskie ananihitaji wapi na anipigie nitaenda, Hatujaongea , kutoka hii mwaka ianze hatujaongea but napenda huyu msee na sina any hard feelings na yeye and I pray for him everytime, namuombea sana mungu ampandishe levels, naombea familia yake kwa sababiu si rahisi yeye ni public figure na ukiona umati imeingia katika na maneno left right and centre, at the end of the day tujifanya wanaume but at the end of the day tunaumia ndani kwa ndani, so mimi humuombea sana, 15 years kujuana si mchezo" said Mr Seed.
Made in Huruma
His sentiments comes days after Seed under his new record Label "Star Born Empire" held one of the biggest concerts in his backyard "Huruma" as a way of remembering where he came from.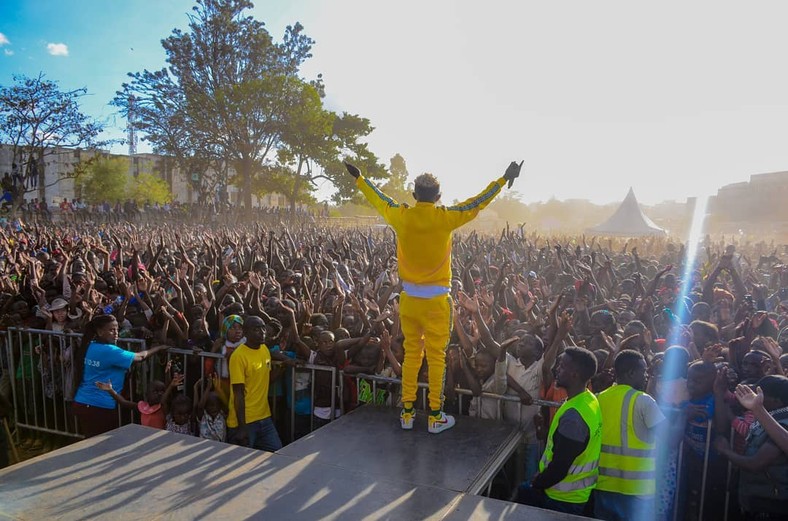 Mr Seed in Huruma. Made in Huruma concert

The concert was graced by a number of gospel artistes; Size 8 , DJ Mo, Master Piece, Moji Short Baba, Timeless Noel, Willy Paul among others.
Mr. Seed parted ways with Bahati's EMB (Eastland's Most Beloved) Records in January, after a period of two years, for the purpose of going independent.
Video