President Uhuru Kenyatta has been forced to intervene following Wednesday night drama in which Deputy President William Ruto reportedly confronted Interior PS Karanja Kibicho, accusing him of sabotaging his 2022 presidential campaign.
The Standard reports that the head of state has demanded a detailed explanation the Wednesday night confrontation, which according to a senior government official who witnessed the incident- almost degenerated into a fist fight before those around them intervened.
A well-placed source confirmed to the publication that "The President wants to know what exactly transpired".

File image of Interior PS Karanja Kibicho

Reports indicate that a visibly angry DP Ruto hurriedly walked to the PS who was part of the delegation that was to receive President Kenyatta and went on a 15-minute tirade as other members of the delegation watched in silence.
During the altercation, Ruto reportedly took issues with the PS for ordering regional commissioners, county commissioners and other national government officials not to attend his meetings citing a recent trip he made to Turkana.
In another incident, Kibicho said county commissioners and the county security teams failed to attend the deputy president's event in Nyeri because they received invitation at the last minute.
He later told the DP that "security starts with you" comments that did not augur well with the Ruto camp.
When the deputy president visited the volatile Turkana county over the weekend, the county commissioner and the senior security apparatus boycotted the event – allegedly on the instructions of the Interior PS.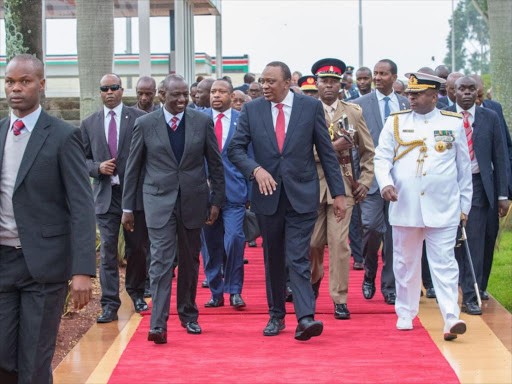 File image of a delegation receiving President Uhuru Kenyatta from a foreign trip

Ruto has in the past been described by associates as one who confronts his perceived enemies head on and will stop at nothing when crossed.
DP Ruto, PS Kibicho clear the air of alleged clash at JKIA
The two however dismissed the reports of the confrontation as rumours.
In a statement, DP Ruto's director of communications Emmanuel Tallam, stated that reports on the confrontation are fake news.
"That JKIA story is fake. It is a creation of rumour-peddlers of fake news keen to sustain a hopeless narrative," said Tallam.
Responding to reports of the alleged confrontation that were first published by People Daily, the PS dismissed them as cheap propaganda that did not have head or tail which needed to be treated with the contempt it deserved.
"How can I have an exchange with the Deputy President? That is a cheap allegation that does not hold any sense," said Kibicho.