Police have a rested one suspect in connection with the attack on Nairobi Governor Mike Sonko's daughter Saumu Mbuvi and Lamu Senator Anwar Loitiptip.
The man arrested is a bouncer at the facility where the two were attacked by a group of unknown assailants with clubs and sharp objects.
Police said that they are still in pursuit of other attackers who are at large.
The two had gone out together to watch a UEFA Champion's League match at the Memphis Lounge which is along Thika Road near USIU.

Saumu Mbuvi with her dad Governor Mike Sonko

According to a statement recorded by Saumu, the men who attacked them were led by a "short, brown man" who had earlier in the night accosted her at a public ladies washroom.
"As I went inside the toilet a man who was standing in front of the toilet followed me to the toilet and grabbed me by my top. He pulled the top tearing it. I screamed for help and someone threw a stone inside.
"The man who was brown and short moved out and entered into a room and locked himself in," the statement by Saumu read in part.
Senator Anwar Loitiptip was attacked while defending Saumu Mbuvi
The incident prompted the Senator to go after the short man seeking to settle matters man to man.
Saumu narrated that he pleaded with her companion to forgive the man, which he obliged, and the two decided to leave the club at around 3 a.m on Sunday morning.
"After the incident, we left heading to the car when a group of about nine in the company of the brown [man] came after us.
"The men were all armed with clubs and started beating Anwar on the foot prompting him to fall down. I covered his head and shielded him from the beatings when I was also hit on the right arm sustaining injuries," she stated.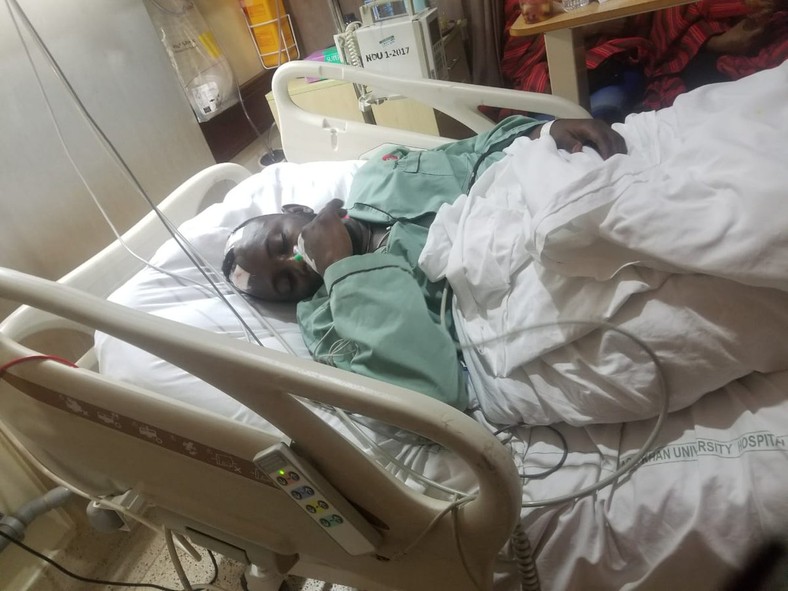 Lamu Senator Anwar Loitiptip at the Aga Khan ICU after attack during night out with Saumu Mbuvi

Anwar was admitted to Aga Khan University Hospital where he was treated for serious cuts to the head. He was reported to be in the ICU.