It's that time of the year, when all we want to do is travel to different places.
Planning a vacation can seem daunting, especially when you don't really have time to prepare in advance. Packing efficiently thus makes traveling less stressful. In addition, an organized approach to packing can save you money.
Many people love the idea of traveling but luck the idea on how to start packing.
If you plan and pack your bags accordingly, you can eliminate stress, and enjoy your travels.
Below, are some packing tips to make your next vacation less expensive, less stressful and more fun.
Let's do this!
1. Be familiar with the weather to where you're touring
Nothing is as annoying as having wrong weather attires be it shinning or freezing temperatures. Before you travel, learn more about the weather forecast for your vacation destination by checking on google or weather forecast.
If you don't check the weather before you begin packing, you may end up spending money on clothing and assorted sundries during your travels.
2. Coordinating Attires
Am I the only one who would pack attires and only 80 percent have minimum chance of being used? However, be sure to plan before you pack. Lay out everything that you think you want to pack on your bed and take a good hard look.
It's only when you lay your entire ensemble in front of you that you see where you've made mistakes and can make the appropriate cuts. Make sure to coordinate your attires this way, you can mix and match clothes, and not packing items you'll only wear once.
3. Roll don't fold
Let's agree that rolling is superior to folding. Tightly rolled clothes take up less space than folded ones. Plus, they're less prone to getting deep wrinkles from fold creases.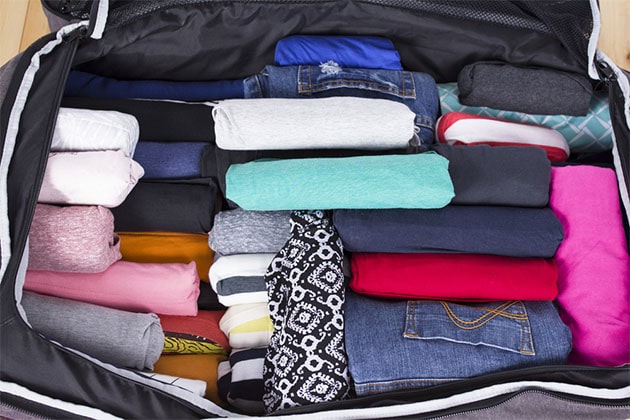 3. Special packing for the beach
There are some special considerations to keep in mind when packing for a trip to the beach. If you plan to spend a significant amount of time in the sun, plan to have creative storage options, sun protection, and items used for recreational activities. Some items to include when you pack for the beach may include:
Sunscreen
Insect repellent
A beach cover-up or a thin, long-sleeved shirt, to protect your skin
Sunglasses and sun hat
Beach umbrella
Cooler; for cold drinks
Empty Ziploc bags to hold damp swimsuits, and store shells for the long trip home
The list is endless as it all depends on your likes and preferences.
Read Also;
4. Pack Light
If you are to fly to your destination, you should know that airlines typically charge even higher fees to passengers who bring more than two bags, or who bring overweight luggage to the airport. So if you know better, pack light.
Guide to packing light include; getting clothes that match and coordinate perfectly with this, you won't need to carry along a lot of clothes.
Make sure you give yourself enough time to pack before you go on vacation so you don't forget anything. If you want to challenge yourself, try packing light on your next trip.