Boy Who Confronted Natembeya Delivers Powerful Speech [VIDEO]
The 13-year-old boy who confronted Rift Valley Regional Commissioner George Natembeya has impressed Kenyans with his speech at a seminar going viral on Sunday, June 21.
The seminar was organised to preach peace between the warring Kipsigis and Maasai communities in Narok County, who were recently involved in hostile clashes.
The boy identified as Dennis Lang'at urged parents to focus on the educating their children and emphasised the benefits of the focus to the community.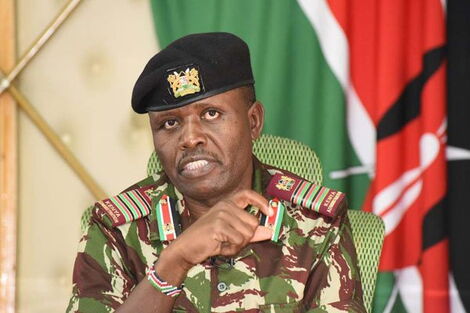 George Natembeya addresses journalists on destruction in the Mau Forest Complex in his office in Nakuru on September 13, 2019.
Daily Nation
"When you educate your child, they can be successful hence making you be wealthy and you will beome as successful as the Police Commissioner here.
"I asked the government to educate me and when I am successful I might be the one coming to change this area," noted the boy.
Lang'at also asked warring communities to let justice take its course rather than taking matters into their own hands, dcisions that had led to wanton destruction of property and loss of lives.
The boy also warned communities against sending their children to war as it would be costly to lose the young who were the future of their communities. 
He noted that the money used in catering for hospital bills would have been better used to educate children.
Lang'at cautioned locals against following the alleged orders of political leaders who have been accused of inciting incite hostilities rather than helping bolster farming. 
"Maybe it is a leader who is inciting communities, leaders will change in elections and new ones will come with the ones causing war going home after the loss of lives.
"When you have a piece of land you should practice farming and educate children with the benefits you get from it, but the war will not help us," stated the boy.
Narok South Deputy County Commissioner Felix Kisalu on Wednesday, June 3 offered a full scholarship to the boy to complete his studies.
A video that surfaced online on Wednesday, May 27, showed Natembeya calling the young boy from a gathering before interrogating him. 
Despite what many interpreted as a patronising tone the Regional Commisioner took on the by, Lang'at confronted Natembeya, calling him out for apparent inaction in the clashes that had rendered him homeless much to the praise of netizens including Law Society of Kenya (LSK) President Nelson Havi. 
Comments
comments