How to Deal with Volatility when Trading Shares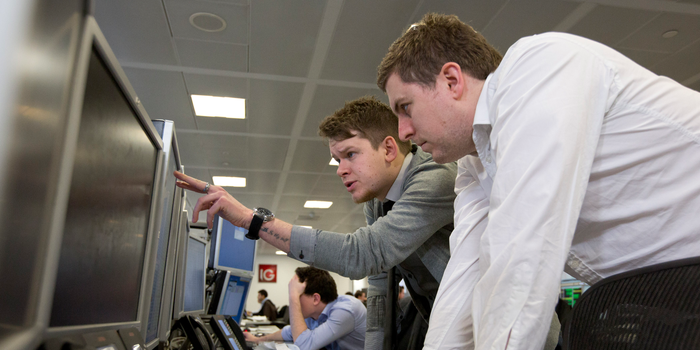 When you start trading the stock market, one of the first things you'll have to learn is what drives the market to move shares up or down. By taking advantage of imbalances in the demand and offer relationship for an asset, you'll be able to make positive trading results over the long run.
The more a stock price moves, the more "volatile" it is, and the riskier the asset is. But regardless of how risky volatile assets can be, volatility is what generates price fluctuations, and without price changes, traders wouldn't be able to make any money at all.
To get significantly higher returns, you need to pick volatile shares, as they represent good opportunities to make bigger profits than less volatile stocks. The question here is not to decide if you should trade volatile stocks, but rather the level of volatility that you're willing to accept.
So, how can you deal with volatility when trading shares? First, you need to think about the kind of trader you are, which should be based on your personality, your goals, your trading capital, and your risk appetite. Then, find stocks that are in line with your risk tolerance, as well as your strategy and trading plan.
Why Investing In Shares Was the Best Business Decision I Made Ever
To spot how volatile a stock price is, there is a range of different technical indicators you can use, such as Trading Volume, the Average True Range (ATR), Keltner channels, Bollinger Bands, and the Stochastic Oscillator, among others. These technical indicators can be used through trading platforms offered by brokers like easyMarkets.
This regulated broker is a share CFD provider that allows its traders to take advantage of bullish and bearish market conditions through leverage and margin trading, thanks to robust and customizable charts, and powerful tools such as "Insider Viewer". This tool keeps you informed of all market movements and trading activity within the easyMarkets community.
Profiting from volatile stocks means that you need to be well prepared and protected in case the markets move against you. It is often recommended to use strict risk and money management rules to reduce risks.
Stop-loss orders are very popular tools for traders looking to control their trading losses – if a stop-loss order is placed on a given trade, the broker automatically closes a trading position when it reaches a specific price. To secure gains, traders can use "take-profit" orders to automatically close a winning trading position when it reaches a certain price.
To be able to better deal with volatility when trading the stock markets, you can also change the leverage level you're using to better adapt to market conditions. When placing a trading order with your broker, you can also change the size of your position, which can help you better apprehend volatile markets.
One of the most important things to remember when volatility affects your investment portfolio is to think about your long-term plan and consider volatile moments as an opportunity to purchase shares at a discount.
Comments
comments