Waiguru Reprimands Bodyguard After Viral Scuffle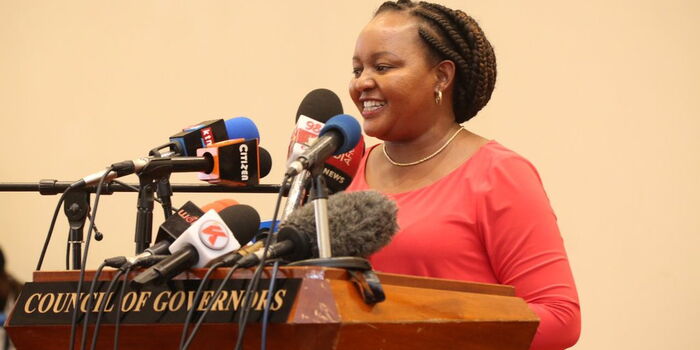 Kirinyaga Governor, Anne Waiguru, on Friday, June 11 reprimanded her bodyguard after he was captured on video in confrontation with a Kirinyaga resident. 
Waiguru admitted that the bodyguard was at fault for escalating the issue. In the video the bodyguard could be seen pushing away the woman as she attempted to present her issues to the Governor. 
The visibly angry woman, identified as Damaris Munene, dared the bodyguards to assault her. 
Damaris Munene talking to Governor Waiguru in Mwea constituency on Thursday,June 10th.jpg
Facebook
Anne Waiguru
"My attention is drawn to a video circulating on social media regarding a certain Damaris Munene interaction with my security. It's unfortunate the guard was short tempered and allowed himself to get provoked.
The bodyguard has been warned," Waiguru affirmed. 
The Jubilee Governor indicated that Damaris did not ask about resources as reported but she was part of a group of youth who needed support. She pledged to help them receive a fish pond to earn an income. 
"We know nothing about fish farming and chicken farming and others have learnt about it", Damaris decried. 
Governor Waiguru informed the community that the fish only need water and food. She added that the water would not need to be changed regularly and that her team would provide further training on fish farming. 
Damaris expressed the group of youth accompanying her included men from Kagio area.
At the event in question, Waiguru had to enter her vehicle and wait for bodyguards to manage the seemingly rowdy crowd before she could address them. The issues the residents presented to Waiguru included unfair distribution of resources at Kangai Secondary School and funds disbursed to wards within the county. 
Afterwards, the county boss went to Mwea Constituency to agree to a deal providing farmers with artificial insemination services.
A section of Kenyans voiced their views on the incident, opining that Damaris was to blame for the confrontation. 
The Governor affirmed that the work done in Kirinyaga had not gone un-noticed.  Waiguru has been on a charm offensive, launching projects for farmers in Kirinyaga county. The projects include a coffee machine and avocado seedlings to increase the profits that the farmers earn. Fish farming is expected to be a new source of income for residents of Mwea constituency.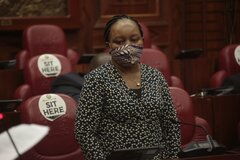 Kirinyaga County Governor Anne Waiguru appearing before the Senate Special Committee on June 23, 2020.
Twitter
Comments
comments