Battle of wits and egos envelopes Kindiki's exit: The Standard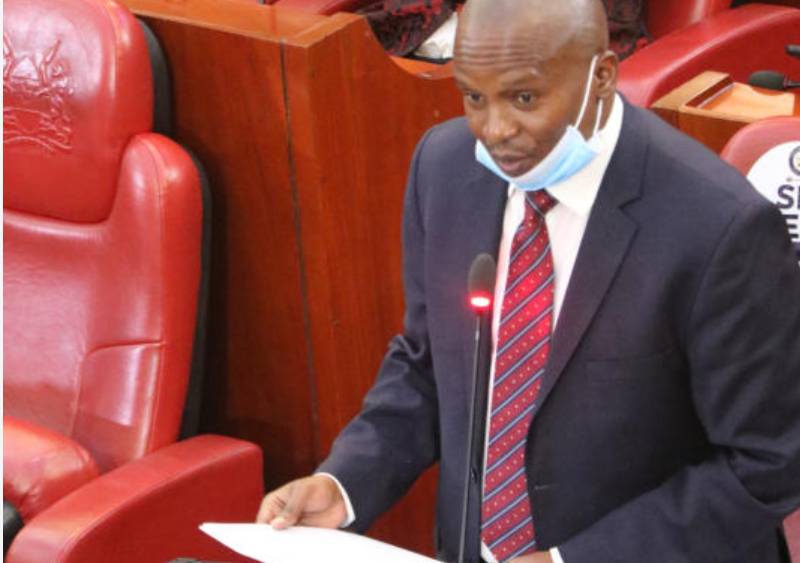 [ad_1]

Former Senate Deputy Speaker Kithure Kindiki.
NairobiFor a man who has supervised colleagues authoritatively, the chamber increasingly seemed like a strange place
His speech was long and dense with emotion. It was potent enough to soften the hard-hearted. His delivery was earnest.
And while he laboured to maintain an emphatic tone, words occasionally failed him. The wrinkles that formed on his forehead every time he looked up as he read his speech, and his grieving eyes, told of a man defeated.
Former Senate Deputy Speaker Kithure Kindiki had walked into the chamber resigned to his fate.
For more than a week, he had watched, from a safe distance, as his political grave was dug spiritedly. On Friday, after listening to his political eulogy, he summoned the courage to face his slayers.
SEE ALSO: Battle of wits and egos envelopes Kindiki's exit
Show of defiance
His presence inside the chamber was perhaps a deliberate show of defiance. Yes, he knew he would be going down, but he refused to have his pride washed down the drain. He wanted to look his tormentors in the eye. But his face, and occasional restlessness, betrayed his subdued demeanour.
For a man who has supervised debate in the Senate authoritatively, the chamber increasingly seemed like a strange place for the Tharaka Nithi Senator. The erratic debate preceding the motion on his ouster must have left him confused.
At one moment he found himself in church. The next had him in a Philosophy class. Another moment thrust him into a human rights crusade while another turned him into a student of literature. Yet another took him to a foreign language class.
All this was courtesy of his colleagues who made all manner of citations as they poured their glowing tribute. They used flowery language to bury him, some offering unpalatable platitudes.
SEE ALSO: Jubilee senators talk in parables over Kindiki exit
He, however, found familiarity when earlier one lawyer had confused the House for a courtroom and, sometimes, law school. His comrade, Elgeyo Marakwet Senator Kipchumba Murkomen, who vainly fought for his survival, decided some homeground advantage would work in Prof Kindiki's favour and he tried to turn the house into a court.
His request to have formal charges presented against his learned senior was met with more force than he had anticipated from lawyers and non-lawyers alike.
"A Motion to remove the Speaker or the Deputy Speaker is not a trial," Siaya Senator James Orengo charged as he offered to school Murkomen. "Sit down, you don't even know the Standing Orders," he added, amid loud protests by the former Majority Leader.
Mr Murkomen did not take the challenge kindly and felt the need to spell out his credentials.
"I have two master's degrees," he responded at one point, as the debate morphed into a contest of who was the better lawyer. "Can he mention one case he has prosecuted in the Supreme Court?"
SEE ALSO: I have two master's degrees, Orengo has none — Murkomen
Paying attention
Mr Orengo struck below the belt. The debate eventually got back on course.
Neither Kindiki's moving speech nor the mourning look he wore would sway his fellow senators. They were clearly not in the mood to spare any sympathy. He had missed the hint, just as he had skipped his 'Politics 101' classes.
"Your goose is cooked," Narok Senator Ledama ole Kina had told him. And if Kindiki had been paying attention, he would have heard the death knell sounded by Kakamega Senator Cleophas Malala.
And in a surreal gravely voice, a comrade offered his last respects.
"We loved you but the Jubilee Party loved you more," said Mr Malala, leaving no doubt as to what lay in store. It was a political funeral.
In his seven-year political experience, the professor of law had apparently learned little about politics. He had been accused of disloyalty to the party leader, a transgression whose only retribution is political death.
In the end, just as he had said, the die was indeed cast, and not even his last-minute pledge of loyalty to the president could save him. 
There was only one place he was headed – the political pit.
[ad_2]

Source link